Jennifer Garner is in a new movie called The Odd Life of Timothy Green, which is not out until August, 2012. I will admit to being momentarily touched by this incredibly cheesy trailer for what is undoubtedly an incredibly cheesy movie. You know that glurge category on Snopes, where they debunk stories often involving little children dying somehow, but first touching another person's life in a way that will never be forgotten? (I should label that SPOILER, because I can imagine this poor kid character dying at the end of this movie in a "he's too good for this world" twist. Or maybe he's from a parallel universe and needs to be sent back to it or something.) The glurge category is surely where this film belongs, but people like to switch off their brains sometimes and be force fed cliche plots, so this could be moderately successful.
Anyway Jennifer Garner and her handsome co-star that I'm only being introduced to today, Joel Edgerton, star in this Disney film about a childless couple who wishes a ten year-old boy into existence. (USA Today has him as ten years old, but he looks younger to me.) The boy comes into their lives full of wonder and hope, and transforms them, the whole neighborhood and all their friends and family probably. They did a brief interview to promote this film, which again is not out until next year so I'm not really getting it.
When The Odd Life of Timothy Green opens in August 2012, audiences will meet Cindy and Jim Green (Jennifer Garner and Joel Edgerton), a couple who have reached a point of despair: They can't conceive. During a wine-fueled night, the Greens dream up their ideal offspring. He would score a winning goal, just once. He'd be honest to a fault. "Picasso with a pencil," Cindy wishes.

Soon, a 10-year-old arrives at their doorstep, claiming the Greens as his own.

"He's a boy with the qualities that his parents hope for," says director Peter Hedges (Dan in Real Life), but "those qualities manifest in ways they never could have imagined."

Disney is keeping the boy's origin under wraps, but the Greens "get nothing more, nothing less" than what they wished for, Garner reveals. "He doesn't have any emotional memories. He's completely naïve to the way the world works … someone who's honest to a fault is called honest to a fault for a reason."

Garner understands her character's yearning. "There's no deeper want for a woman" than to be a mother, says the Hollywood mom, whose two young daughters visited the Georgia set daily in late winter with husband Ben Affleck.

In the film, the Greens must quickly adjust to parenting. It was Hedges' experience with two teen sons that inspired him to adapt the story by producer Ahmet Zappa for the screen. "I wanted to make a film about what it means to be a parent in the 21st century," he says.

Timothy Green puts the title role spotlight on young actor CJ Adams, whom Hedges cast in 2007's Dan in Real Life. And Edgerton is set to have a blockbuster 2012: He soon enters F. Scott Fitzgerald territory as Tom Buchanan in Baz Luhrmann's The Great Gatsby. Next year, "Joel Edgerton is an actor who everyone is going to be talking about," Hedges says.

But in the world of Timothy Green, a year's time is all too precious. The new family is "acutely aware of the passing of time," Hedges says ominously. "We all only get our children for a very short period of time."
[From USA Today]
The kid goes back to where he came from probably. That's pretty much what they're suggesting, and it seems predictable. I like how they make the kid seem kind of Jesus-y yet kid-like at the same time. I have a seven year-old and he's also amazing, as are most kids. He just wants to know about everything and he's starting to make his way in this world, but he's still very much a kid and very sweet.
I do take some offense at Garner saying that "there's no deeper want for a woman" than being a mother. That may be true for her, but for so many other women who choose not to have children that's not the case at all. It's very difficult to raise kids and props to women who realize it's not for them. They want other things out of life and I'll be honest, sometimes I do too. I mean I would never change the fact that I'm a mom, but I know that I'm not ready to have another one. I just want to focus on my one kid and be able to continue my illustrious career gossiping. Other women decide not to be moms. They have other wants that take precedence. That doesn't mean that the urge for motherhood is somehow deeper than the urge to follow another dream. That comment bugs me. Doesn't Garner have any childless friends?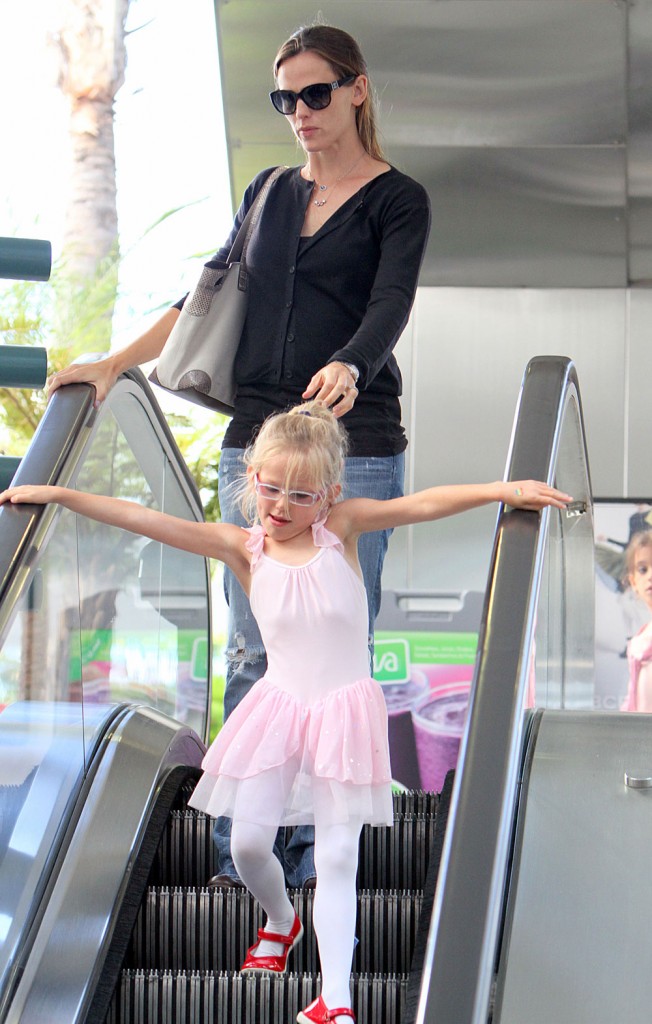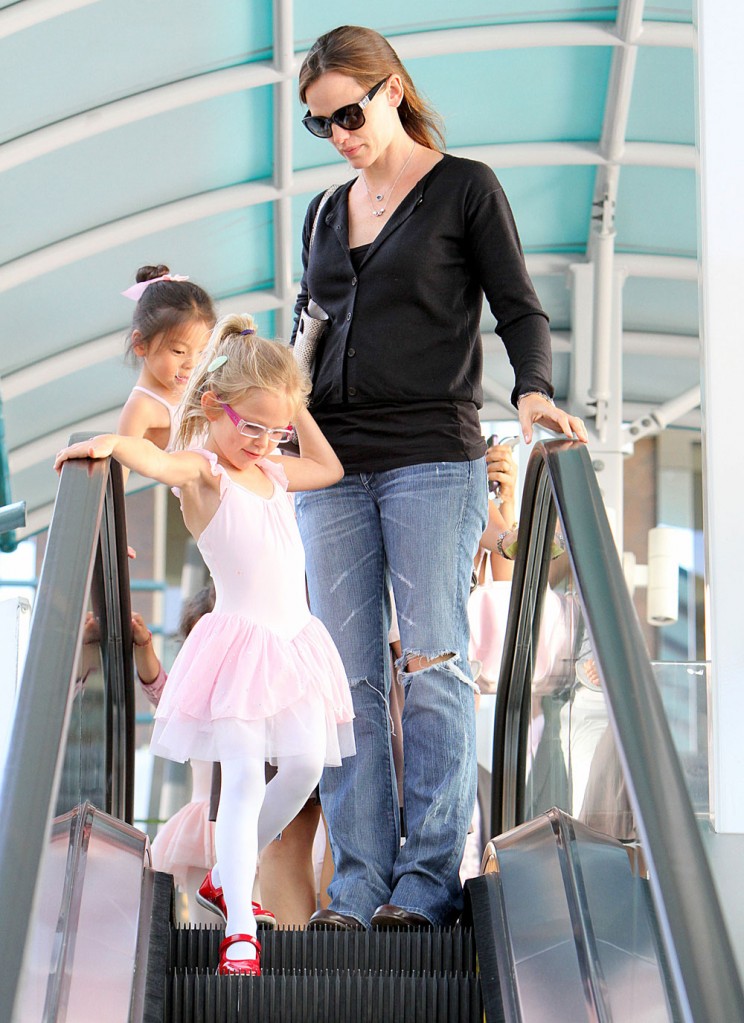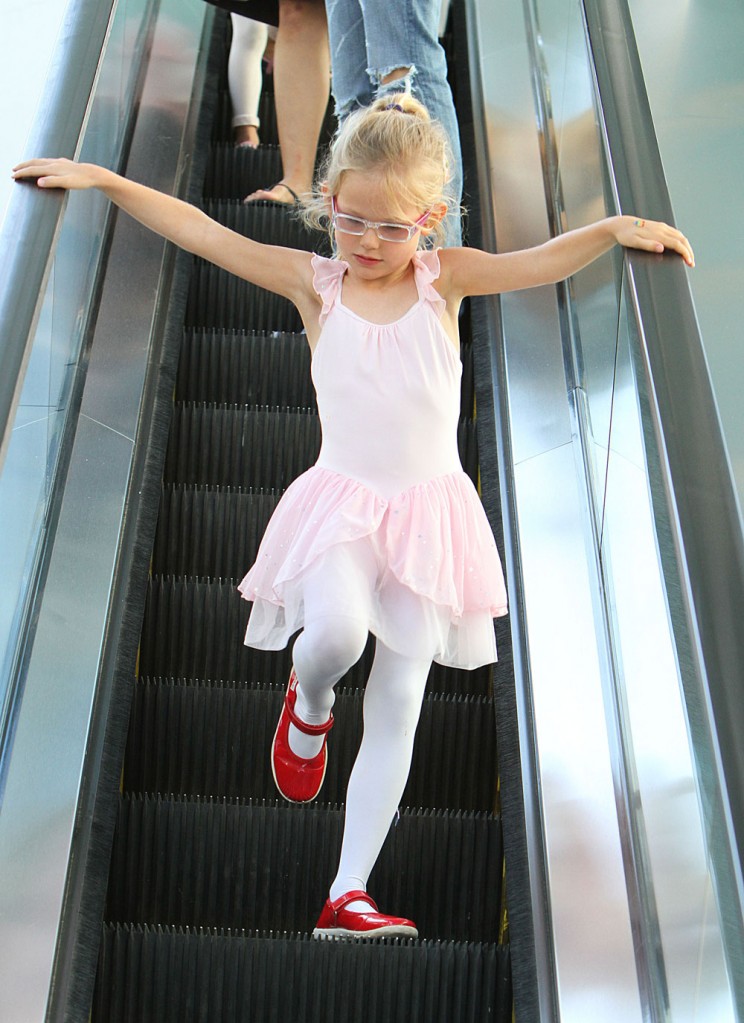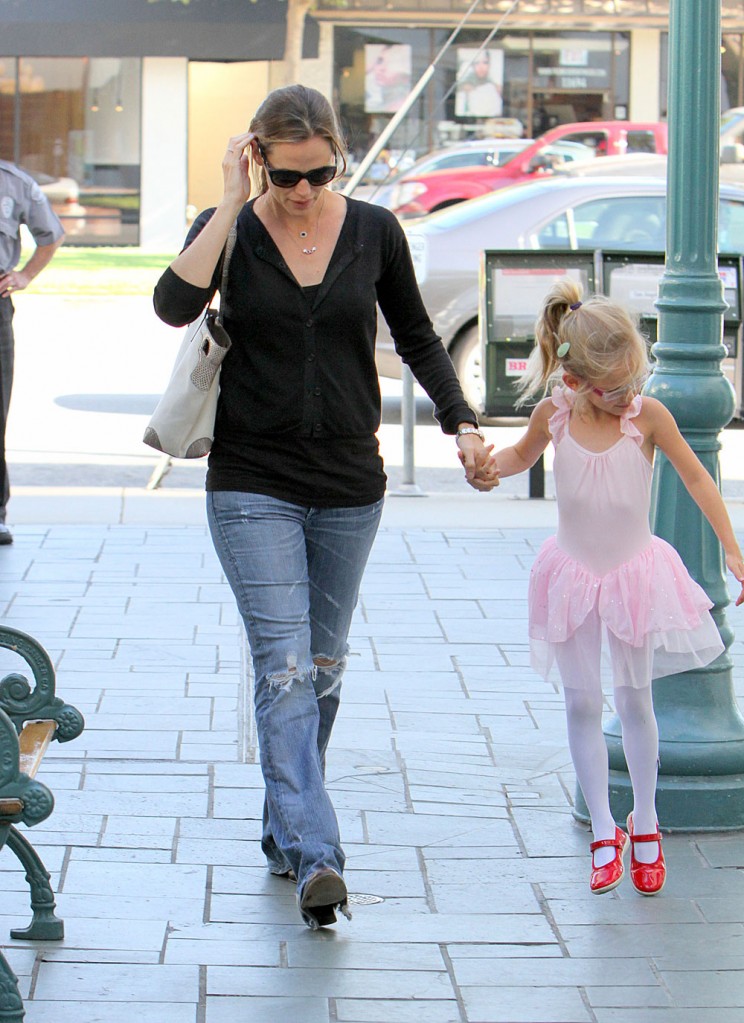 Jennifer Garner is shown with her oldest daughter, Violet, outside ballet class on 8/5/11. Credit: Fame.