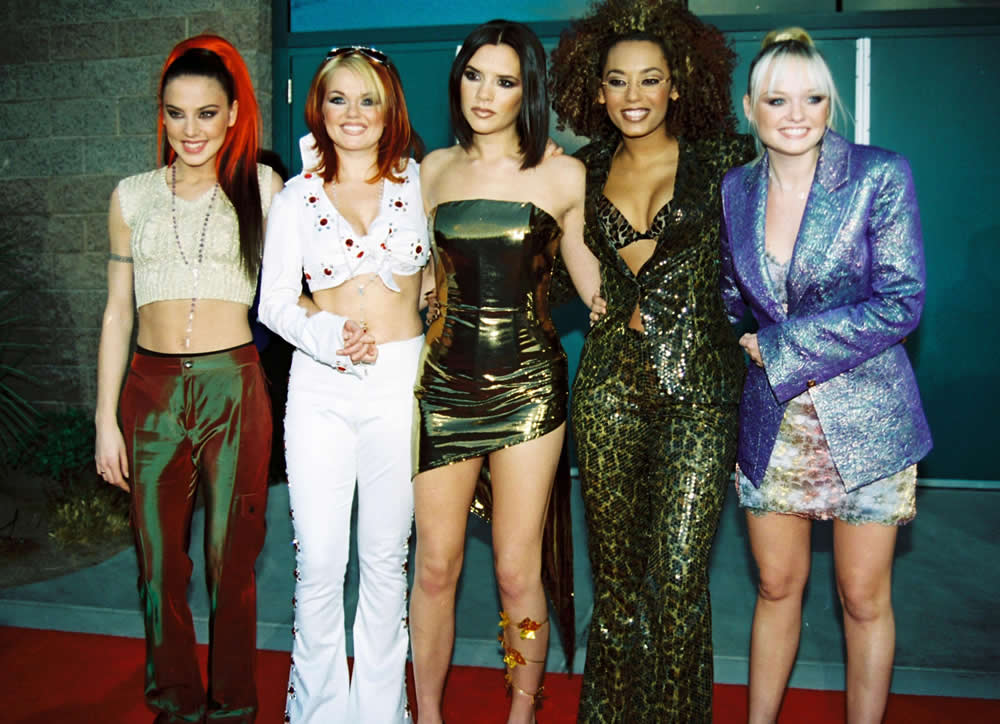 Well, this is an interesting turn of events. Melanie Chisholm, a.k.a., "Sporty Spice" of the Spice Girls, has climbed upon a virtual soapbox to complain about the oversexualization of young girls, a phenomenon which she claims has been willingly perpetuated by the likes of Rihanna. Never mind that the Spice Girls themselves have recently been, ironically or not, invoked by Shia LeBeouf as an example of faux-feminism and also previously bared their midriffs on an long-term and quite willing basis. That's different, you see, because today is an altogether different matter and, conveniently, most of the Spice Girls themselves are now mothers of young, impressionable girls. That would necessarily include Mel C. herself, who has spoken out in protest of the unseemly example that today's pop stars are setting for young girls:
She might be a big fan of the Barbadian singer but Melanie Christholm has spoken out about Rihanna's 'inappropriate' overtly sexual behaviour.

The former Spice Girl believes that the singer has a responsibility to younger children to protect them, something which she has realised since becoming a mother.

Mel, 37, took to Twitter and posted: 'For the record. I am a big fan of Rihanna, I am also a mother.'

She said: 'People have to take some responsibility because we've got to a point where over-sexualisation of young children has gone too far,' the Mirror reported.

'I think music is a big part of that. Women in music, very successful women, are extremely sexual and they have young fans. It is inappropriate.

'Rihanna has responsibility and although culture's always changing, it's changed too much. It needs to be dealt with. It's reached saturation point, we owe it to our kids to protect them.

'Rihanna's free to do as she pleases, of course, but I think her take on the criticism she's had is interesting.'

Mel, who found fame as Sporty Spice in the most successful girl group of all time, gave birth to her daughter Scarlet Starr in February 2009.

And since then her priorities, and views have changed and she accepts that Rihanna might not understand her viewpoint given that she doesn't have children of her own.

She told the paper: 'I love Rihanna, I think she's a f****** brilliant artist, with great songs, a great record and she looks fantastic… but she's not a mum. Maybe if she becomes one she'll feel different. I hope so anyway.'

Mel was no stranger to strutting her stuff in skimpy outfits during her Spice days and were often seen backflipping her way across the stage in cropped tops and tracksuits bottoms.

She said: 'It's a long time ago since the Spice Girls were first together and we were criticised for being sexual. Yes, we wore crop tops, I mean look how much has changed.'

And it isn't just the music industry that has changed since Melanie rose to fame with Geri Halliwel, Melanie Brown, Victoria Beckham and Emma Bunton.

The mother of one has made a furrow into acting enjoying s successful West End theatre debut in Blood Brothers, which she received a Laurence Olivier nomination for.

But like her fellow Spice Girl Geri, Mel C has also been back in the recording studio working on her latest album Sea.

Mel's new single "Think About It" is out on September 5.
[From Daily Mail]
First off, I'd like to point out that a couple of Spice Girls tunes still reside within my iTunes collection. However, if Mel C. doesn't think that she still monetarily benefits (royalty wise) from the fruits of the poisoned tree — that is, the bared midriffs of the entire group and the extremely short hemlines of Posh Spice — then she is sadly mistaken. In fact, much of the money with which she raises her little girl comes precisely from that source. With that said, yes, Rihanna is a bit too sexualized for today's tween audience, but she's not really any worse than, say, Katy Perry, who takes great pleasure in wearing cupcake bras and shooting whipped cream out of her boobs. Ultimately, it's up to parents to decide whether or not their tweens listen to Rihanna, Katy Perry, or any of their contemporaries. As to Mel C, I do sympathize, but it's also fairly apparent that she's not only hypocritically expressing outrage but also promoting her own upcoming album. And yes, I do wish Mel C. much luck with her new prospective demographic.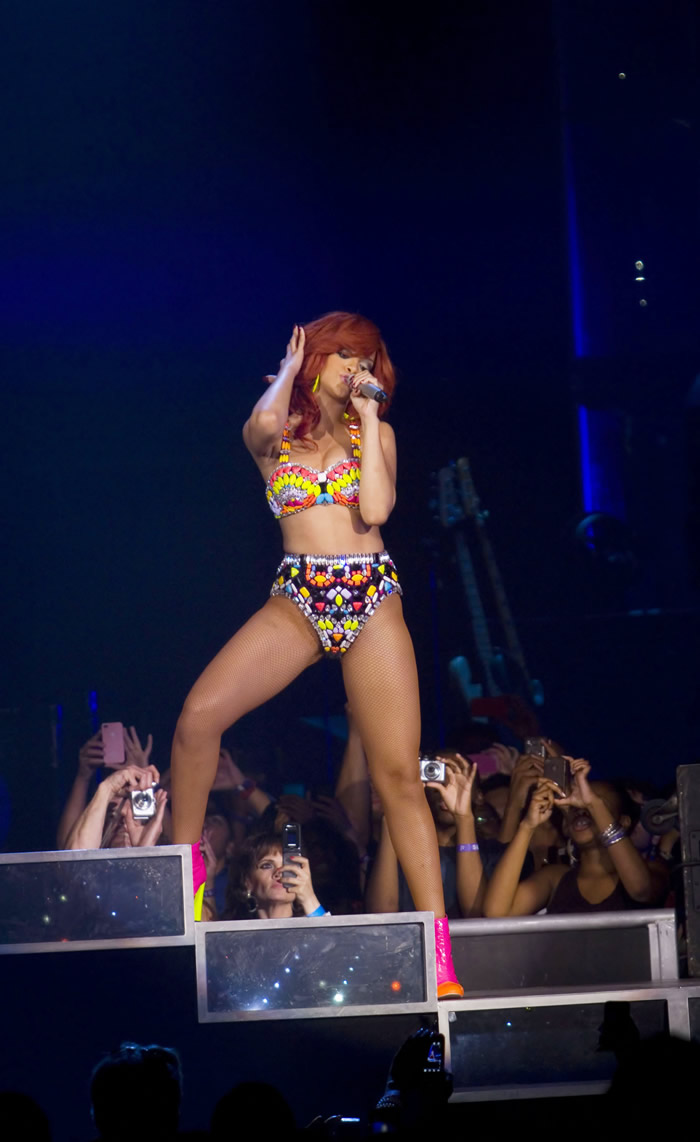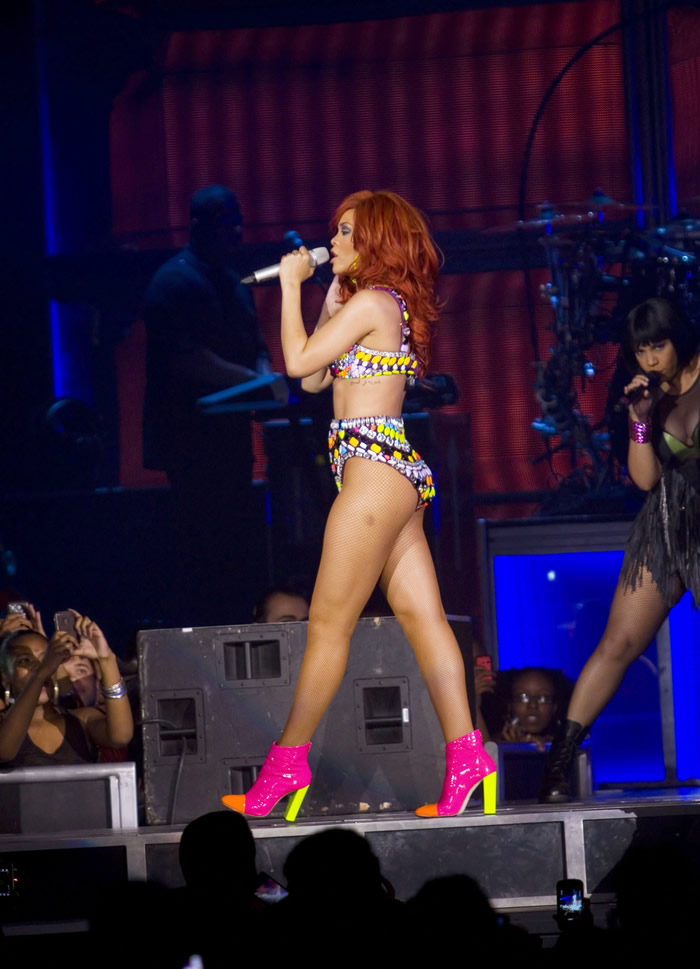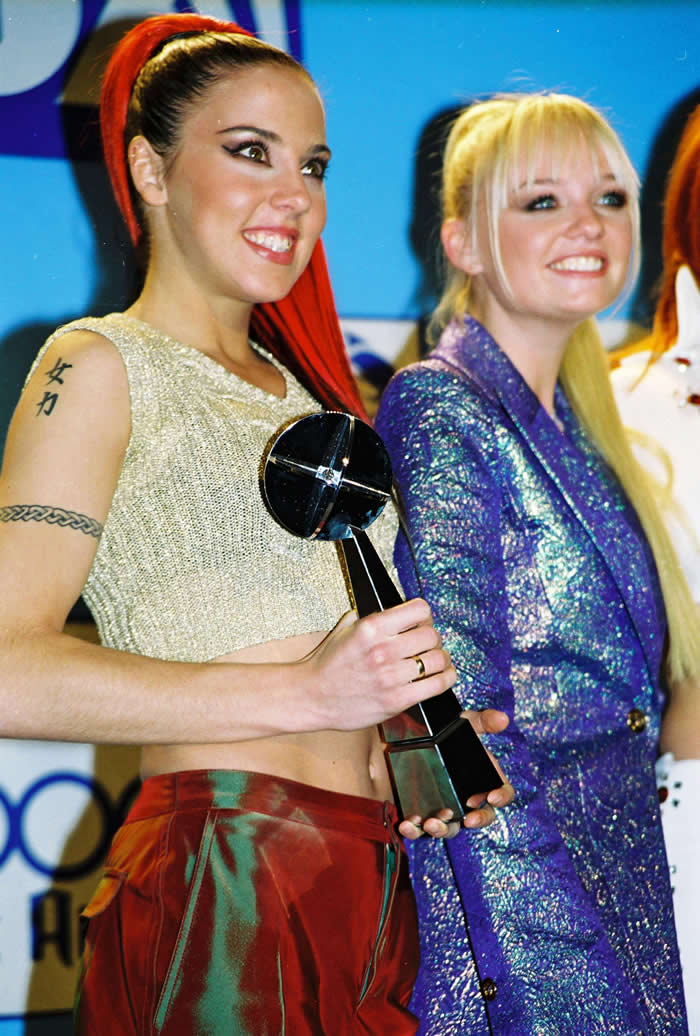 Photos courtesy of WENN