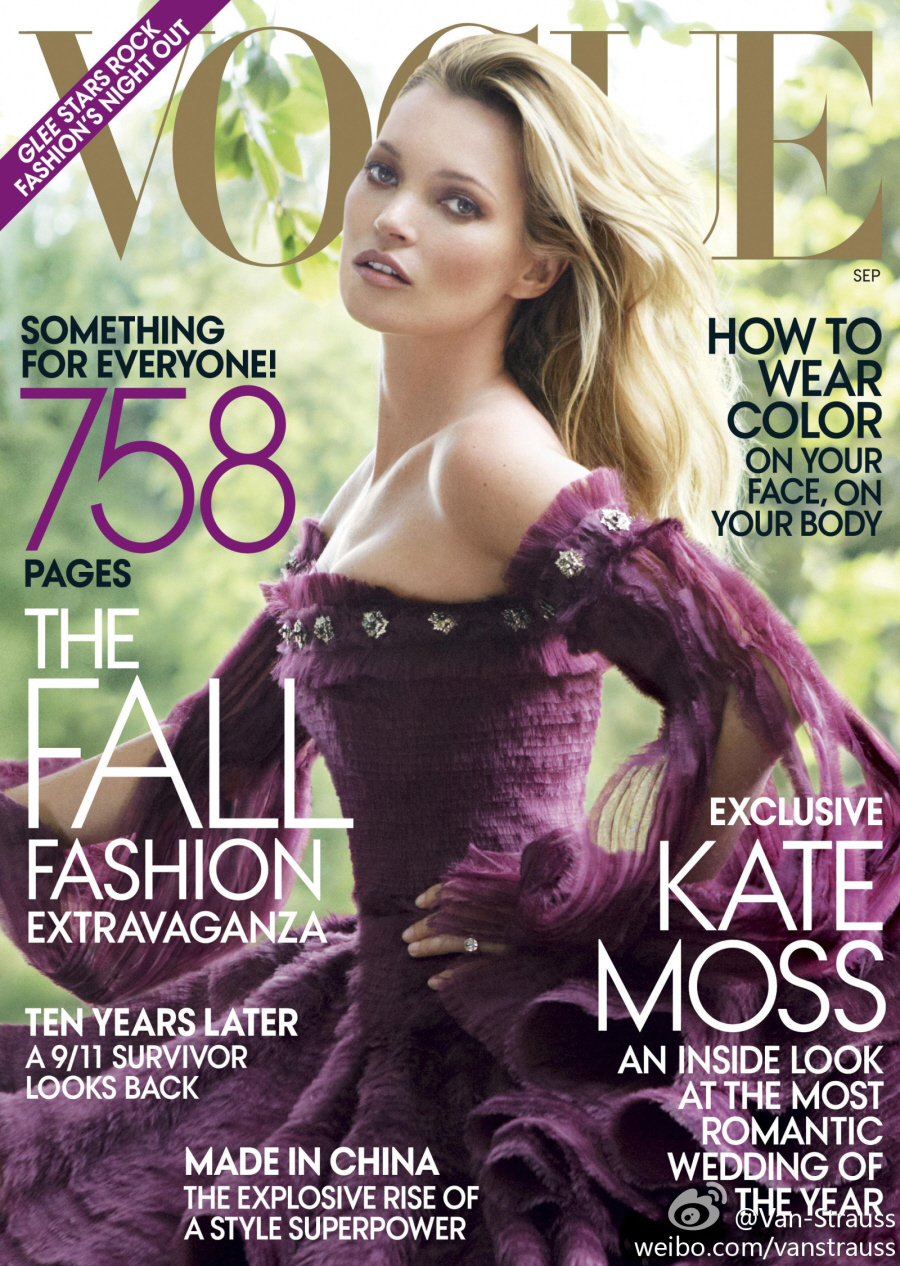 I was trying to find a way to organize some of the best excerpts from Kate Moss's Vogue cover story – all about her wedding, behind-the-scenes, plus a great interview – but it would be better for you to just go to Vogue and read the piece, and while you're there, check out the slideshow of Mario Testino's photos. All of it is enchanting! And that's coming from someone who isn't a huge fan of Kate historically. Okay, here are some of the best excerpts:
Why Kate decided to accept Jamie Hince's proposal: After a romantic trip to Thailand two years into their liaison, Kate recalls, "we were just so loved up, and he asked me to marry him every day." But it was curling up together in front of the compelling British television documentary series Big Fat Gypsy Weddings that appears to have sealed the deal. "I am so romantic about Gypsies," Kate explains. "They're not allowed to do anything until they get married. So they all get married really young, at sixteen. You can't believe the dresses. They're like blinging butterflies times ten; they can't move down the aisle! It's so genius. I was just watching Jamie, so cute, and I was like, these girls, they just spend their whole life waiting for that day—let's do it!"

Kate does yoga: Mario is shooting the couple for Vogue at a magnificent seventeenth-century Cotswolds mansion. "I so want a stately home," sighs Kate, admiring the rolling Capability Brown landscape. At 37, she looks ravishing; she attributes her honed form to Jivamukti yoga. "They call it moving meditation," she says. "It's loud, loud music, so it's dynamic, not boring."

Pre-wedding jitters: In the pictures you can feel the love, but off-camera nerves are fragile. The groom-to-be "is terrified," says Kate. His prospective bride is in denial. "Let's put it this way," she says. "If I didn't have my friends. . . . I don't know how people do it. I've had big birthday parties, and I've thrown parties for other people, but this is a completely different thing. It's the Met Ball! Because you have to look at every piece of cutlery; the details are intense. And then you wake up thinking about the ballet shoes for the girls; is the satin ribbon right? I've gone mental. Jamie thinks I'm mad, asking, 'Are you gonna be all right? After the wedding, I'm hoping you'll get back to normal!'"

Church drama: She had originally wanted to get married in the enchanting twelfth-century church at the bottom of her garden, but as it proved too small even for her intimate wedding party (138 guests have been invited to the church ceremony; 39 of those are children), she decided on St. Peter's Church, in the neighboring village of Southrop, where Lila Grace, her eight-year-old daughter with journalist Jefferson Hack, was christened.

The mood Kate was aiming for: "I wanted it to be kind of dreamy and 1920s, when everything is soft-focus," says Kate. "The Great Gatsby. The code name was GG for a while. That light and that kind of fun decadence. It's rock-'n'-roll Great Gatsby!" There will be Edwardian marquees in her field and a circus tent for the children, with a miniature drum kit and their own DJ and tepees for them to sleep in. A stage is being built by hand, "which I'm going to keep for festivals for the future," she explains.

The bridesmaids & flower girls: There are sixteen bridesmaids and flower girls, ages two to fourteen. "They are so good together," says Kate. The children all clearly adore Kate the den mother; she loves nothing more than having her own houses in town and country thronging with them. She even installed a swing in her London dressing room but packed away the precious clothes after they started seeing a bit too much wear and tear.

Kate's daughter: Lila Grace is very much in control as she corrals the other children and then executes some dance moves to entertain them (she has a ballet performance on the weekend). Her mother's friends laughingly compare her to Absolutely Fabulous's Saffy, the studious, long-suffering daughter to Kate's giddy Edina. "Mummy, are you stressed?" she asks solicitously at one point.

The dress: In the flurry of pre-wedding madness and nerves, the one thing that is keeping Kate sane is the dress. With characteristic loyalty, she has asked her beleaguered friend John Galliano to work on this. "When I put the dress on, I'm really happy," says Kate. "I forget about everything." She wanted "a classic Galliano, those chiffon thirties kind. I've lived in his dresses for years, and they just make me feel so comfortable. But it's so much more couture, couture, couture. Oh, my God, the work that's going into the dress!" They discussed everything on the phone, and then, when John was out of rehab for the first of four marathon fittings, he brought her "bags full of bits, and pulled tulle and sequins and veils and flowers out. And then we just kind of pinned things together, like the old days, you know?"

Everyone waits for Naomi Campbell: Naomi, in a flurry of lemon-yellow Givenchy gauze, is the last to arrive, so all is right with the world ("Trying to upstage me, bitch?" says Kate, laughing).

The end: At a quarter to five (a.m.) Kate reappears, looking like a Pre-Raphaelite wood sprite in the diaphanous silk-tulle 1930s wedding dress that Katy England found for her bachelorette party, and proceeds to execute an exuberant tango. Everyone's mother is still on the dance floor. (At her bachelorette weekend, "my mum was the last to leave," says Kate, laughing. "The last man standing, my mum was!")
[From Vogue]
Haha, Kate is lucky she didn't get a face full of phone for calling Naomi a bitch to her face. Hysterical. Honestly, though, I'm not a wedding person, but Kate's wedding looks and sounds so beautiful and lovely. I think that's the good part about getting married well into your 30s – you know your own personality, you know what you want, you have your priorities straight, and you can give yourself a great, unique wedding.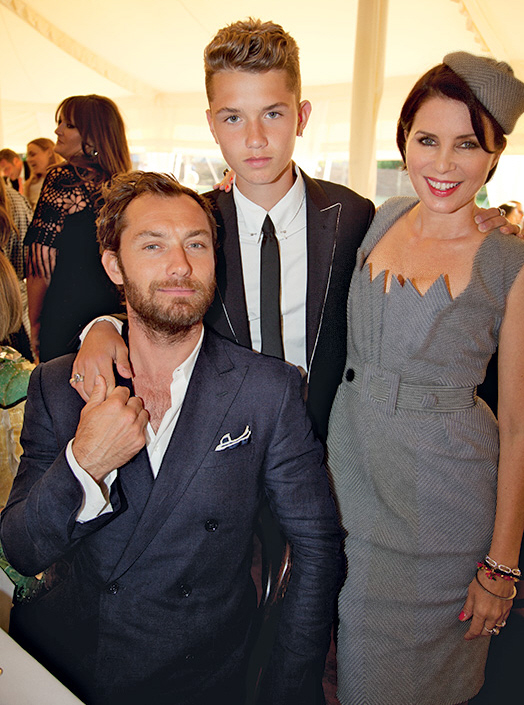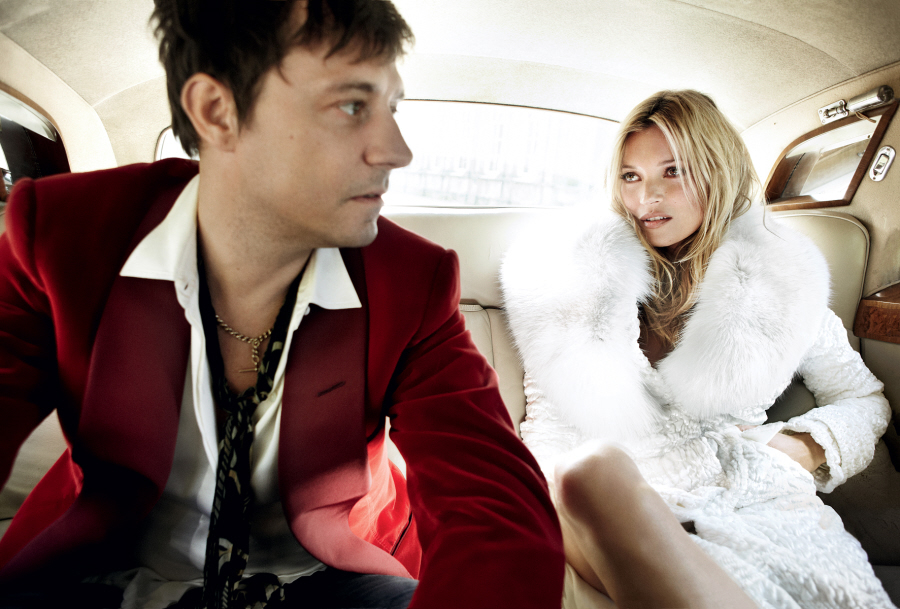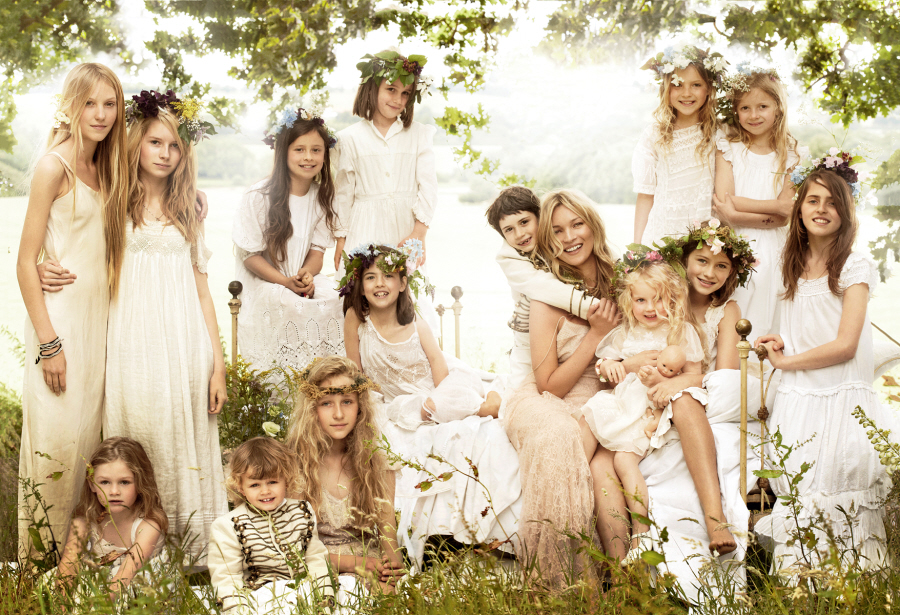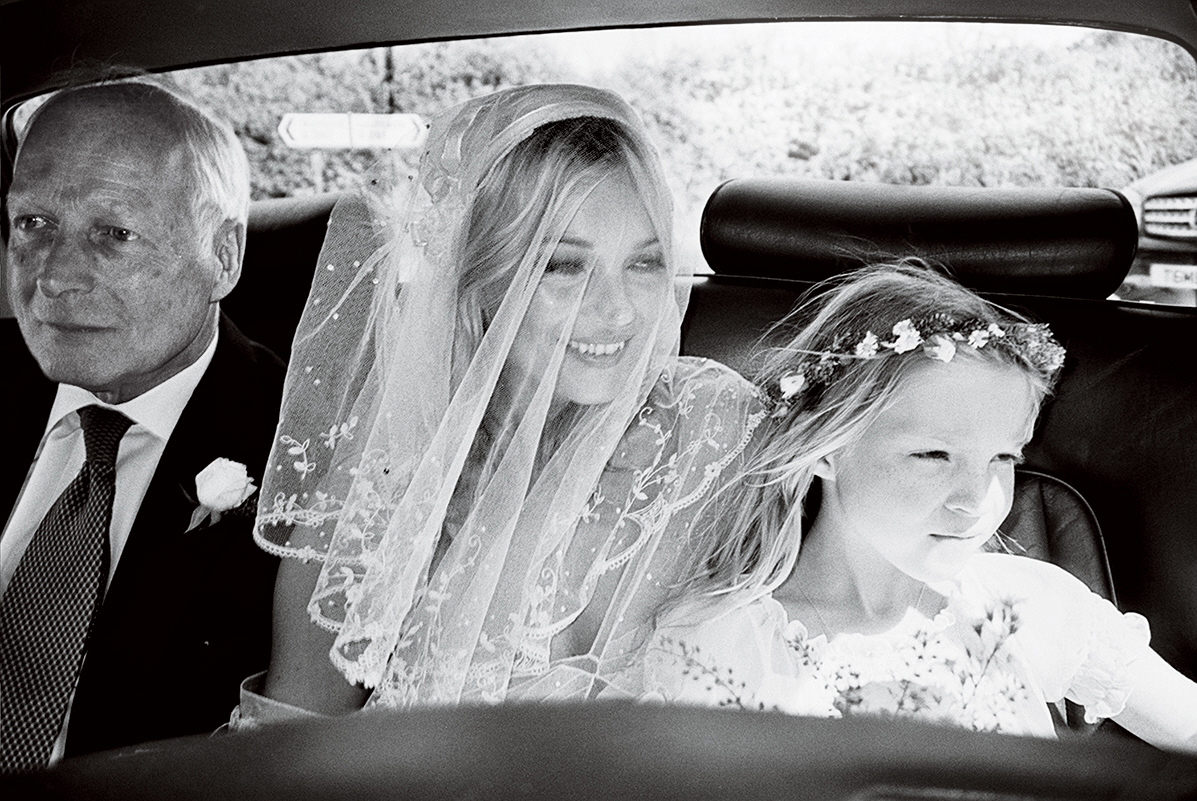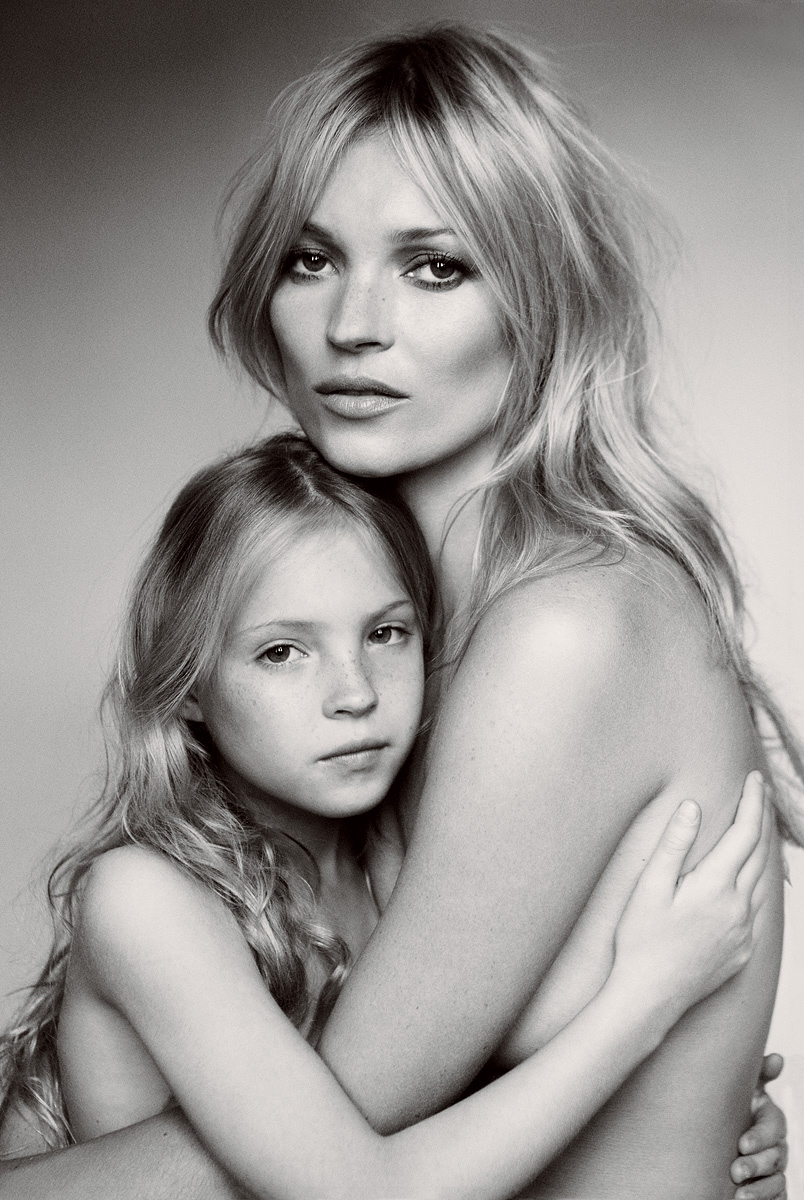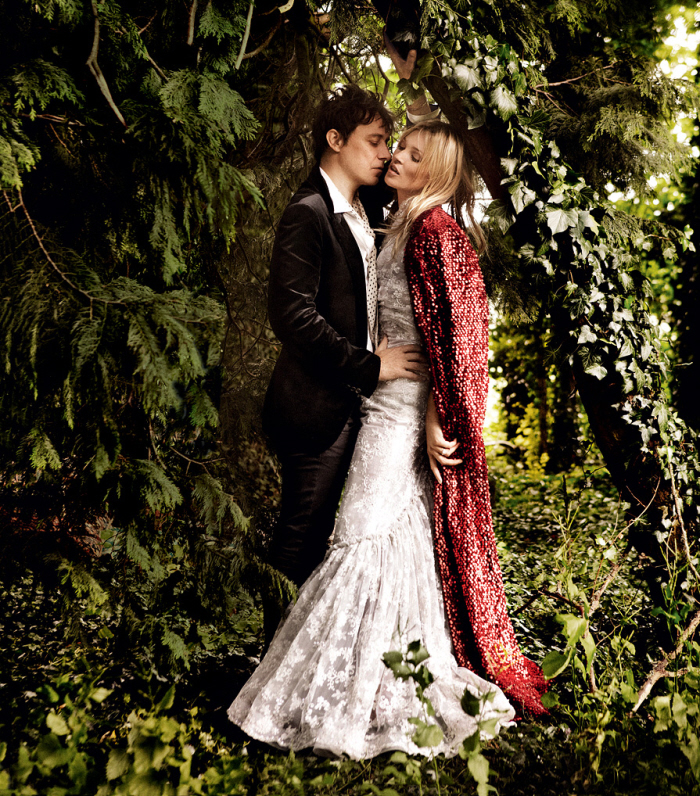 Photos courtesy of Vogue/Testino.