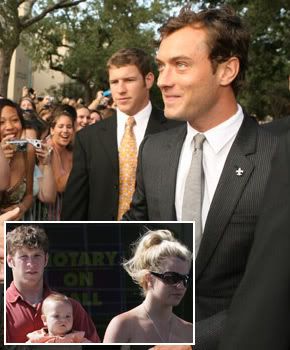 Britney caused a stir a few months ago when she stepped out wearing a sundress and fresh red lipstick in the company of a new man. The guy was seen wearing a Baby Bjorn, picking up flowers for Britney, and otherwise looking helpful and hunky at a time when K-Fed wasn't around. His identity was initially a mystery, and he was confused with Britney's producer, JR Rotem, with whom he shares a slight resemblance.
Everyone called him the new "manny," and speculated that he might be having an affair with Britney, but it turned out he was a naval academy graduate who was hired as a bodyguard and was just doing double-duty. 28 year-old Perry Taylor became an overnight sensation, and the rumors of an affair were quashed when his mother revealed that he had a live-in girlfriend.
K-Fed was said to be jealous of gorgeous helpful Perry, who some said little Sean Preston was calling "daddy," and Britney demoted him to as-needed bodyguard duty. He was photographed with Britney since, but hasn't been seen out with her in some time.
Now it looks like he's landed another gig as a bodyguard to Jude Law!
Free at last! Free at last! Former manny and Britney Spears bodyguard, Perry Taylor is free at last. Sadly, it looks like he's missing out on the second coming of Sean Preston (otherwise known as Sutton Pierce). Of course, he may be off diaper duty, but guarding Jude Law's manpris and following Sienna Miller all over New York's East Village could turn out to be just as crappy.
Jude Law famously publically apologized for cheating on Sienna Miller with his children's nanny over a year ago. He has since replaced her with an older, less attractive version. Maybe by hiring Perry he figures he'll save a few bucks and avoid future scandals.
We hope to see more of cute Perry in the future.