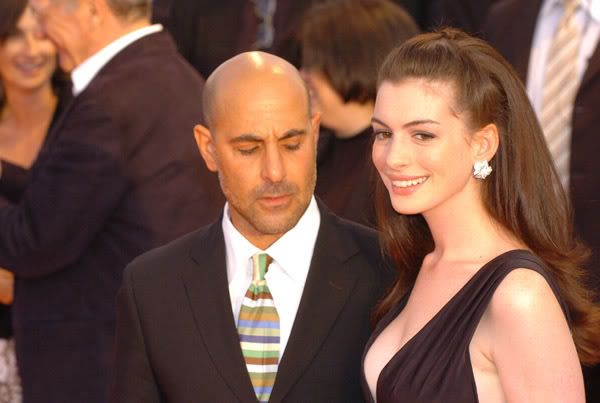 We reported back in June that Anne Hathaway revealed that co-star Stanley Tucci elbowed her repeatedly in the chest while they were filming "The Devil Wears Prada" and then blamed her for his sexual harassment.
She said: "He would just smack me in my boob and elbow me.
"It really hurt, so, after about the fourth time, I finally said, 'Stanley, can you please stay away from my t**s?'"
However, the curvaceous brunette insists Tucci wasn't deterred by her request.
She added: "He got really flustered and said, 'What do you expect? You're flinging those melons around like its harvest season'."
Thanks to justaguy at Saving Face Forum for posting the picture above from September 9th, which reminds everyone what an asshole Tucci really is.
If that creep worked in an office he would get fired, demoted or sued for such obvious sexual harassment. Instead, Hathaway has to resort to telling her story to magazines. Let's hope that Hollywood bigwigs take note of it and that his career suffers as a result.