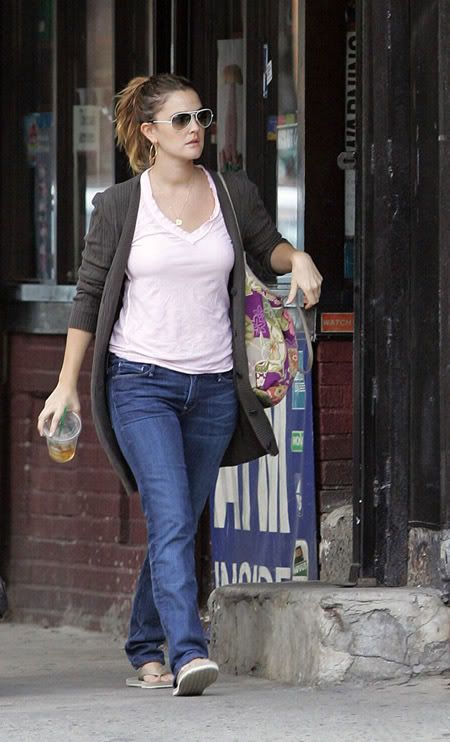 Drew Barrymore is departing from her trademark cute romantic comedy role by playing the lead in a thriller that's being put out by her production company, Flower Films. The script is being re-worked by the screenwriter behind "Silence of the Lambs," so it's sure to be dark and scary:
Drew Barrymore has committed to star in the Warner Bros. thriller He Loves Me, according to Variety. Ted Tally has been set to write a new draft. Barrymore and her Flower Films partner Nancy Juvonen are producing.
Warner Bros. bought the Joyce Brotman spec in December, with Barrymore eyeing the lead at that time. The buy came as Flower planted itself at Warner Bros. in a new first-look deal.
Tally, the Silence of the Lambs screenwriter who most recently completed an adaptation of The Reckoning for Paramount and Shrek the Third for DreamWorks, called He Loves Me a "taut, sexy thriller about contemporary infidelity, which strongly questions the proposition that what you don't know won't hurt you."
That's great that Drew is expanding her acting reach, and we hope the film is a critical and commercial success.
Drew is a down-to-earth actress who seems to stay out of the limelight. She keeps a good attitude about fame, and recently said she doesn't regret any of her fashion choices:
She told Elle magazine: "I've gotten ripped plenty, and I just say, 'Oh, well.' I don't regret those moments, because they're kind of what define you. I
"I wore daisies in my hair to the Academy Awards once and people were vomiting on the floors, but that won't ever stop me. I love rolling with it."
Here she is in New York on 9/20. [via]