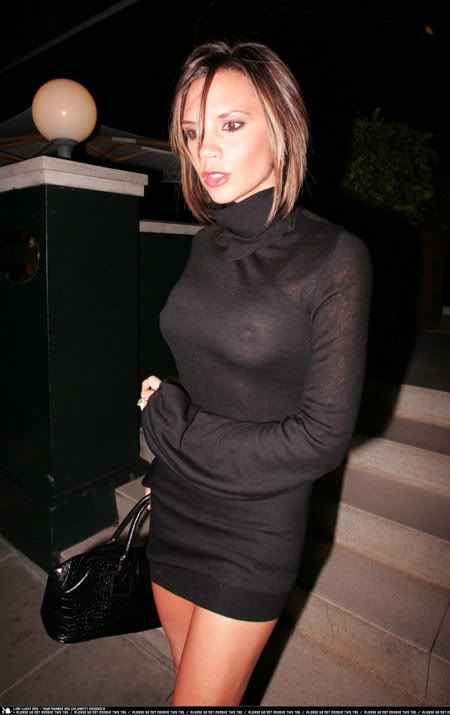 David Beckham says that he makes sure his very thin wife, Victoria, gets nurishment. Her emaciated figure has many people speculating that she's anorexic:
David Beckham today broke his silence on his wife Victoria's controversial size 0 figure, revealing that he makes her eat. The former England captain stuck up for the ex-Spice Girl's stick-thin look, insisting that she does consume food regularly – because of him. "
I see Victoria every day of course and I make sure she eats well and she eats healthy
," he told GMTV. "She looks after the way she is, you know, it is down to that person. You are beautiful whatever you are, it is about that person, about how you feel." Victoria, 32, is regularly criticised for being a bad role model to young girls because her weight has dropped to below seven stone. [100 pounds]
"I love her whatever she looks like, whatever weight she is. She is great at the moment."
It was rumored last month that David had Victoria on a "pregnancy diet" meant to help her conceive. The famous British couple has said that they would like to add a girl to their family of three boys, but that they won't be trying until next year.
David also said that he was behind Victoria's decision to remove her hair extensions and sport a new bob hair do. He said that he didn't like feeling the snarled extensions when he ran his fingers through her hair:
"I said to her, 'I'd love you to change your hair, and do something like a bob,' so when I saw the pictures I was like, 'Oh My God, it looks incredible'. "It was my idea, she knew how strongly I felt about her going back to a bob because when I first met her she had a bob so I said it's the best haircut for me. It's actually nice to put my hands through her hair and not feel the extensions."
That's really sweet. David seems to have been on to something, because the bob is the newest rage in celebrity hairstyles. Jessica Simpson, Kate Bosworth, and Madonna all recently changed their hairstyles to bobs.
Here is Victoria in a see-through dress outside a hotel in London on 9/18. She wore a slip beneath the dress, but it doesn't seem to have worked. David looks pissed off in the car and may have been kept waiting for her. [via]