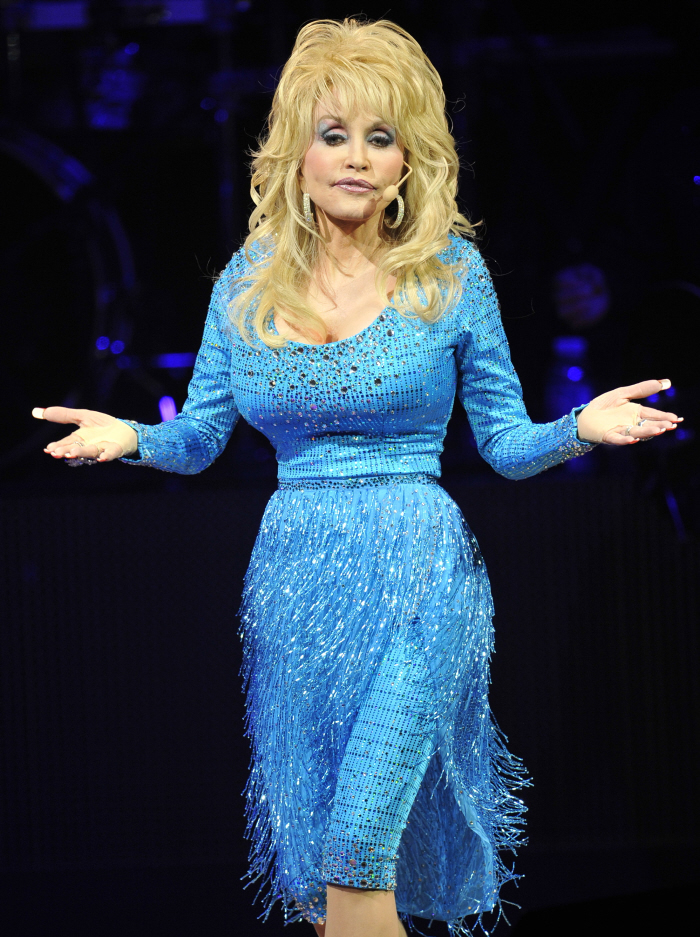 Dolly Parton, 65, has a new interview in The Mail to promote her latest album – her 41st! I love Dolly. Dolly is the exception to every rule. Dolly is grace and genius and hilarity, all with an enormous rack. I love her. Do not speak ill of Dolly. Do you know that the Dolly empire, including her song catalog and Dollywood, is worth nearly $1 billion? Did you know that people in the music industry refer to her as The Iron Butterfly? Did you know that she's awesome? The full Mail piece is here, and here are some highlights:
On her "cheap and gaudy" look: "A lot of people have said I'd have probably done better in my career if I hadn't looked so cheap and gaudy. But I dress to be comfortable for me, and you shouldn't be blamed because you want to look pretty. My husband likes me to look this way, and he's the one I want to please."

On her 45-year marriage to Carl Dean, and the rumors that she's had affairs with "everyone from Sylvester Stallone and Burt Reynolds to Judy Ogle, her assistant and best friend": Dolly cannily likes to keep the speculation going. "I love to flirt, and I've never met a man I didn't like. Men are my weakness. Short, fat, bald or skinny – I've had crushes on some very unusual men but Carl knows I'll always come home and I'm not having sex with these people – I'm just flirtin' and having fun. But that's healthy. If I'm away I'll say to my husband, 'You don't mind if I fantasize about Keith Urban [Nicole Kidman's husband] tonight, do you?', and he doesn't. He says he'd think less of any man who didn't fall in love with me. But he really respects what I do and would hate to stand in the way of that. He always makes me feel pretty, even when I'm not. He'll say, 'I like it when you wear your hair up high', and he even has clothes of mine in his closet that he'll bring out once in a while and say, 'See if you can still get into this.' I love dressing up for him. I think Carl will always see me the way he did when we first met, just as I do him. We'll never be old to each other."

More on Carl Dean: There is little photographic evidence of Mr Dean, who used to run an asphalt-laying company, leading to speculation that, like the Yeti, he may not even exist. "Oh, he exists," laughs Dolly, "it's just he doesn't really like to be with anybody but me. He loves staying home and working on the farm." With Dolly often on tour, is it a case of absence making the heart grow fonder? 'I think so,' she nods, 'we're never stuck in each other's face. And any time we start getting a little testy with one another, I'll say, "Don't you need to go to the barn for a while?" – we know how to get out of each other's way without being offensive to one another.'

Dolly gets the last laugh: 'Some people didn't think I was a class act because of my looks,' she says. 'But it didn't take them long to find out they were wrong.' She's an astute businesswoman too, having founded her own theme park, Dollywood, a radio station, restaurants, and record and TV companies. She even has her own literacy programme, which distributes 2.5 million free books to children every year.

On being child-free: Dolly and her husband have never had children of their own, although she says, 'I think I became more productive through not having children. I never really had the desire to have them. My husband didn't want them either, so it worked out well.' She had a partial hysterectomy in 1984, which led to weight gain and depression. 'I've never been pregnant, so I just feel God didn't mean for me to have kids, so that everybody else's children could be mine,' she adds. 'But if I had had them, I think I'd have been a devoted mother. My songs are like my children – I expect them to support me when I'm old!'

The early days in male-dominated Nashville: 'I grew up around lots of men – my father, my brothers, my uncles – so I wasn't intimidated by them,' says Dolly, 'and feeling pretty and sexy actually empowered me. I got jumped on on occasion, but I always knew how to diffuse a situation without injuring their pride. I never slept with anybody to get ahead in my career. It didn't take long for them to realize I wasn't there to sell my body, but because my work was worthy. I'd say, "I have a gift and think I can make us both a lot of money – are you interested?", and they usually were.'

On her high heels: Her ultra-femininity is incredibly appealing and one can't help picturing her in her gym, working out in high heels. 'I'm not that bad,' she laughs. 'I have tennis shoes with little rhinestones that I slip on if I exercise. But I always wear heels, even around the house. I'm such a short little thing, I can't reach my kitchen cabinets.'
[From The Mail]
Another one-liner from Dolly – when asked how long it takes to do her hair, she says, "How do I know? I'm never there!" Oh, and she refers to her boobs as "showdogs" which is awesome. I need to start calling my boobs "showdogs".
As far as the "rumors" that Dolly has nailed various celebrity men…? I don't know. Burt Reynolds bedded lots of high-profile women back in the day, but I don't know if Dolly would have been one of them. And Stallone? Puh-lease. I really hope she didn't go near him. Not that I would begrudge her an affair – I wouldn't. I just hope that if she did fool around with someone, it was someone really hot. Like, Robert Redford or something.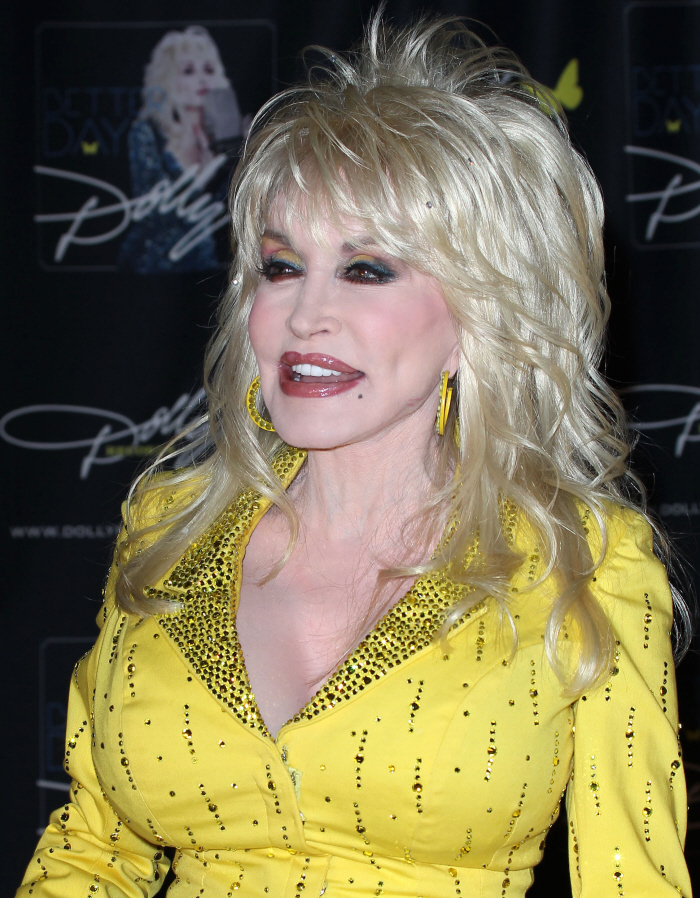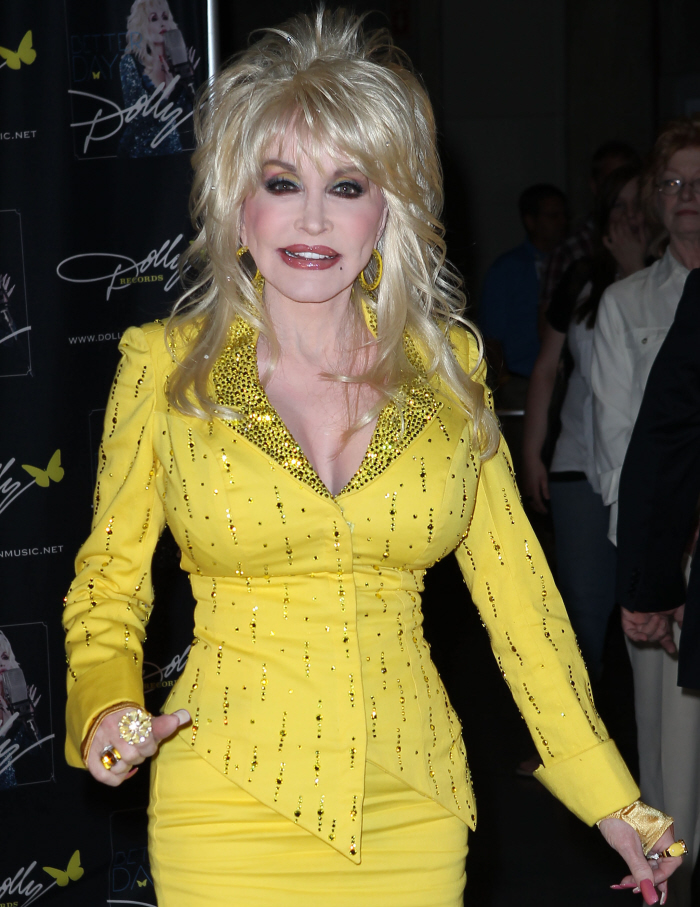 Photos courtesy of WENN.