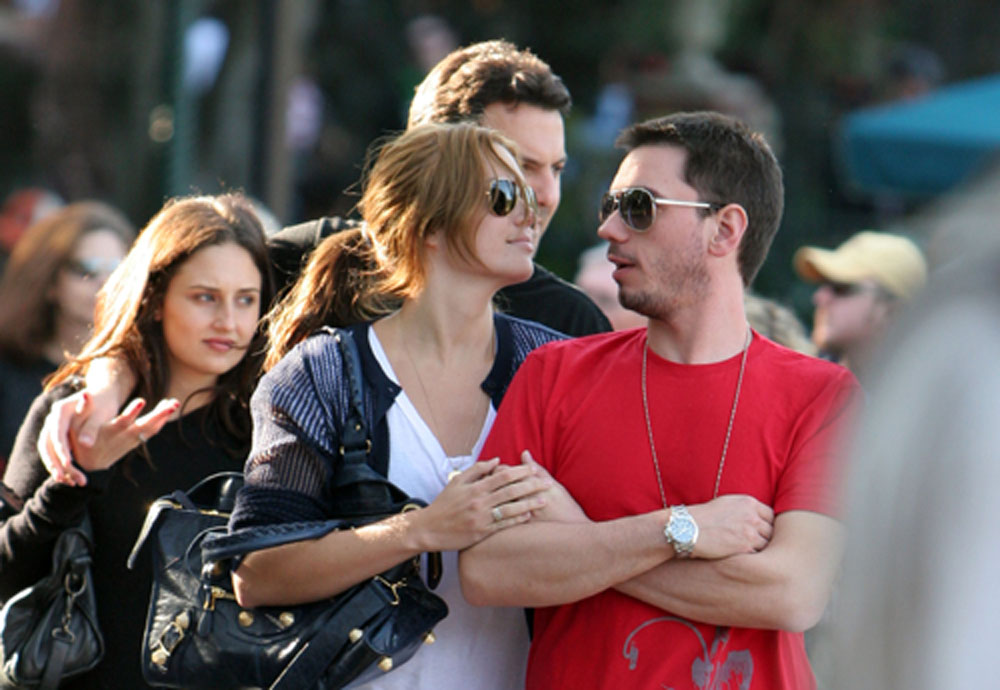 If there's any silver lining in the devastating plane crash that killed four people and injured DJ AM and Travis Barker, it's this story. Singer/actress Mandy Moore, who dated DJ AM earlier this year, rushed to her ex's side in Atlanta after hearing the news that he'd suffered second and third-degree burns in the accident. Now, it appears that the couple are back on again. It seems that the crash was a wake-up call for both of them to realize how much they mean to each other.
Reunited!

Mandy Moore and Adam "DJ A.M." Goldstein dated for only two months in 2007, but it looks like that was long enough to form a bond.

"It's back on," a DJ A.M. source says in the newest issue of Us Weekly , on stands now. "Since the accident, it's blossomed into something again."

(Moore, 24, rushed to DJ A.M.'s side after the September 19 plane crash that left him with burns on his arm and scalp, injured Travis Barker, 32, and killed four others.)

Continues the insider, "Mandy said, 'I like this guy a lot and I want to see where it can go again. Life is too short to not be with someone you really care about.'"

The pair haven't been shy about PDA, either.

A witness who saw the two at the October 18 Friendly House event in Beverly Hills says, "He was holding her hand, and they were rubbing each other's backs."

So after romances with other members of Young Hollywood — DJ A.M., 35, was once engaged to Nicole Richie, 27, while Moore dated Zach Braff, 33, and Andy Roddick, 26 — could the couple make it work this time?

Says a second DJ A.M. source, "When you go through what Adam went through, you need people you love and people who love you. He will never stop loving her."
Everyone was speculating that it would be Travis Barker and ex-wife Shanna Moakler who'd be rekindling their romance, but it looks like Mandy and AM are the real couple. It was clear with Mandy's response to AM's tragedy that she still cares for him deeply. Sometimes the worst things bring out the best in people. I hope these two can put the accident behind him and build something new together. Who knows- maybe they'll even get married.
Header photo of Mandy Moore and DJ AM taken in April 2008. Photo credit: Bauergriffinonline. Additional photos of Mandy and AM together in gallery from Bauergriffin. Photos of Mandy Moore at the Peter Alexander boutique opening on Oct. 22. Photo Credit: WENN. Photos of DJ AM at the re-opening of the Palladium in Hollywood on Oct. 15. Photo Credit: WENN.