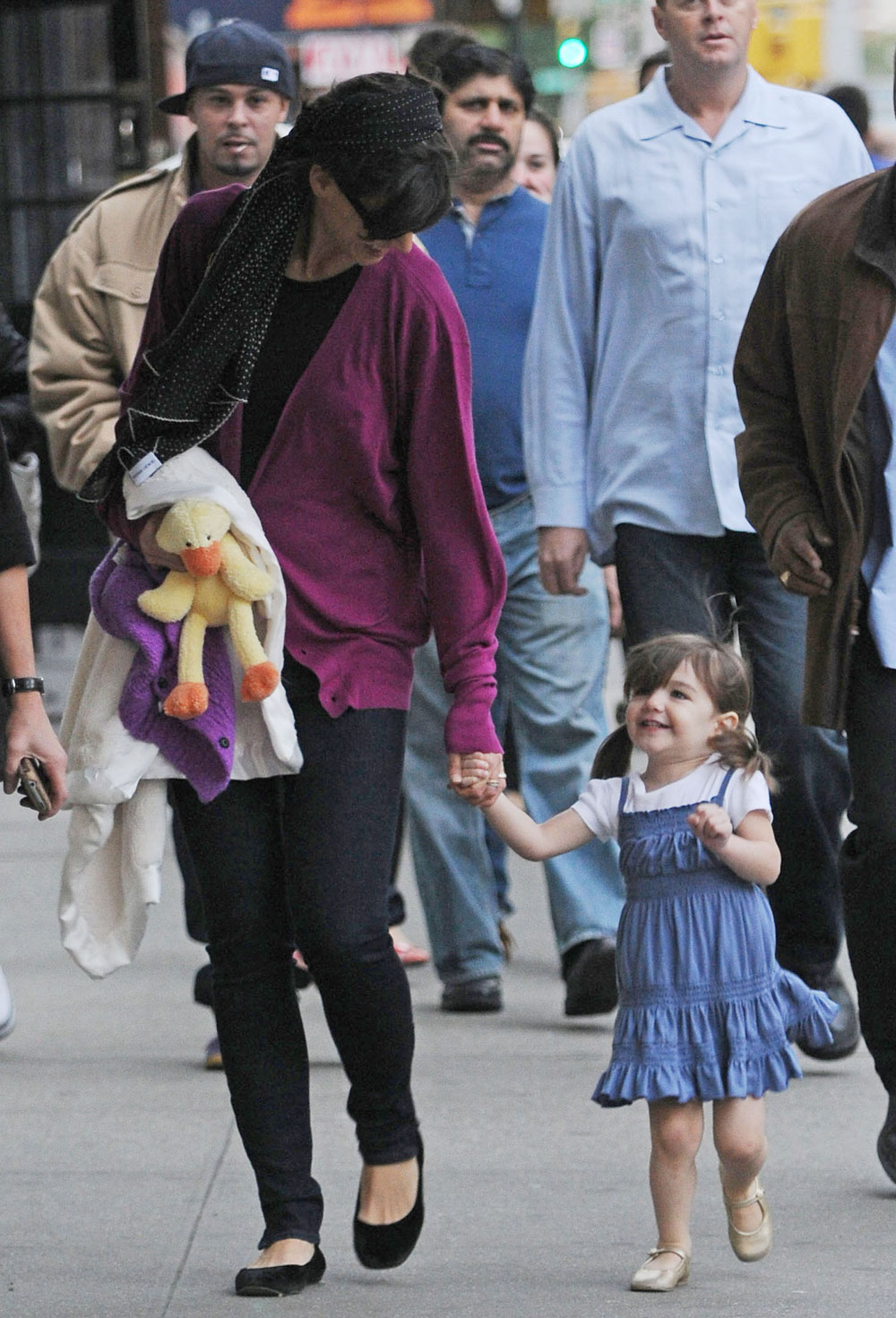 Tom Cruise and Katie Holmes really don't seem to understand the line between being a doting parent and spoiling a child rotten. It's generally difficult to say daughter Suri is spoiled – she doesn't seem to have many friends and we never see her at the playground. In fact she doesn't seem to get to interact with anyone but Tom and Katie. Considering how restrictive her life is, it's hard to say the tot gets everything she wants. Yet today Page Six mentions that Tom and Katie have bought several apartments in a downtown Manhattan building, and use an entire one just as Suri's playroom – as though that's totally normal.
TOM Cruise and Katie Holmes want to bring their Hollywood lifestyle to the East Village. According to a neighbor, Cruise and Holmes are buying up lofts in a 12-story building slightly south of 14th Street. "Tom and Katie now keep five units in the building. They turned one into [2-year-old daughter] Suri's playroom. One they use for a gym, and two apartments are for staff," said our source.

Cruise bought a 10th-floor unit in 1985 and has held onto the space since. "In the past couple of months they've bought up all these other apartments," our source said. "They're all separate and on different floors. Tom is seen coming in and out all the time, and he's really friendly to everyone he meets. But Katie just kind of keeps her head down. Everyone in the neighborhood is buzzing about it." A rep for Cruise denies the couple is buying up units in that building.
[From Page Six]
That does sound like an odd living arrangement. So the first apartment is for the family, but the littlest member has an entire apartment devoted solely to her playtime. I worry that Suri's in there, dramatically gazing out a floor-to-ceiling window and plotting her escape.
I'd think that for whatever reason, Tom and Katie like the building and are just buying units as they become available. Plus it makes it easier for them to keep separate spaces without gossip. What's better than separate bedrooms? Separate apartments of course. If nothing else their arrangement doesn't offer much privacy. If they're bouncing from unit to unit throughout the day it seems like they could have to interact with a lot of neighbors. Not that it'd be a bad thing in the slightest, but it could get a little tiresome when you're at home and settled in for the night.
Having an entire apartment for a playroom is certainly not the weirdest part of Suri's life. If nothing else, it seems like Tom and Katie should compensate her for all the isolation by buying her every toy in existence. Or a robofriend.
Here's Katie and Suri in Manhattan recently. Images thanks to Bauer-Griffin.