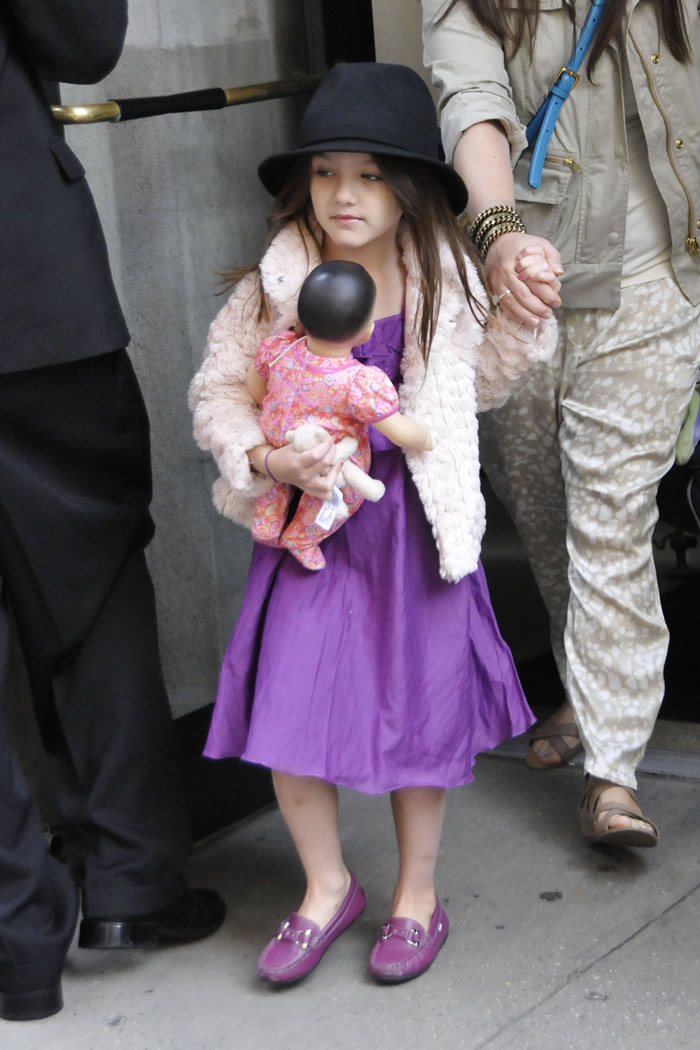 This week's issue of In Touch has presented a story (which I have mixed feelings about) that revolves around children who grow up in a Scientology world. Once again, the source here is Janet Reitman's new book, Inside Scientology: The Story of America's Most Secretive Religion, which I have actually started reading (and am 50% finished) and have found that it is an incredibly detailed account even though I've only just completed the part about Lisa McPherson's life and death inside the cult. So far, it's a highly recommended read, but I'll hopefully keep you posted on that note.
Anyway, we've already covered the In Touch article from last week that discussed the part of the book about Katie Holmes' life of surveillance and control, and this week, the story is about Suri Cruise on the brink of true Scientology induction. Here, I am scratching my head because even though Tom Cruise and Katie Holmes are well entrenched in the CO$ and have surrounded themselves with staff that double as Scientology spies, I think Suri will avoid the traps set out for most Scientology children. Let's get on with this article, and afterwards, we'll discuss:
Over the years, the world has watched as Suri Cruise has grown from a tiny baby into Scientology's most famous kid. But now, Tom Cruise and Katie Holmes' daughter's charmed life could be changing in a big way, thanks to the rules of the mysterious church. The bizarre details of her secret world are being exposed for the first time in a new book, Inside Scientology, by Janet Reitman.

Growing up as a Scientology child, "I was in a completely isolated community," Kendra Wisman tells Reitman. "I had no contact with non-Scientologists. None." Which means that Scientology kids like Suri often lack real-world friends whose lives they can compare to their own.

Though things are pretty normal for a Scientology child's first few years, at age 5 — Suri's age — things start to change with the introduction of auditing, a type of church confessional.

The book — which the church claims is full of inaccuracies — reveals that in order to be a good subject for auditing, children are restricted to a bare-bones diet of organic vegetables, fruit, bland carbohydrates, and vitamin supplements. So Suri may have to forego her usual sugar-loaded snacks like ice cream and chocolate. The previously pampered tot — who was reportedly fed a mixture of barley water, milk, and corn syrup as an infant — already seems to be strong-willed about her diet. According to Tom, Suri once refused her father's meal suggestions, saying, "Dad, I really don't think you should try to force me to do something I don't want to do." With that attitude, perhaps Suri will avoid a scary-skinny look like mom Katie!

And it's possible the outspoken Suri will throw a tantrum over another new rule — an early bedtime. Scientologists are advised to get a full eight hours of sleep before auditing, which could put a cramp in her evenings out with her celebrity parents.

In her private Scientology-themed education, Suri might take on a role most kids would enjoy — spying on Mom and Dad. "Scientology children, like their parents, are taught to report on one another," Reitman explains.

Will the feisty Suri break free from the demanding religion, or continue to grow up as a Scientology princess? Only time will tell.
[From In Touch, print edition, August 28, 2011]
First off, I'd like to emphasize that the above excerpt sounds much like the accounts from the Ex-Scientology Kids website. The tricky thing about Scientology is that, because it costs so much money, many devotees (who are not wealthy celebrities) will essentially indenture themselves to the church. These families will actually pack up household, sell everything, and move to one of the bases, where they receive free auditing in exchange for basically giving up their entire lives. And, of course, their children are part of this deal too, so the kids end up laboring alongside (and mostly separated from) their parents. All of this goes back to the days when children were first encouraged to sign billion-year contracts and serve the Sea Org, which was originally based upon actual sea vessels (because it's easier to escape the hand of the law there) where L. Ron Hubbard (a.k.a., "The Commodore") himself was served by droves of young "Messengers." These days, the Sea Org exists on land but is no less demanding, and these children are forced to miss out on both school and all but a few hours of sleep in order to help "clear the planet." To say that this is a very rough life for the children is an understatement, and it's really hard to believe that any parent would sign their kids up for this miserable existence.
As to Suri? She'll eventually have to deal with the auditing nonsense and its associated indoctrination, but it's not as if Tom and Katie would ever encourage her to sign up for the Sea Org. For one thing, they don't need to do so because they're incredibly rich. Also, Suri is clearly an asset and must remain visible to the public, as creepy as that sounds. Really, Suri is really the only thing that's keeping Cruise's public image afloat, so to speak. With Suri, Tom is a doting father who happens to wear lifts at all times. Without her, Tom would still just be the unhinged couch jumper … who wears lifts at all times.
Meanwhile, the paps have gotten some really cute pictures of Suri in recent days. Kaiser, CB, and I have already discussed these almost surreal photos of Suri on 8/16 wearing this purple ensemble. At first, there was a question as to whether it was even Suri in these pictures, because Kaiser thinks she looks almost like a different child. And make no mistake, Suri does seem almost unrecognizable here, but from certain angles, the Suri-ness shines through. Or something like that.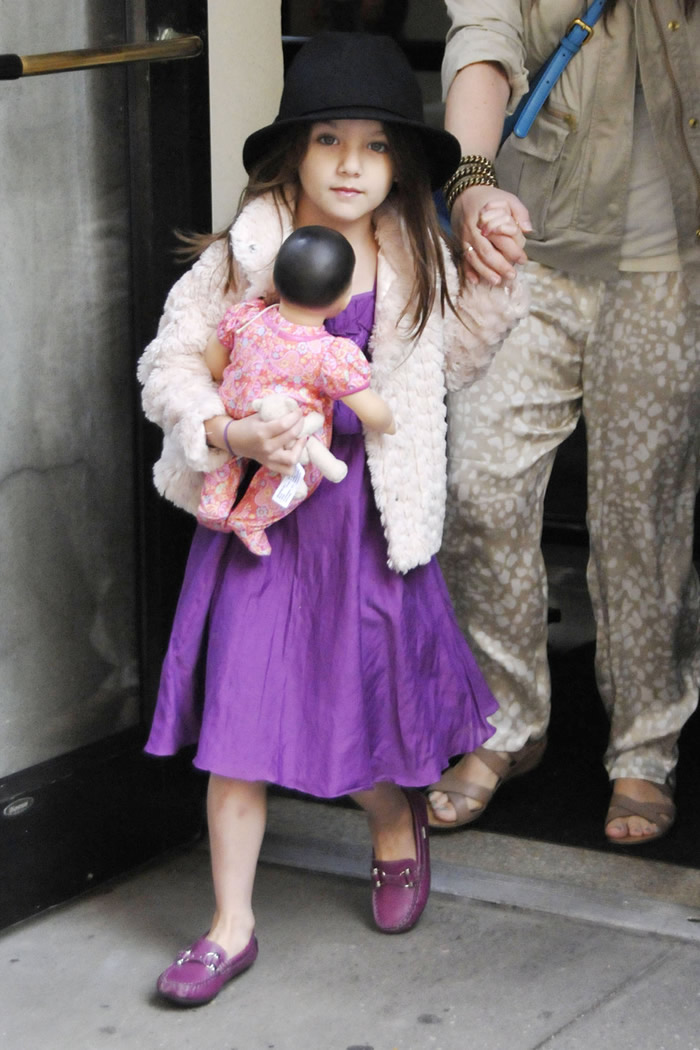 Now here's some recent photos of Suri on 8/17 and 8/15 looking more like herself. She really is adorable holding that child-sized umbrella.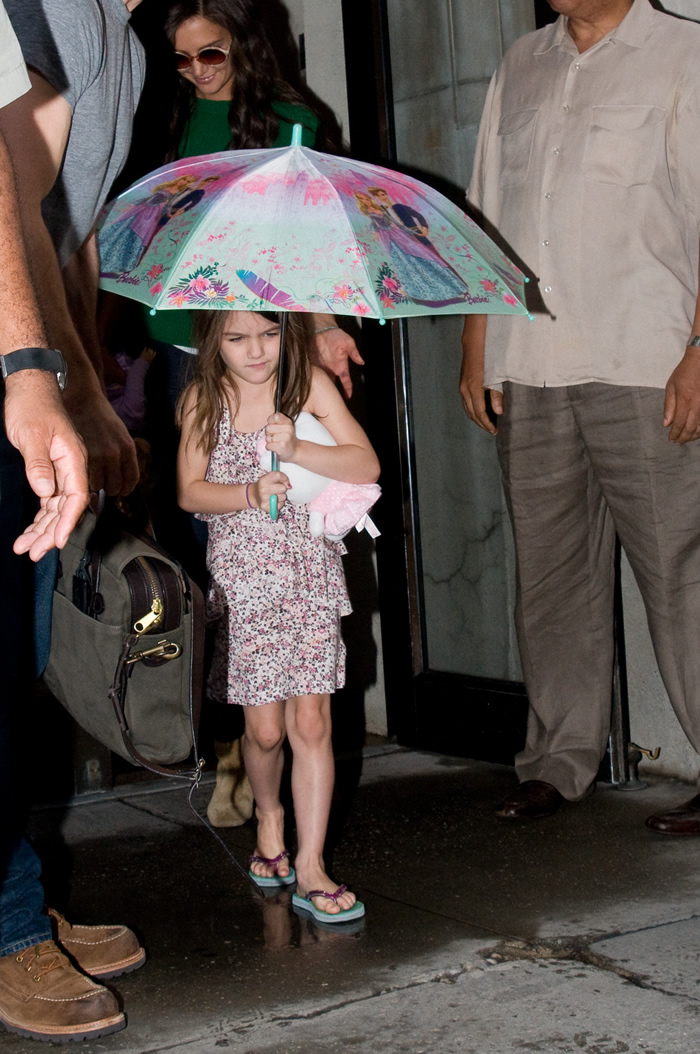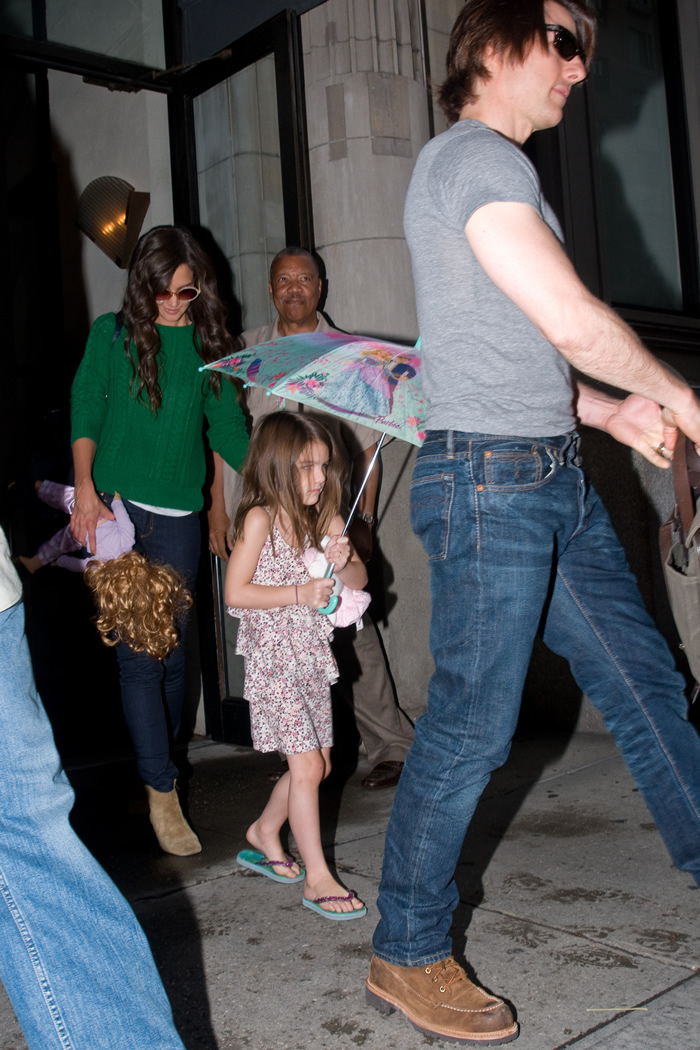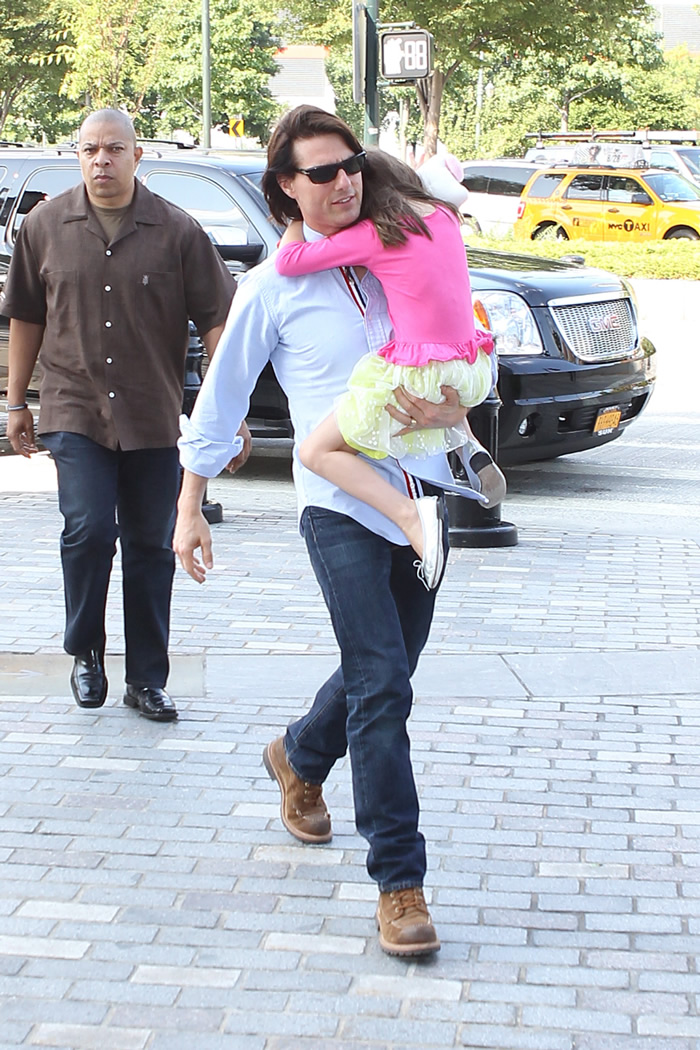 Photos courtesy of Pacific Coast News and WENN