For a recent Esquire profile, a journalist accompanied Ryan Gosling on an all night trip in New York city and to Coney Island. A lot of young people recognized Gosling as a movie star, but no one he encountered knew he name. He was called Paul Bettany and Ryan Reynolds, and some kids knew him as that guy from The Notebook.
A new video has surfaced on YouTube of two women talking and laughing inappropriately while they film a street brawl in New York. They see a buff guy approach the people fighting to separate them, and then they realize he's famous and get all excited about it. They don't know Gosling's name and just realize he was in The Notebook. It's amusing just for the way they identify him.
US Weekly has the background on the fight, which involved a guy stealing a painting from a street artist, who confronted him. Gosling played peacemaker and eventually paid the artist $20 for the painting.
Ryan Gosling to the rescue!

The 30-year-old actor saved the day Saturday. As captured in a video taken by Valeria Alvea, The Notebook star broke up a fight near New York City's Astor Place.

"There is a man who sells paintings [that] he makes on that corner," a witness Us Weekly. "This older man ran by him and tried to grab and run away with one of his paintings. The painter was able to stop him before he took off with him and tackled him to the ground."

The two men got up and started arguing. "Before it got too violent a stranger appeared to separate them," adds the source. "[The stranger] was Ryan Gosling! He was trying to understand the situation while keeping them from hurting each other."

Gosling took the two men "to the corner of the street, like a chaperone," says the witness. He had them explain the story, but things began to escalate again quickly. "Ryan put a stop to it, then he asked, 'How much is the painting?'"

The painter told Gosling it was $10. "Ryan gave him a $20 and said, 'Does this cover what the man owes you?' The painter thanked him and said yes," says the witness. "Ryan said good, and continued on his way."
[From US Weekly]
Gosling wasn't the only person watching the fight, but you can see in the video that he's the person who is most involved in trying to break it up. I will admit that I first though that he was the guy in the jaunty jacket and scarf carrying a dapper umbrella. We're so used to seeing him dressed up in a tailored suit. He's really the guy in the striped tank top with one of his pants legs rolled up like he was just riding a bicycle. His arms are insane. I love that he got involved like this and that someone caught it on tape, as annoying as their commentary is. Now I get what he was saying in Esquire about how it's weird when he gets recognized everywhere. He was gracious about it though.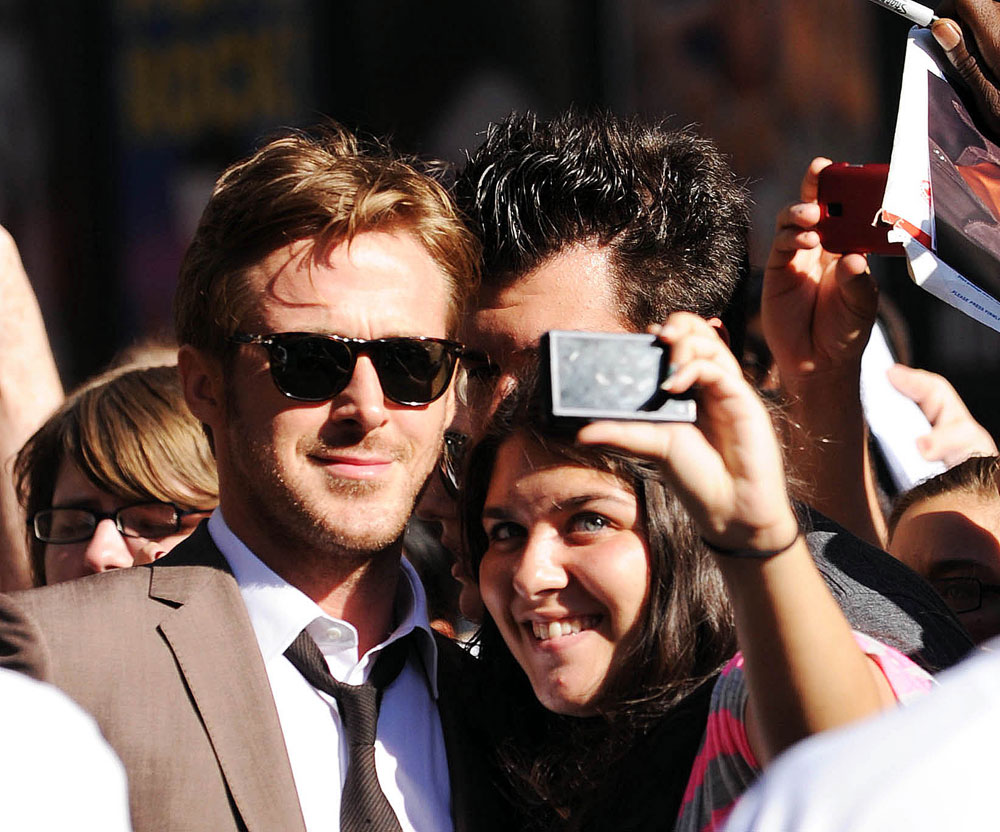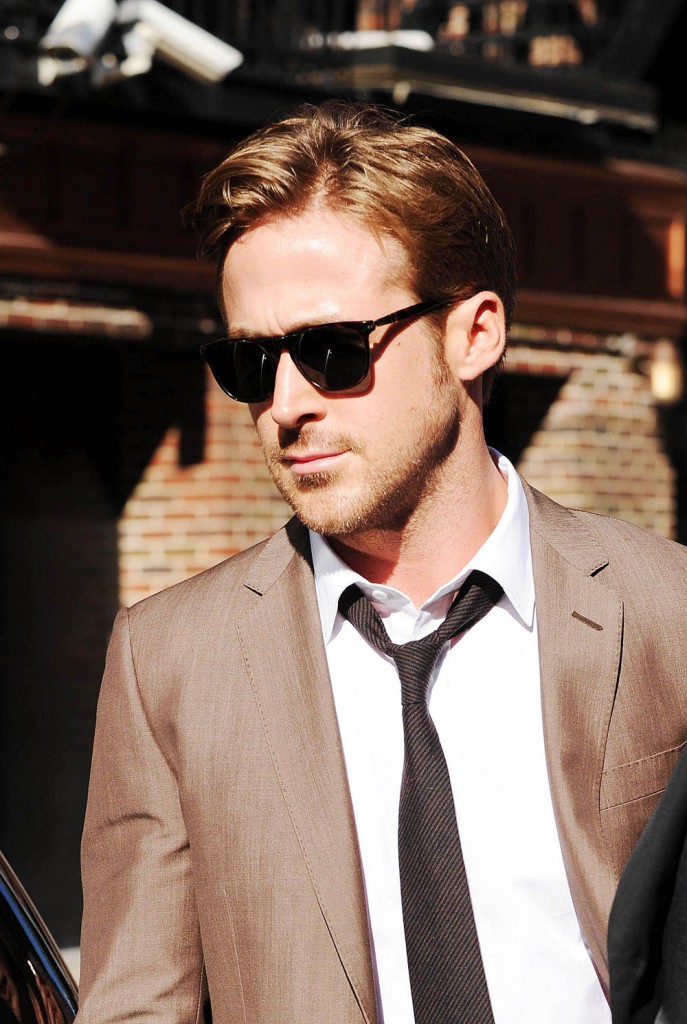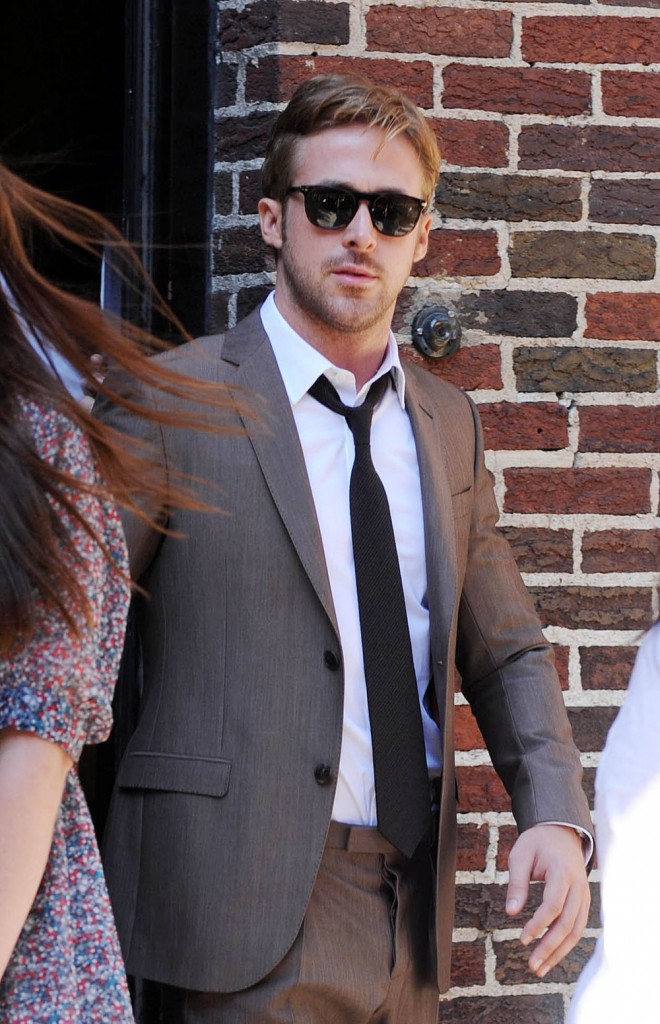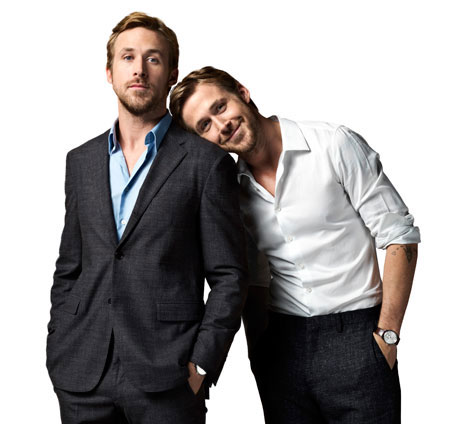 Ryan is shown on 7/13/11 outside the Late Show. Credit: Fame. He is also shown in a still from Esquire