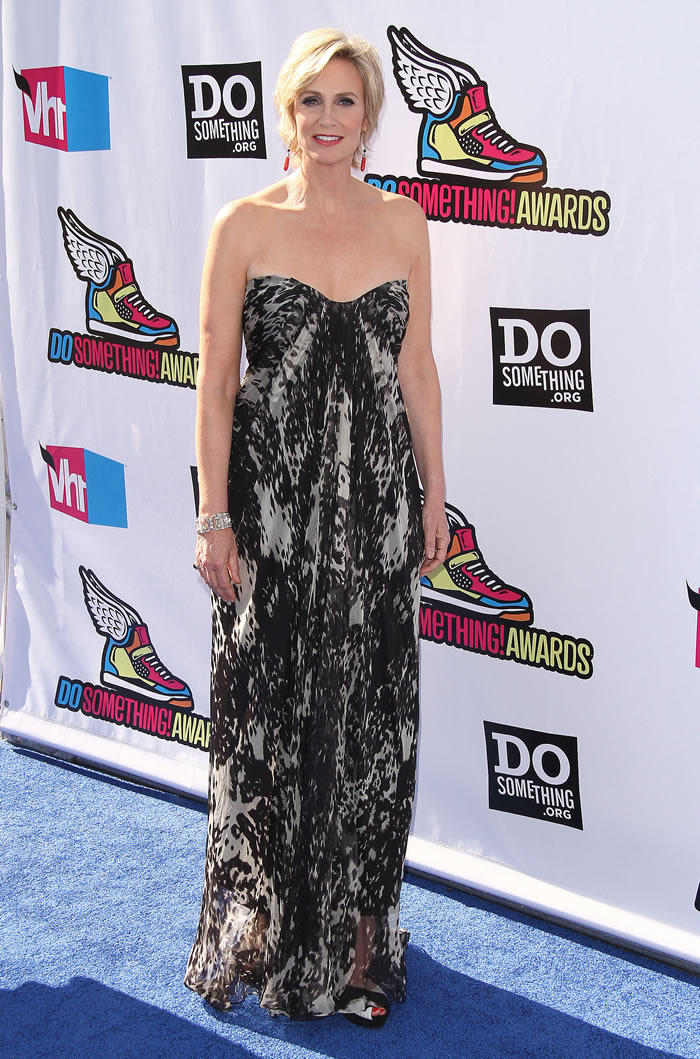 In February, Jane Lynch revealed that she was penning a memoir (called Happy Accidents) that would detail her struggles with alcoholism and sexuality, and she also recently did a promotional interview with Vogue that revealed some further tidbits as well as her desire to come back as Jon Hamm in her next life. Now, Jane's releasing another teaser that I find a bit strange, not for the subject matter but in the way that she presents the information. Apparently, Jane was once addicted to NyQuil syrup, which isn't a massive confession by any means, but the wording here is quite odd:
"Glee" star Jane Lynch has revealed how she was addicted to cold medicine.

The 51-year-old actress said she was so depressed that she sought "happy oblivion" by downing bottles of the NyQuil syrup.

The over-the-counter medicine contains alcohol and if taken in sufficient quantities has the same effect as drinking.

Lynch said she turned to the medicine after giving up drinking when she was 31-years-old, amid fears she was becoming an alcoholic.

The actress, who plays snarly gym teacher Sue Sylvester in the hit TV series, writes about her addictions in her upcoming biography Happy Accidents.

She said she had managed to kick her addiction to alcohol, but couldn't give up trying to get drunk by downing bottles of the cold medicine.

"I found myself eating about a gallon of chocolate ice cream daily to replace the copious amounts of sugar my body was used to from my daily beer intake," Lynch writes in her book. I did, however, continue my habit of taking NyQuil before bed. Though no longer drinking Miller Lite I was in need of something to soothe me. The fact that NyQuil had alcohol in it was not something I acknowledged at all. I still considered myself on the wagon."

Medical experts have said drinking large quantities of the cold and cough medicine can cause liver and other organ damage.

Lynch said her addiction the cold treatments worsened during a 10-month stay in New York when she was appearing in a play about the TV family The Brady Bunch.

"I was miserable the whole time," Lynch writes in her book, according to the New York Post. "I'd close the drapes, take a swig of NyQuil, toast with a simple 'bye bye' and go into a deep sleep."

Lynch said she eventually sought help from Alcoholics Anonymous after a night getting high with her cast mates. "I smoked myself into oblivion that night. I still felt like crap and even lonelier that I had felt before."

Lynch said she finally found happiness with her wife Lara Embrey; saying she was "smitten" with her within a minute of their meeting.
[From Daily Mail]
Kaiser, CB, and myself have already discussed this story a little bit, and the general consensus is that a NyQuil addiction by itself is an odd declaration, and it would be more believable if she was addicted to say, Sizzurp, which contains codeine. Further, if Jane was drinking NyQuil for the alcoholic content, well, it'd take more than just a nightly swig to get any sort of buzz comparable to that of habitual drinking. Really, the addictive substance contained within NyQuil is DextroMethorophan, but maybe Jane (or her ghostwriter) just didn't do enough research on this part of the book. Further, the ice cream binges she describes as necessary to replace the (almost nonexistent) sugar content in Miller Lite seem sketchy too.
Overall, this story just seems slightly "off" to me. While it's possible that Daily Mail has misquoted Lynch's memoir, it's doubtful that they could legitimately excerpt her words to this degree and completely misplace the context. So perhaps this memoir, which comes out on September 13, will be a very poorly written one, but it's too soon to tell. Meanwhile, I am glad that Lynch has finally found happiness in her personal life. Here's a photo of Jane with her wife Lara Embry, and daughter (step-daughter to Jane) Hayden in West Hollywood in mid-March. They look really happy, right?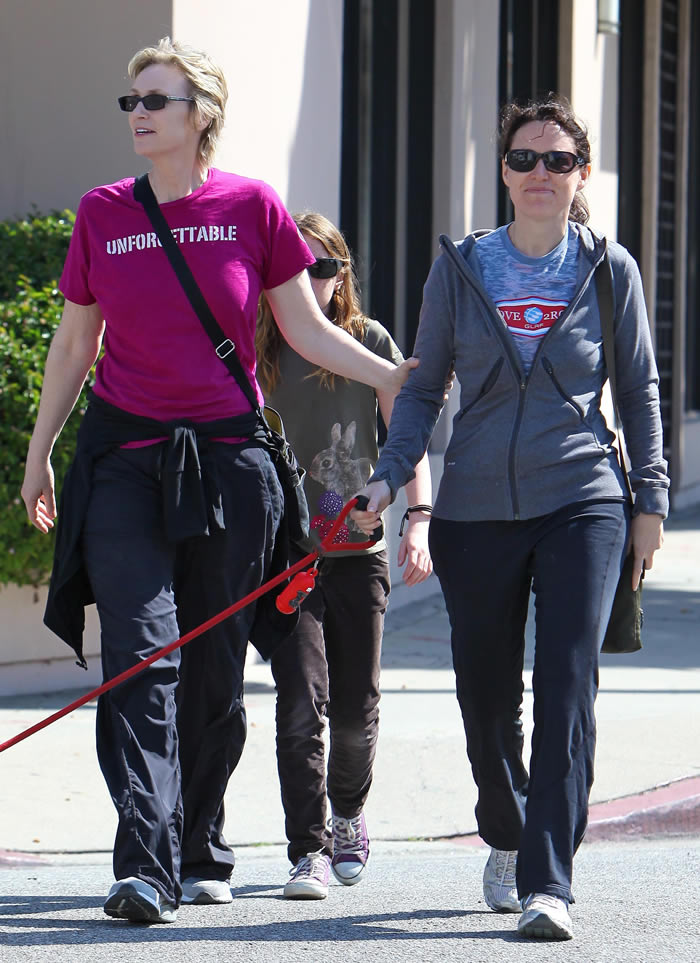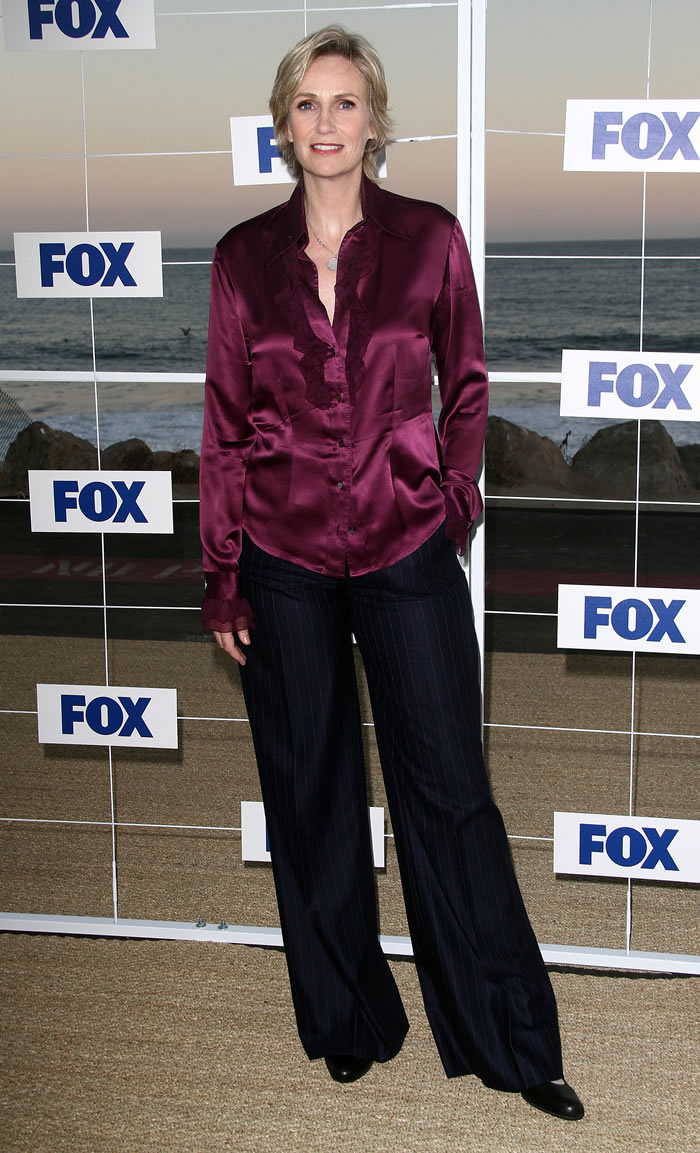 Photos courtesy of Fame