Jane Lynch: "I want to come back as Jon Hamm in my next life!"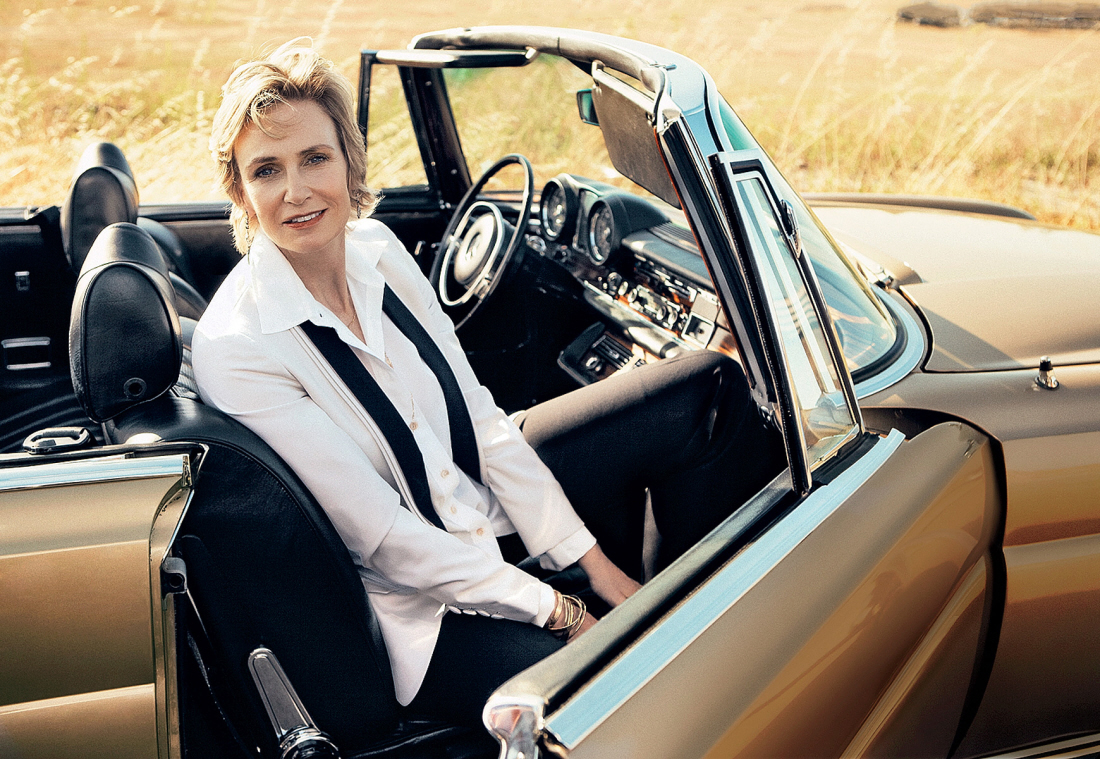 Jane Lynch is profiled in the August issue of Vogue Magazine, "The Age Issue". She's 51 years old, so she represents the "50s". I'm slightly surprised Jane was asked to do Vogue, in any capacity, and I'm surprised that she agreed. Anna Wintour must be loosening up, and Jane too. Jane is promoting her memoir, Happy Accidents, and much of the interview is spent discussing her new life as a wife to a clinical psychologist, Dr. Lara Embry, and becoming a mother to their daughter Haden. The full Vogue piece is here, and here are some highlights:
Lynch on her first year of marriage: "We've taken on everything in our first year of marriage," says Lynch. "Moving. I gained a daughter. We renovated a house—and writing a book. I mean, talk about learning about your wife!"

Dr. Lara Embry's past: The couple met at the 2009 gala for the National Center for Lesbian Rights, and by both accounts it was love at first sight. Embry was there to accept a Justice Award. A decade earlier [Embry] had been in a committed relationship with a woman, living in Washington State. They both became mothers, and each legally adopted her partner's child. However, after a move to Sarasota, Florida, the couple separated. Embry's partner became a born-again Christian and moved in with a man. From the sanctuary of Florida, then the only state with a blanket ban on gay adoptions, she fought successfully to bar Embry from visitation rights to her adopted daughter, now eleven. (The Florida Court of Appeals finally upheld Embry's rights).

Before meeting Lara, Jane wasn't dating: "I had reached a kind of contentment," she says. "I didn't have that driving kind of fevered ambition, that fear that I gotta take the next thing. And you go years not knowing what the next thing is. Now, when things are presented, they either feel right or they don't. And I don't take parts just to do them anymore."

Jane's background: Lynch was raised in Dolton, Illinois, the middle child of "a family that was pure Americana." There was no room for transgression in sixties Dolton; "normal life" came right after "food and shelter" on her Midwestern mom's list of priorities. The deafness in her right ear was not diagnosed until she was eight; she became "the family ham" in an effort to win attention. Her passion for acting began when she was taken to her first play at the age of five and was bewitched. In the meantime she was developing into "a huge tomboy who wanted nothing more than to play baseball from sunup to sundown"; she would sneak into her dad's closet and play dress-up in his clothes, "like the quintessential sixties man I longed to be." "I adore Mad Men," she tells me. "I want to come back as Jon Hamm in my next life!"

Realizing she was gay: As a child Lynch "never felt quite right," and her out­sider status was confirmed when, at the age of twelve, friends told her about boys they had spied walking hand in hand on a beach in Florida. She realized then that "that's what I have . . . I am the girl version of that," a revelation that was swiftly followed by the firm knowledge that no one could ever know. "When I grew up," says Lynch, "just like in Glee, you had to be what they considered 'normal' or you got a Slushee in your face. I didn't want to be too tall. I didn't want to be too loud. I didn't want to be gay."

Jane on her career: "Throughout my career, I'll get cast in a role that exercises a part of myself that has been dormant or has never really ever been awake," says Lynch, who channeled her youthful self-loathing into the character of Coach Sue. "You have to be ready," she adds. "You have to allow yourself to be back up against the wall and go, 'Can I pull this out of me?' Like when I was in graduate school and they cast me as an ingenue—and I never saw myself as an ingenue. I was still this little tomboy. And you have to dig really deep, and eventually you find it, because everything lives in us."

Being a step-mom to Hayden: Lynch admits that she had never thought about being a parent, and when The New York Times, covering the marriage ceremony, asked her about the proverbial biological clock, she joked that "I never even heard it ticking." But Lynch included in her wedding vows the promises "to be the very best parent I can be" to Haden, "and to do my best to get her iCarly tickets." She is clearly besotted with her daughter. "I make her sound like the Dalai Lama," she says, "but she's a pretty exceptional kid. She's just like me!"
[From Vogue]
The article doesn't state whether Jane has legally adopted Haden, and I suspect that Jane hasn't. I'm not saying that Jane is any less of a mother to Haden, just that if Jane and Lara split, I don't think Jane would get any custody rights with Haden, right? That being said, I doubt Jane and Lara will split. I think they're very cozy together, and hey, who wouldn't wanted them as moms?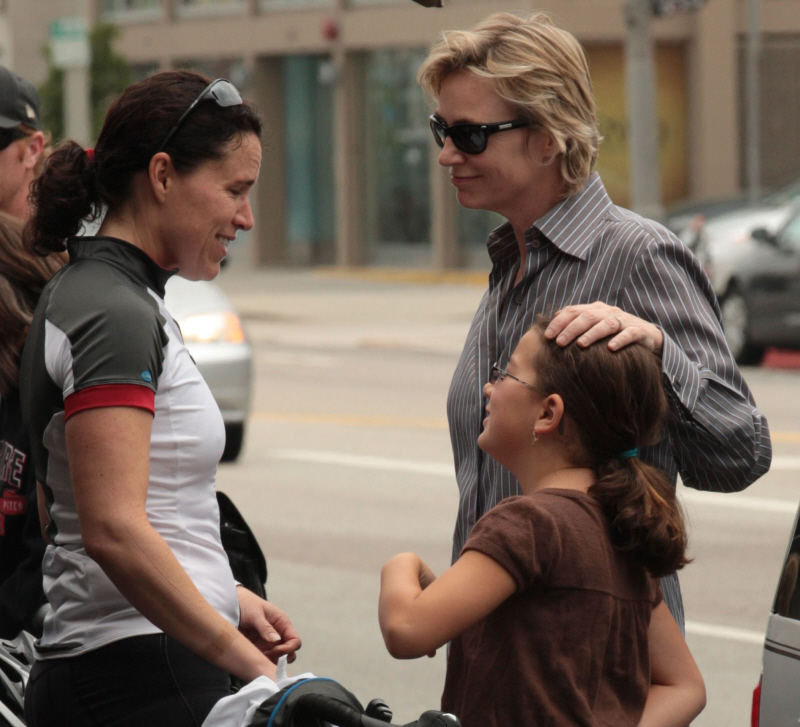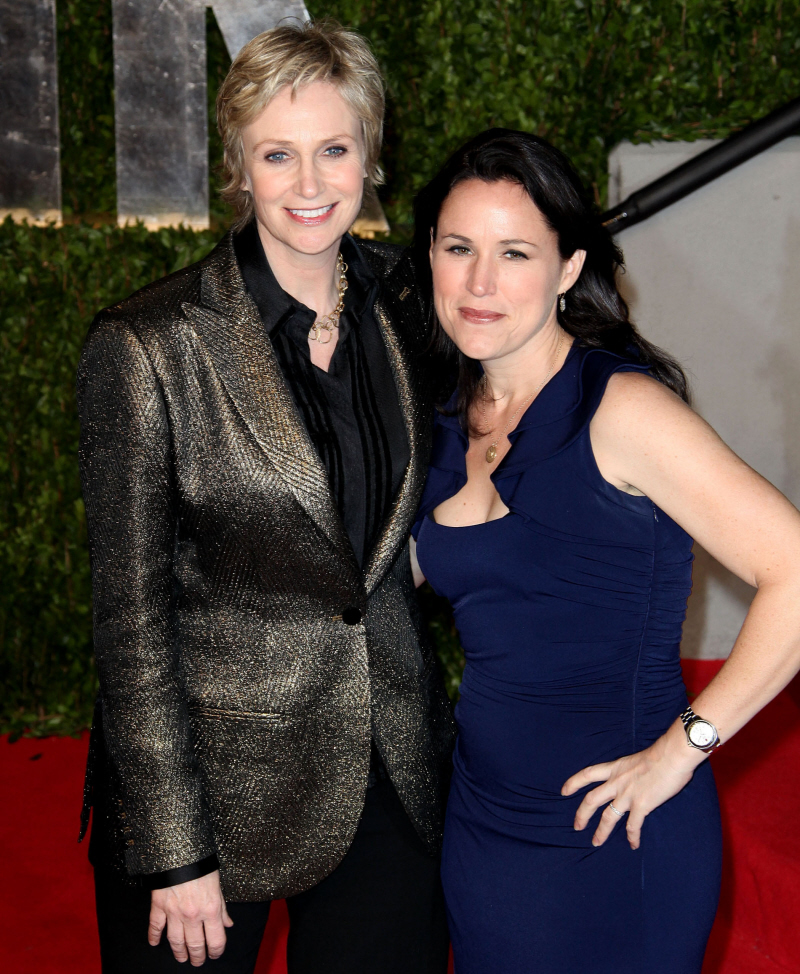 Photos courtesy of Vogue, WENN.

Written by Kaiser

Posted in Jane Lynch

- Mariah Carey lip synced on American Idol [CDAN]
- Colin Firth is looking good [Lainey Gossip]
- Internet celebrity charged with murder! [D-Listed]
- What is Paz Vega wearing? [Go Fug Yourself]
- New bachelors on The Bachelorette [Reality Tea]
- Goodbye to The Office [Pajiba]
- Bachelor Sean's fiance cheats on him [Evil Beet]
- Britney Spears out with her man [Popsugar]
- Nina Dobrev works it [Popoholic]
- Cindy Crawford needs to lay off the 'tox [Celebslam]
- Who said it: Carrie Bradshaw or The Dalai Lama? [Buzzfeed]
8 Responses to "Jane Lynch: "I want to come back as Jon Hamm in my next life!""