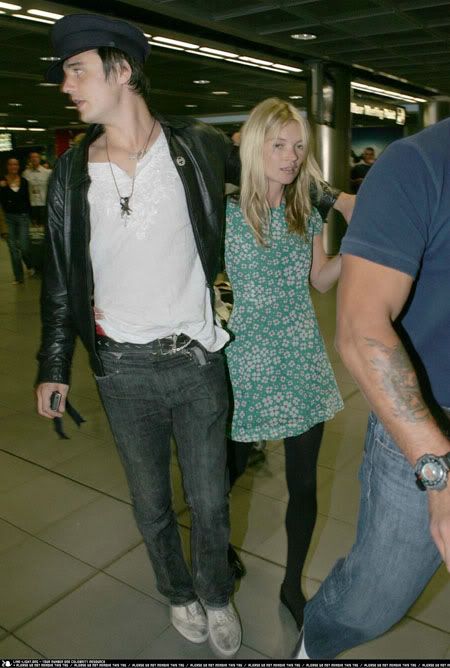 Pete Doherty is out of his reportedly successful stint at court-ordered rehab, and the British rags are buzzing that he's going to marry Kate Moss soon. We've heard this story before, with Pete bragging to his mates that he was going to marry Kate during an earlier reconciliation. Kate and Pete were said to be planning a wedding in Ibiza last month when one of Pete's many drug busts forced the postponement of their nuptuals.
Now comes news that the crazy couple wants to move to America, and are considering buying a place in New Jersey!
A source said: "Kate is a huge fan of America and adores New York. She and Pete would love to move to the States, ideally by the end of the year, and spend as much time as possible there.
"They are already inquiring about a three-bedroom penthouse in New Jersey and would obviously fit their work around being based there.
"Kate is no stranger to the States and has an exceptional reputation as a style icon there, so it makes perfect sense.
"Plus, both she and Pete reckon they won't attract so much attention living there.
"Pete initially suggested the idea and told staff at the rehab centre where he has been battling drug addiction that he couldn't wait to make the move as soon as possible."
Our mole added: "It's an ideal opportunity for them to spend much more time together."
The couple were pictured last week enjoying a passionate clinch in the grounds of The Priory in Southgate, London, where Pete is having treatment.
And as we revealed last month, Pete and Kate also hope to tie the knot – with Pete joking Las Vegas may be an option.
Jersey City is hot right now, and Hoboken isn't bad either. It would be hysterical to see these two settle down in Jersey, and it seems like a great choice for them. Connecticut is also close to New York city, but somehow Jersey seems more fitting.
Here are Kate and Pete at Dublin airport on 9/25. [via]