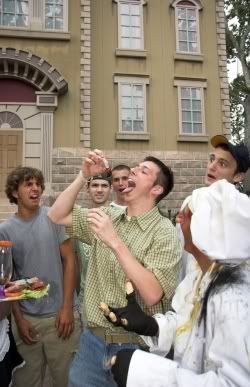 Six Flags Great America in Illinois is offering people free line-jumping priviledges during their Holloween season viist if they take a bite of a giant hissing Madagascar cochroach. PETA is calling this cruel. Since when did they defend insects?
People for the Ethical Treatment of Animals wants Six Flags Great America to scrap its Halloween-themed cockroach-eating promotion.
A spokeswoman for the animal rights organization said the contest at the amusement park's FrightFest is "gratuitously cruel."
The park in Gurnee, Illinois, is joining other Six Flags parks in offering unlimited line-jumping privileges to anyone who eats a live Madagascar hissing cockroach. The bugs are up to three inches long…
Amusement park officials are defending their menu choice. Great America spokesman Jim Taylor says the bugs are nutritious, high in protein and fat free.
This is during freaking Halloween season, so it's not like the lines are long enough to make it worthwhile to take a bite out of one of those nasty giant bugs. You don't even get in free for eating one.
I was going to include a picture here, but the things are huge – they take up half your hand, and the thought of biting into one really skeeved me out. Here are some pictures of the Madagascar hissing cockroaches.
I would wait in line for three days before you would catch me eating one of those things, but I wouldn't hesitate to crush one if I was wearing thick enough shoes.
Why is PETA defending bugs now? Sometimes I let spiders free on our balcony instead of smooshing them, but it seems over-the-top to come to the defense of these bugs, and PETA loses some credibility for it, in my opinion.
Six Flags also says they're trying to find people willing to try to break the live Madagascar cockroach eating record of 36 in one minute. Of course there will be a huge crowd watch. If someone successfully breaks the record they'll get four season passes with line-jumping status – for one year. That's a crappy prize, and there's no word on the consolation prizes for losers.
The whole promotion is pretty disgusting and dumb, but people are going to go for it and Six Flags is getting plenty of free publicity.
Thanks to Fark for linking this.