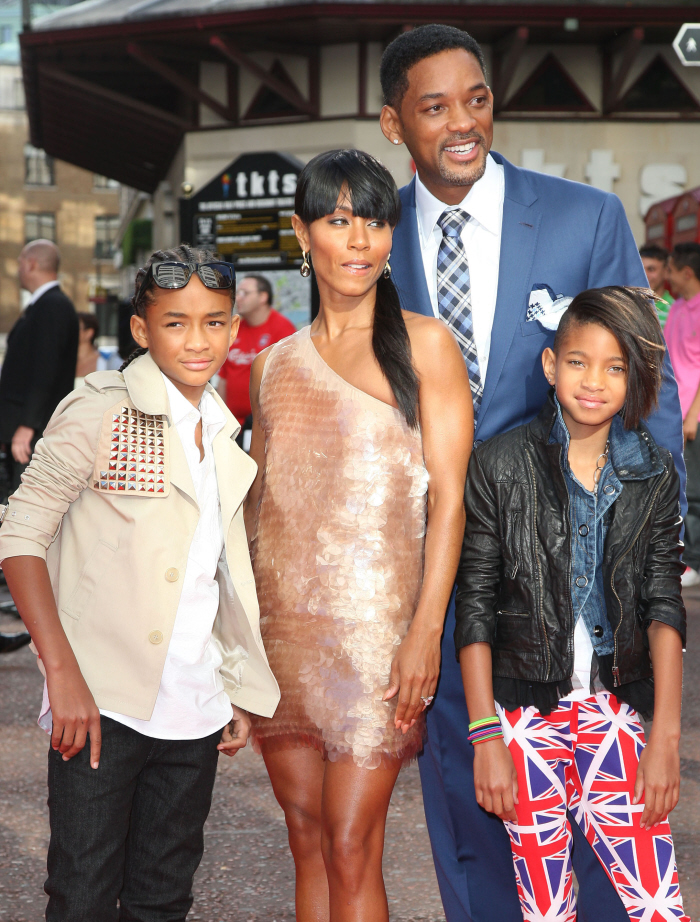 It took most of Tuesday, but FINALLY, Will and Jada Pinkett Smith released a direct denial of In Touch Weekly's story. Yesterday, various media outlets got advanced copies of ITW's big story this week, about how Jada Pinkett Smith screwed around with Marc Anthony on the set of HawthoRNe and how that affair led to Jada and Will's split. Most of the day was full of unnamed sources coming out of the woodwork to proclaim that Jada and Will were fine, and Will's son Trey even came out to deny the split story. Finally, Jada's rep got her ass in gear and denied the Marc Anthony affair to Us Weekly, and then Will and Jada offered a joint statement denial:
"Although we are reluctant to respond to these types of press reports, the rumors circulating about our relationship are completely false," the couple said in a joint statement Tuesday. "We are still together, and our marriage is intact."
[Will and Jada's statement via People]
For what it's worth, I think they're still together. I'm not saying there isn't something weird or fishy going on with their marriage – there totally is. I'm not saying that they're not involved with the Church of Scientology, and that doesn't make me question what kind of auditing/contract/Xenu-and-barley-water rituals are going down – they're totally involved with CoS, and it's sketchy as hell. What I'm saying is that I think Jada and Will are tight and committed to their family unit and the corporation around their unit.
So what was going on with ITW's report? Why did it take most of a day to get an explicit denial? Why did In Touch treat this report like a sure thing, sending the story out as an exclusive to media outlets? I don't know. It will be interesting to see how everything plays out in the lawsuit. That's right – Radar reports that Will and Jada are already talking to lawyers:
Will Smith and Jada Pinkett-Smith are the newest Hollywood couple rumored to be splitting, but after issuing a statement that they are not separating, RadarOnline.com has exclusively learned that the couple is utilizing their legal team regarding the false report.

"Will and Jada are not splitting and they've already got their legal team involved," a source close to the situation told RadarOnline.com.

"Like any other A-list couple they're used to inaccurate reports sometimes, but when it comes to their marriage, they don't appreciate anyone demeaning it."

According to the source, the power couple has discussed the report with their legal team and will privately decide how to proceed.

"They're good sports and they're laughing about it, but they have to talk about it with their legal council to protect themselves," the source said.

Will and Jada issued a statement Tuesday afternoon, blasting the report, that was published in In Touch Weekly magazine, saying: "Although we are reluctant to respond to these types of press reports, the rumors circulating about our relationship are completely false. We are still together, and our marriage is intact."

Sources close to the couple tell RadarOnline.com they're happily married and hope the issue can be resolved with the help of their legal team.
[From Radar]
It will be interesting to see if there's some follow-through with a lawsuit. It's hit or miss for celebrities to sue the American tabloids – Chris Martin never got around to suing Star Magazine about the report he was boning Kate Bosworth, but David Beckham did sue In Touch over the story that he boned an escort in 2007, but the case was later thrown out (but not before In Touch went to war with Beckham in the courts, and made it sound like they had even more stories about his many affairs). I eagerly await our copy of ITW this week so I can read the whole story, and then I'll be able to judge whether or not ITW's sourcing was any good. This might be a case like Brangelina suing News of the World for their false split story – NOTW ended up having to pay out to Brangelina.
UPDATE: TMZ has an interesting story this morning:
Will Smith and Jada Pinkett Smith are having significant problems in their marriage, but they have NOT made a decision to separate … at least not yet — this according to sources connected with the couple.

Reports have been swirling that the couple has separated. We're told it's "definitely a possibility" but they haven't pulled the trigger. In fact, we've learned Will, Jada and their kids are going away together soon — as a family. Our sources would neither confirm nor deny if the trip is a last ditch effort to save the relationship.

We also asked our sources about the somewhat curious statement from Will and Jada, that their marriage is "intact." Specifically, why didn't they go the more traditional PR route and say they're still in love and committed to each other? Our sources privately said, the language was carefully constructed.
[From TMZ]
Well, I think that still holds with my theory that their marriage is screwed up, but they're committed to each other, and committed to being together. It will be interesting to see how this plays out in the coming months.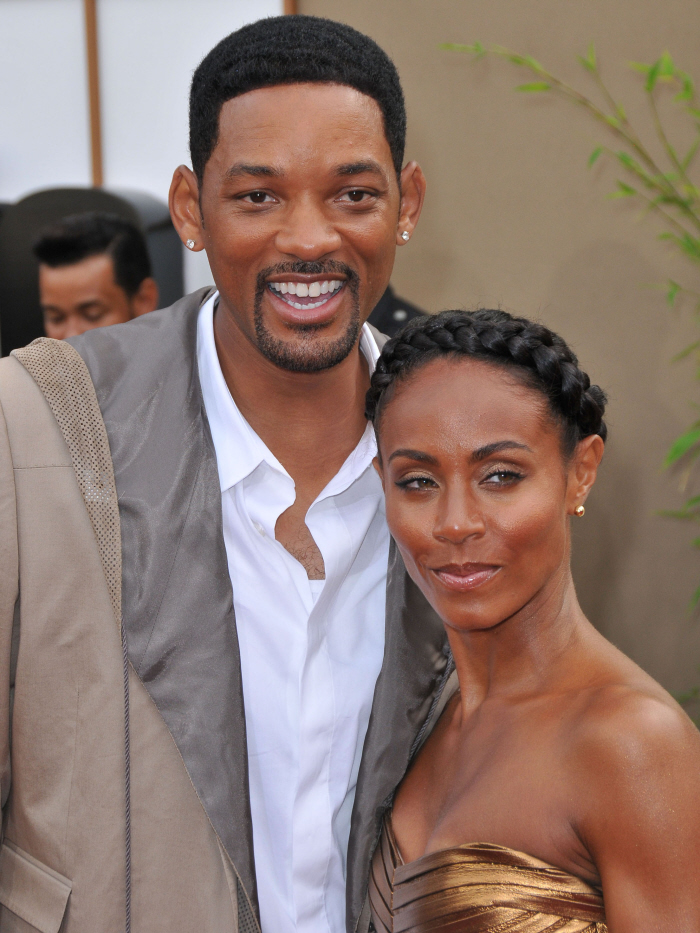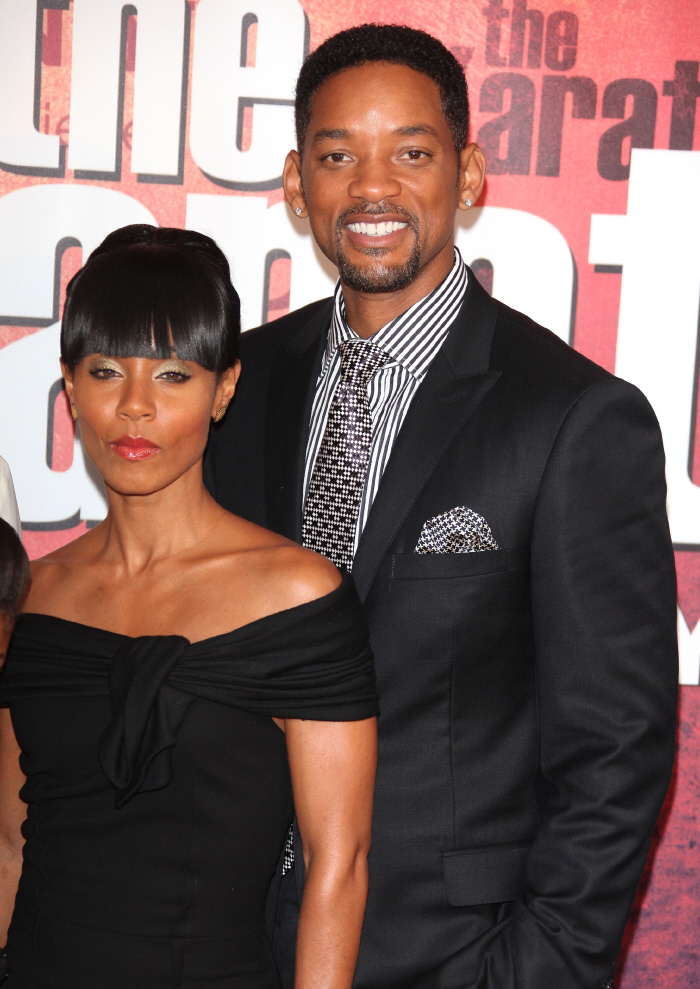 Photos courtesy of WENN.