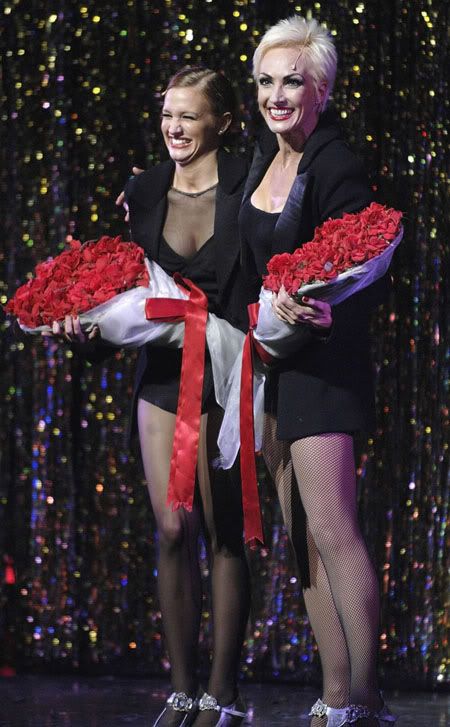 Ashlee Simpson had her first performace as Roxie Hart in the "Chicago" musical in London's West End last night. Celeb-friendly Hello! magazine says it was top notch and that Ashlee delivered the goods in a live performance after getting busted lip synching just last year:
London's West End got a taste of high-octane American glamour when US pop starlet Ashlee Simpson made her debut in the musical Chicago on Monday night. The 21-year-old raised the roof of the Cambridge Theatre with a flawless performance in the role of femme fatale Roxie Hart.
The Texan belle's superstar sister Jessica was on hand to provide her with plenty of moral support as her big moment arrived. And the chart-topping singer told reporters that being part of a famous family helped her understand the character she plays.
"The play absolutely is all about celebrity and wanting to be famous and have your name in the papers," she explained. "In that sense, it's been kind of cool because I've really got to connect to that because I've seen that world and been in that world."
Ashlee obviously wasn't too concerned about being seen as a VIP, though. "Doing theatre has been extremely humbling because it's not about who you are," she revealed. "You are not a celebrity when you come here. Everyone is equal – everyone has to work together."
Since undergoing plastic surgery following her Marie Claire interview telling girls to accept their flaws, Ashlee has successfully reinvented herself. Big sister Jessica is in a bit of a slump with poor fashion choices and a high-profile divorce. Maybe Jessica she should get some advice from Ashlee on how to enjoy single life.
Meanwhile the Simpson sister's controlling father/manager, Joe, is angering the co-producer of a new movie set to star Jessica, "Blonde Ambition." "Malcolm in the Middle" star Justin Berfield is said to be annoyed with Simpson's controlling ways, which may threaten the future of the film.
Here is Ashlee after her performance last night. [via]