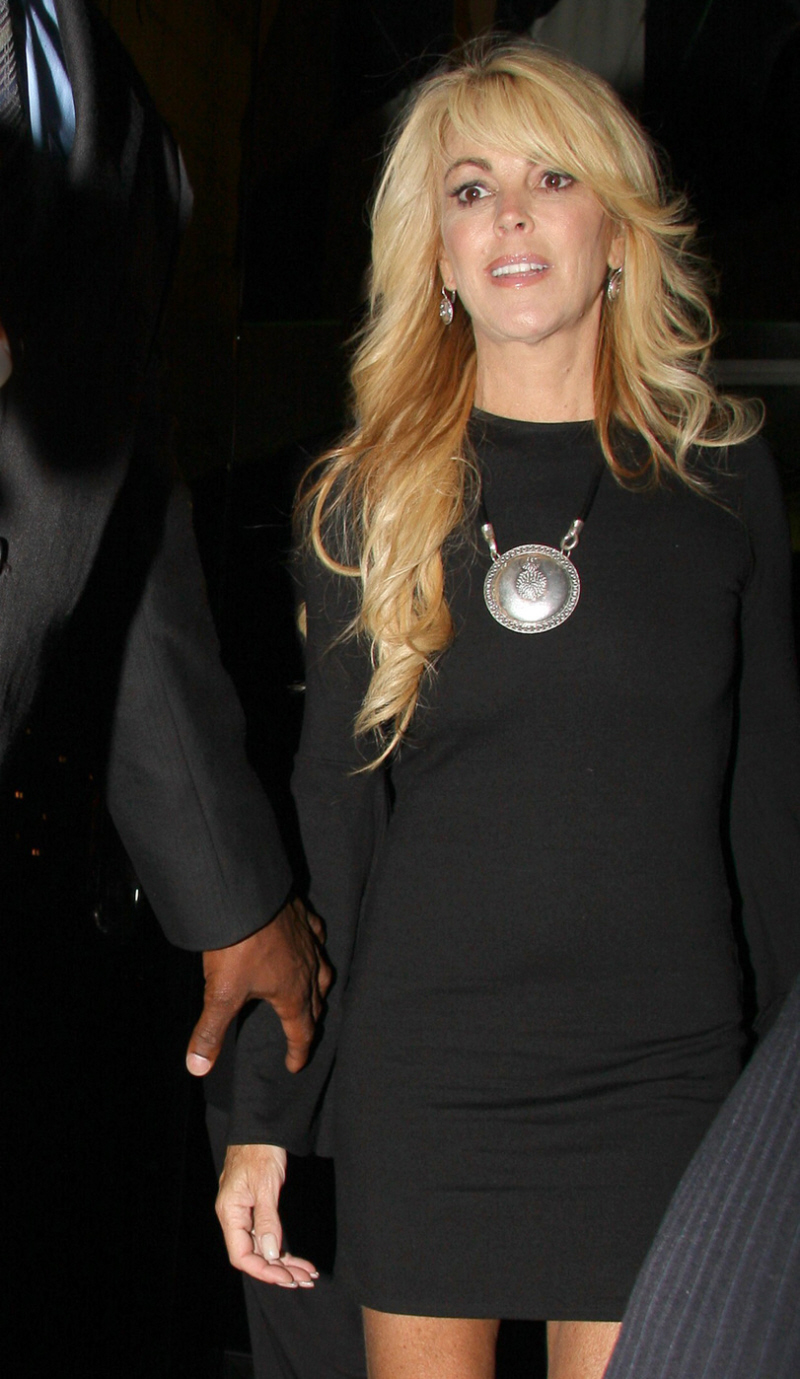 Since I just covered Kris Jenner and her evil genius ways, I thought it might be nice to check in with another stage mother, this time a cracked-out one, our own Beloved Mother Crackhead. You know how I'm using my mother as a "source" on things now? You should hear my mom go off on Kris Jenner and Dina Lohan. She thinks Kris is whore-trash ("But she has a good marriage," my mom claims) and she thinks Dina should be in jail. My mom says that if I ever acted one-tenth as crackie as Linnocent, she would be asking the judge to put me in jail for my own good, and for the good of the world at large.
Anyway, these are new photos of Dina last night, in LA. I swear, Mother Crackhead is really starting to look just as jacked, drunk, high and crazy as Linnocent. Mother Crackhead used to just look Botoxed – but SOBER. Nowadays, I think she's hitting the pipe and the bottle a little bit more. Mother Crackhead was spotted coming out of Mr. Chow's, the LA institution where lots of big Hollywood types go, because she's a big Hollywood mogul now. I already mentioned this in an earlier post, but it's worth repeating: Mother Crackhead wrote a screenplay, and she wants $5 million to produce it with an all-star cast (who will work for peanuts). And yes, I'm pretty sure that "wrote a screenplay" is some kind of code for "blow".
Dina Lohan apparently thinks she's Dina De Laurentiis … because she's telling investors she can snag some of the biggest actors in Hollywood for her new movie.

TMZ has obtained a copy of the business plan Dina's sending to prospective financiers — asking for a grand total of $5.28 million to shoot an R-rated film called "Growing Defiant" — which takes "a hard look at the social pressures that can lead a kid in the wrong direction." Hmmm.

According to the business plan, the actors she'll go after include Dakota Fanning, Selena Gomez, Michael Cera, James Gandolfini, Susan Sarandon, Tina Fey, Amanda Seyfried, Hayden Panettiere, Emma Stone, and Mila Kunis … oh, and Michael Lohan, Jr. in the starring role of a heroin addict.

Now here's the best part. There's an asterisk at the bottom of the plan, which reads, "The cast listed above is a suggested cast list only. Michael Lohan is the only cast member who has been signed."

And Dina apparently thinks big actors will do anything to sign on, because she's allotting a grand total of $1,125,000 for actors' fees.

Dina Lohan — a regular Bruckheimer, only easier to pronounce.
[From TMZ]
You know what's hilarious? There's no part for Linnocent. Let me make this crystal clear:
LINNOCENT'S MOTHER WON'T EVEN HIRE HER IN THEORY.
That's how bad it is.
Also bad? Mother and daughter crackheads drinking together. At the Kardashian wedding, sources say Linnocent and Dina polished off three bottles together. While many of you say that three bottles between two people at a wedding (or just a Tuesday) isn't any big deal, let me ask you: are you drinking three bottles of wine with your daughter who has been in and out of rehab five times?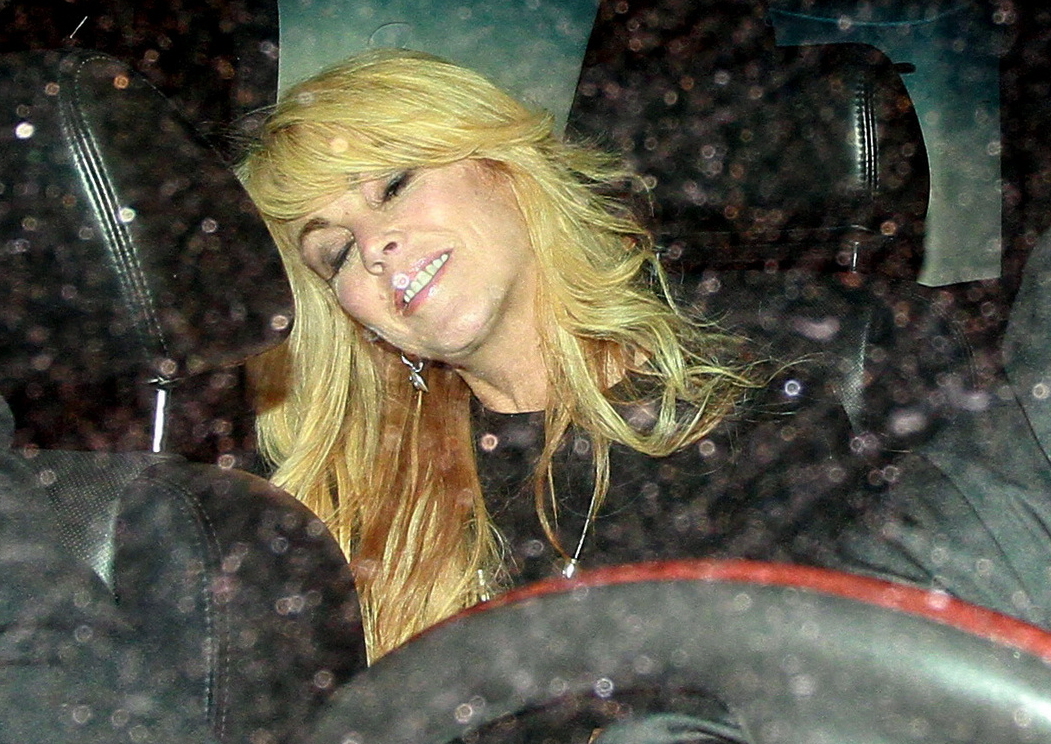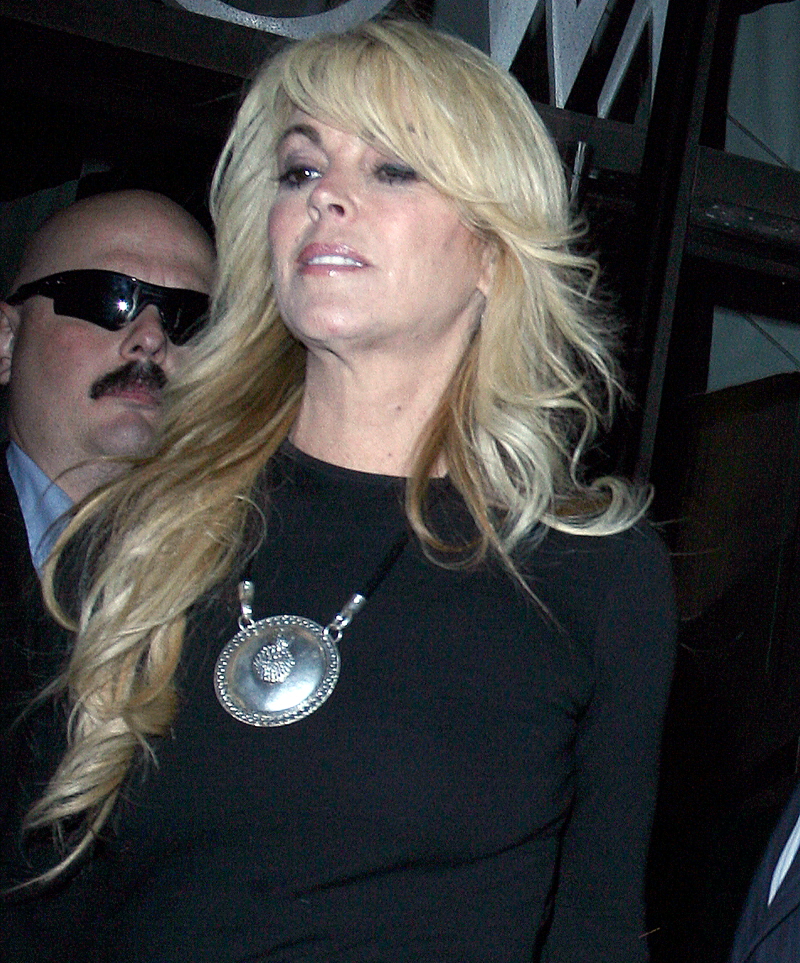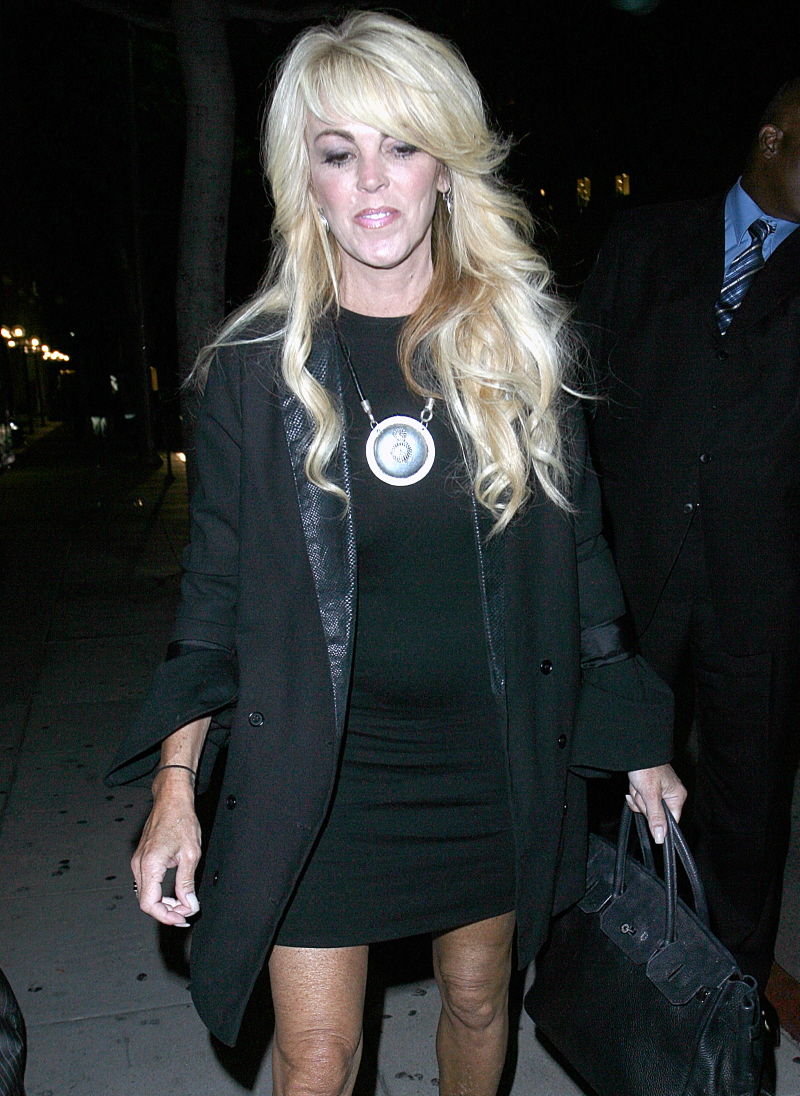 Photos courtesy of Fame and Pacific Coast News.