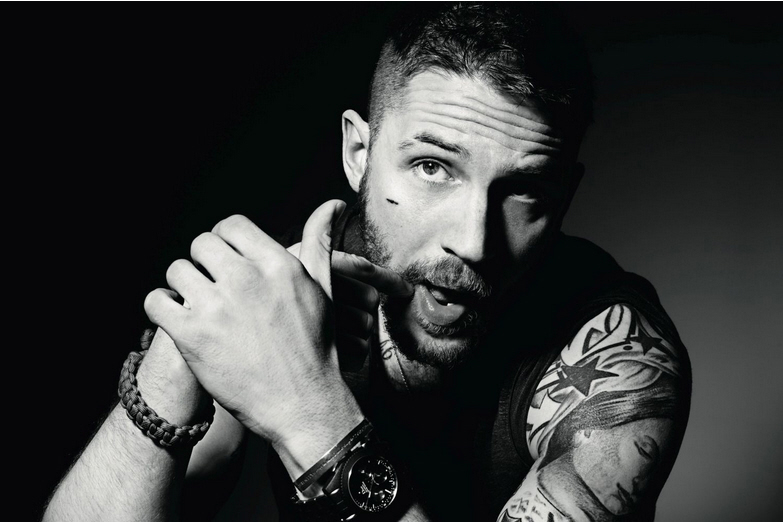 Tom Hardy is featured in the latest issue of Dazed & Confused. The photos were taken before his unfortunate head-shaving incident, which he did for the Bane character in The Dark Knight Rises. As we've discussed before, Tom looks much, much better with hair. Without hair, he turns into a nondescript meathead, a budget Vin Diesel-type. Anyway, since the photos are kind of meh (I'm not feeling anything for Tom lately, though), I wasn't even going to write about this. But then I read the interview – he's really funny! He's funny in that specific way English people are funny – like, he's self-effacing and he has a great turn of phrase, and he's not a Gwyneth-style humble-bragger. He's really trying to convince us that he's not a badass. Here are some highlights from the Dazed & Confused piece:
Tom on her career, post-Bronson: Hardy has been the "go-to guy for nutters", as he puts it. He's climbed into the minds of a kaleidoscopic criminal underworld of misfits, gangsters (there are rumours he is soon to play a young Al Capone) and psychopaths with chameleonic ease. In real life, happily, he's not half as psychotic as his onscreen personas. "Since Bronson I've had a lot of lumps to play," the 33-year-old says today. "I've ended up doing a lot of fighting, which is not really my thing at all! But I know what frightens me, and I use that."

On The Dark Knight Rises: This being Nolan, the script is locked up as securely as Charlie Bronson, and the ending currently only exists in the director's mind. "Sorry, it wouldn't be worth my life," the ordinarily candid actor shrugs in response to questions about the film. Just one picture has been released of Hardy, rippled back to the camera, as Gotham City's venom-addicted 'Bane' – born and raised in prison, and famous in the DC comics for breaking Batman's back.

Hardy on his trainer: Hardy has pumped-up with the help of his trainer "P-nut", the Bronx-born former Marine who has assisted the actor's extraordinary physical metamorphoses since Bronson. "We decide what I want to look like," Hardy explains, "and then he helps me get there. He's my nanny, my best friend, my 'manpanion'. And he also does a great rock ballad."

Working on Warrior: Damage included cracked ribs, a broken toe and a torn ligament in his wrist. It's not exactly a surprise, when asked what he looks for in a script, that Hardy says "a challenge". "Well, it always seems like a good idea until you're twelve weeks in, on a diet of chicken and broccoli, and you think, 'F–king hell, what am I doing?!'" he says. Doesn't he ever long for a nice rom-com? "Doing a rom-com would be a lot scarier," he laughs.

Hardy on his childhood: You don't meet many cage-fighters or industrial spies in leafy East Sheen, London, where Hardy grew up. But the only child of a comedy-writer father and artist mother had energy to burn and a "head like a disco ball". and he managed to discover the wilder edges of net-curtained suburbia. "It was very privileged, and there was a certain amount of free reign," he says. "You know, 'he's just expressing himself'. A reasonable degree of intelligence and curiosity, combined with hormones and testosterone, and you're going to have trouble. I just ran riot really. And that carried on into my adult life, when the toys were no longer Buzz Lightyear, you're dealing with everything from drugs to theft…" he pauses, "It becomes a different playground, and that darkness creeps in. Idle thumbs, isn't it? Typical suburban story for many."

Hardy's misspent youth: The not-so-typical story that everyone likes to quote about Hardy, is that he was arrested aged 15 joyriding in a stolen Mercedes and in possession of a gun, he might have faced 14 years behind bars. Expelled from his public school, alcoholism and crack addiction followed in his late teens and early 20s. Hardy has always been wryly honest about the depths of the abyss he toppled into, whether it was lying in a pool of vomit on Old Compton Street with a crack pipe in his hand, or missing a Hollywood meeting with John Woo because he woke up somewhere in downtown LA, naked, next to a guy, a cat and a gun with its safety off.

His childhood wasn't THAT dark: "East Sheen wasn't exactly the Bronx. I was only pottering around suburbia being a twat. That doesn't make me some crusader or badass. I think what labels it as dark is that one is capable of going to a place that is willful," he pauses. "Finding some kind of elation from doing something that's naughty. As you get older those options become more abundant. You could just as soon choose to knit or get really good at Sudoku… or you could get into the ins and outs of how to wash up crack, or how to strip a Browning 9mm, or how to find and purchase one in the city of London. Because you're interested, because it's a bit dodgy and nobody else is doing it. Probably it was attention-seeking, really, at the end of the day. It's taken me a while to get all of those tools into the right arena."

Reactionary: "I've always been a bit reactionary around authority. Normally that petulance would come out when I had failed to achieve something. And my reaction would be, 'Well, why am I listening to you anyway?' Very teenager."

Early roles: He won roles in Stephen Spielberg's Band of Brothers and Ridley Scott's Black Hawk Down (he persuaded Scott to let him do his own stunts, including setting himself on fire). Then a "star-vehicle" arrived, in the shape of the schizoid alien villain in Star Trek: Nemesis. Through no fault of Hardy's, it flopped. "I ended up in hospital just after it came out," he explained later. "I broke down physically, spiritually, mentally."
[From Dazed & Confused via ONTD]
When Tom talks about his sketchy past with such honesty, he reminds me a bit of Russell Brand – two Englishmen who with debauched youths, who found sobriety and purpose and career success. Plus, I just love this quote: "I was only pottering around suburbia being a twat. That doesn't make me some crusader or badass." Okay, I'm back in love with him a little bit.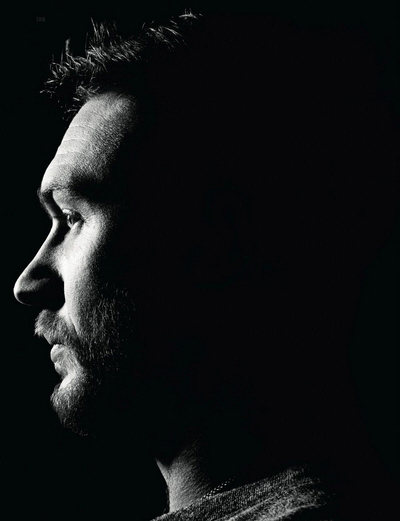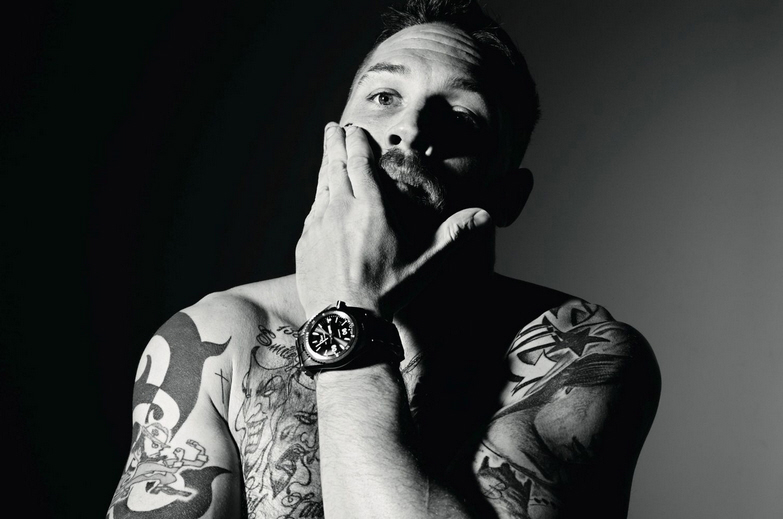 Photos courtesy of Dazed and Confused.