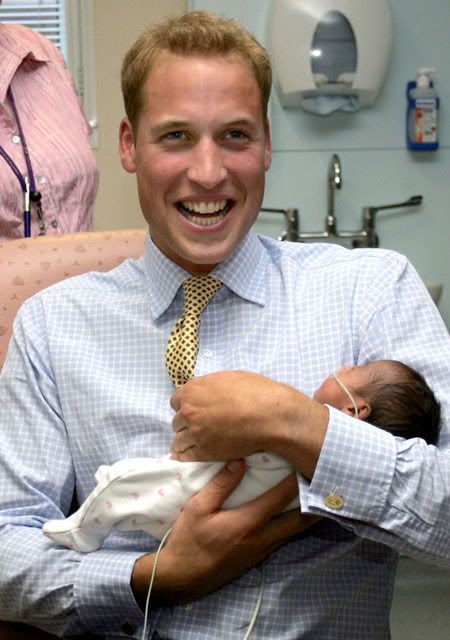 Hunky Prince William, 24, is in training to join his brother Harry's unit in the British Cavalry. He went through a difficult endurance test with other cadets on Monday in which he walked 8 miles with a rifle and a backpack weighing 50 pounds. He did so well that's he's a contender for the top cadet award, to be given out when he completes his course:
Wills and pals slogged eight miles through woods above the Berkshire military academy carrying a rifle and 22kg packs.
The prince, 24, is now among a tiny group of cadets competing for the coveted Sword — given to the top performer on the 44-week course.
A Sandhurst source said: "William is now regarded as the leader of the top platoon, making him odds on to win."
The award will be presented by Wills's gran, the Queen, in December.
Second in line to the throne behind his father, Prince Charles, William is being groomed for a life of public service. On 9/19 he visited the hospital nursery where his mother Diana did charity work, and charmed parents and staff alike:
Prince William demonstrated he had inherited his mother's tender touch yesterday as he cradled a permature baby on a visit to a hospital.
At first William, 24, had been reluctant to hold three-week- old Sina Nuru, protesting that she was barely bigger than his hand.
But after being persuaded by staff at the special care baby unit in St Mary's Hospital, Paddington, West London, to give it a go, he proved to be a natural.
'She's so sweet, very nice and calm,' he said of the 5lb twin, before noticing her vest which had the words 'Little Princess' printed on it. 'Who got the t- shirt for her?' he asked with a grin.
The visit, a rare royal outing for William, was something of a personal one. Both he and Prince Harry were born at the hospital while his greatgrandmother, the Queen Mother, was patron of it for more than 70 years.
Here is Prince William at St. Mary's Hospital with little Sina Naru. [via]