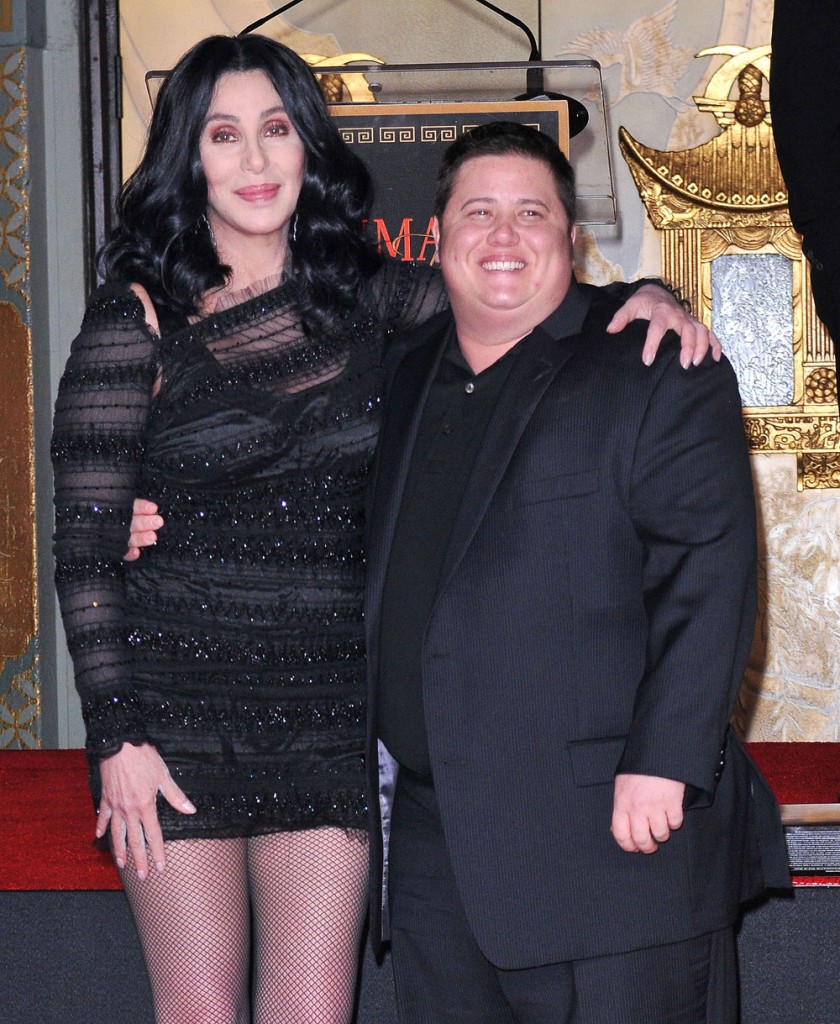 Yesterday we heard some "family values" group get publicity by knocking Chaz Bono as a competitor in the just-announced cast for the upcoming season of Dancing With The Stars. It was all about how Chaz, as a transgender person, was part of some Hollywood agenda to "tear down traditional families," as if that makes any sense. The gay and transgender people who want their own families aren't a threat to other families at all. They're not breaking up families.
Anyway Chaz's mom Cher wrote on Twitter that Chaz is going to win people over on DWTS and that she feels the need to defend her child against "stupid bigots." She really went after Chaz's detractors and called for people to support him online. Here are her tweets in reverse order from oldest to newest so that they make more sense:
lovelies! Chaz is Being Viciously Attacked on Blogs & Message boards about being on DWTS!This is Still America right ? It took guts 2 do it

I support him no matter what he chooses 2do! God! will there always be haters! It took COURAGE 2 do dwts ! TG Chaz has an Unlimited supply

Can u guys check out sites & give him your support ? BTW …Mothers don't stop Getting angry with stupid bigots who fk with their children !

dont know names Could u look 4 me?He is Such a Good Person inside lota heart RT @wildbrat_jlynn: get us the site we will spread the word!

bet VAST MAJORITY of People will LOVE CHAZ on DWTS ! & it's took Fkg Guts 2! Chaz isn't exactly the "Gotta Dance Gotta Dance"kinda Guy
[From Cher's Twitter]
That's really great of her to come to his defense. Cher has been supportive of Chaz from the start, but she's admitted that it was hard for her to come to terms with his change. Cher wrote in a statement two years ago that "I respect the courage it takes to go through this transition in the glare of public scrutiny, and although I may not understand, I will strive to be understanding. The one thing that will never change is my abiding love for my child." Now Cher is going to bat for Chaz. It will be fun to see her in the audience when he's competing on Dancing With The Stars. She's such a character.
Chaz's dance partner, fashion-challenged Lacey Schwimmer, has also spoken out on his behalf. Schwimmer told The Insider that she chooses not to focus on the negative comments and that she's in Chaz's corner.
"It's disappointing," Lacey tells TheInsider.com of the negative reactions. "No human is perfect, so why are they pointing out what they perceive to be an imperfection in someone else? It's not cool. We're all taught to not bully, or harass, and treat everyone as equals yet all these people are doing exactly the opposite." Luckily for Lacey and Chaz, the supportive sounds are drowning out the negative noise. "At the end of the day, everyone is going to have a hater. I choose not to listen to it, because it's ridiculous. To us, it's more important to focus on the positive people."

For Lacey, finding out that Chaz would be her season 13 partner was the best kind of news. "I was absolutely thrilled. I've always been a huge supporter of the LGBT community and I couldn't be more excited to have Chaz. Not only is he Sonny & Cher's child but he's also a generally cool person." And while producers didn't ask Lacey's permission to pair her with Chaz, she believes they knew it was an unnecessary conversation.

"This is my sixth season — the producers know that I'm very open-minded and really accepting of everyone," she says. "Ever since Lance [Bass] was on the show, it opened the door for the LGBT community to be accepted in Middle America and it's about time. It's 2011, let's evolve a little bit here."
[From The Insider]
That's nice! Lacey also says that Chaz has trouble keeping up due to his size but that "we've been putting him through drills that will make him stronger in the competition. It's all about him being able to breath [sic] and get through a full dance." He's lost five pounds in six days." It looks like we're about to see another weight loss success story on DWTS.
Here's a photo of Lacey and Chaz that Chaz posted on Twitter.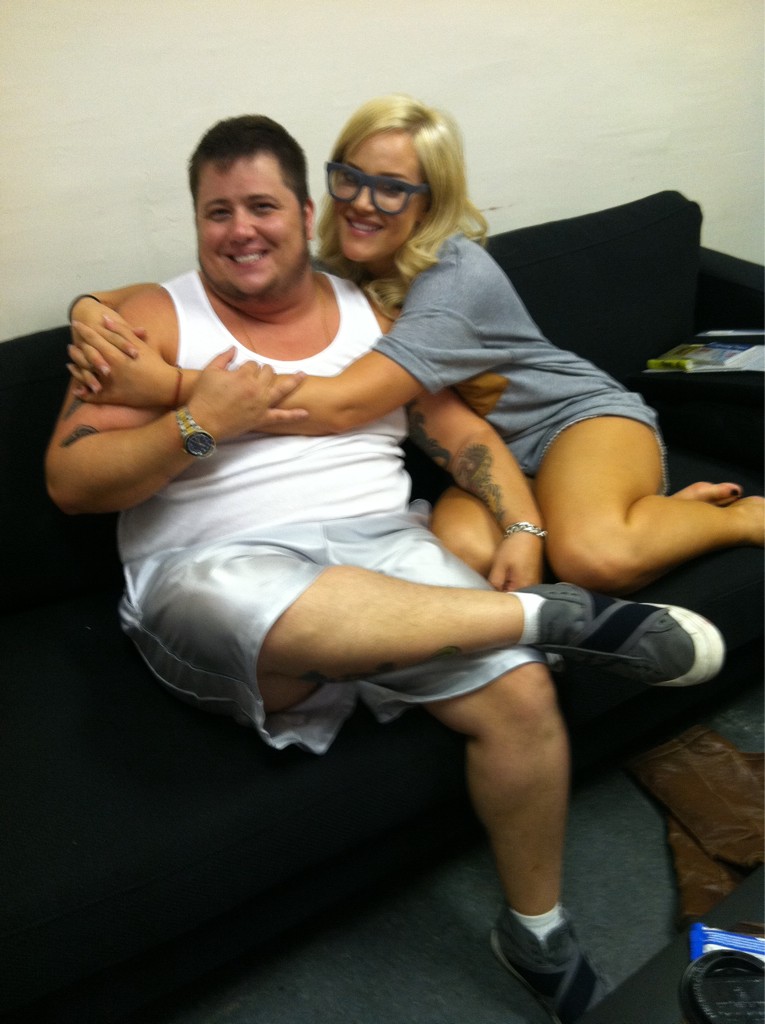 Photo of Cher and Chaz is from November, 2010. Credit: WENN.com