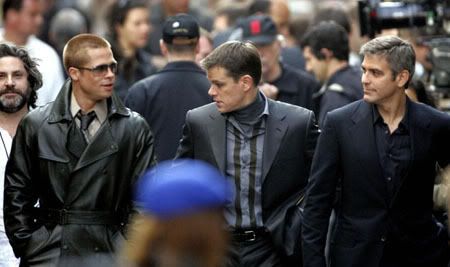 Whenever I come across new pictures of Brad Pitt I hear this little high note in my brain like angels singing. No matter if you're into skinny or beefy guys, blondes or brunettes, Brad Pitt is your type.
Brad Pitt is planning to collaborate with Sacha Baron Cohen, aka Ali G/Borat, on a new project. He loved the Borat movie and has reportedly spoken to Cohen about working together on a film in the future.
He is also co-producing a TV show with Nip/Tuck creator Ryan Murphy about the life of a married transsexual sportswriter. Yes, it sounds odd but it could be good:
Murphy and Pitt will both be executive producers on the show, Pitt's first foray into television. Murphy has begun writing the pilot and hopes to being shooting on the series early next year (07). He says, "The first season deals with the revelation of his secret. In the second season, he begins dressing like a woman. "The third covers the surgery, and his inherent doubts about going through with it, and by the fourth season, he's living as a woman and attempting to find love."
With all this work coming up, it's no wonder the gossip rags are reporting that Brad is burning the candle at both ends. Life and Style says that Brad is so exhausted and overwhelmed that George Clooney has been giving him advice on how to slow down. They say he fell asleep on his trailer on the "Oceans 13″ set and that Clooney told him to rest up. They're most likely basing their conclusions on candids of Brad like they usually do.
Thanks to SimplyBrad.com for these pictures.