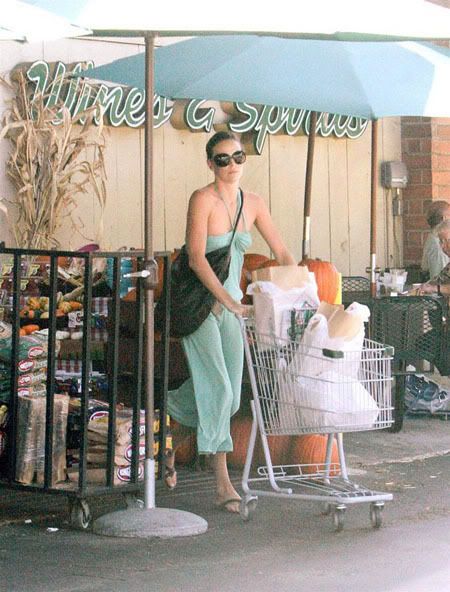 There's not a lot drama in Charlize's life and she manages to stay out of the tabloids most of the time. It's nice to see these pictures of her shopping instead of out at a club or event, although she looks rather pissed to be photographed.
Charlize was spotted wearing what looked like an engagement ring to several recent events, and although there was no announcement we assumed that she was engaged to her boyfriend of four years, Irish actor Stuart Townsend. It doesn't seem like much has come of that, and if she does have a ring she's not wearing it out everyday as there's no sign of it on her left hand in these pictures.
Theron may sign on for a thriller by "Crash" director Paul Haggis, about a father who discovers his son is not AWOL as the army claims, but has been murdered;
Paul Haggis is in talks with Charlize Theron and Tommy Lee Jones to star in his latest mystery thriller, which is currently untitled for Warner Independent Pictures.
Haggis will write, direct, and produce the flick based on an investigative article by Mark Boal in Playboy titled 'Death and Dishonor' that told the true story about an officer-father who rejected the Army's claim of AWOL status for his son and discovered a murder. According to The Hollywood Reporter, the story follows the veteran father in search of his son.
Here is Theron's wedgie picture.
Pictures from Celebrity Nation.