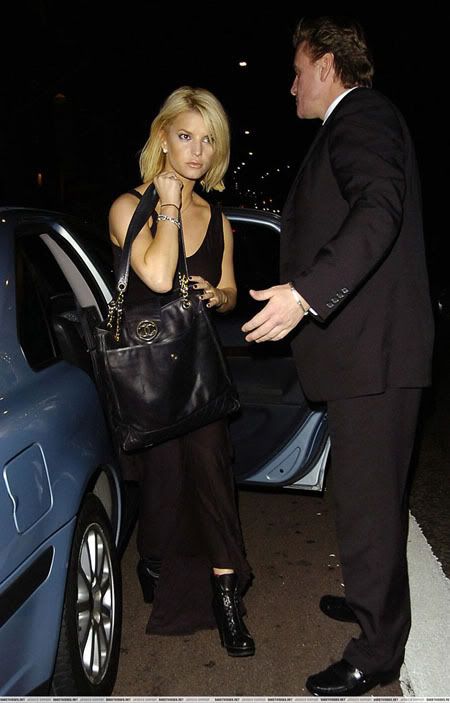 I didn't report on this yesterday because it sounds like the British newspapers are trying to stir up controversy about the Simpson family (not that they don't create enough of it on their own), but Jessica is said to be grumpy and distraught at being in Ashlee's shadow for once. She supposedly was in a mood at Ashlee's "Chicago" opening after-party, said she didn't want to be there and left in a huff. There was a quote from Joe Simpson in the ever-reliable Mirror that is particularly suspect.
Then the poor girl had a stomach problem and had to postpone a commercial shoot. I would say it's in poor taste to discuss a celebrity's, uh movements that way, but Jessica gleefully told everyone watching her reality show that she was going to drop her kids off at the pool, so she kind of deserves the scrutiny:
JESSICA Simpson is not a happy camper lately – mentally or physically. During the after-party for her sister Ashlee's London debut in "Chicago," Simpson stormed out of the Sound Bar shouting, "I don't want to be here – why won't people just leave me alone?" Later, her dad Joe told the Mirror, "Jess is quite down at the moment. She's not comfortable talking to people as she's quite depressed and we're walking on eggshells." Meanwhile, at a recent shoot for a Direct TV commercial, Simpson kept everyone waiting for over an hour – due to a stomach bug, spies say. Her mane-man, hairdresser and constant companion Ken Paves, was overheard telling people, "Well, what do you want her to do? [Bleep] her pants?" But a rep for Simpson denied any physical ailment and said, "there was a minor delay but simply because her voice has not yet healed."
This sounds like an exaggeration. She probably feels a bit down because her ex has moved on and her sister is in the spotlight, but whether she actually left Ashlee's party or not and what the circumstances were is hard to tell.
Oh, and The New York Post has redesigned. It's prettier, but the usability is shitty and overall I think it's a mess. Too many graphics and colors compete for your attention. They also ripped off Gawker's Stalker maps.
Here is Jessica out at Mr. Chow in London on Tuesday night. She seems to realize that her dress is see through and tries to cover up with her big purse.
Thanks to SweetKisses.net for these pictures.