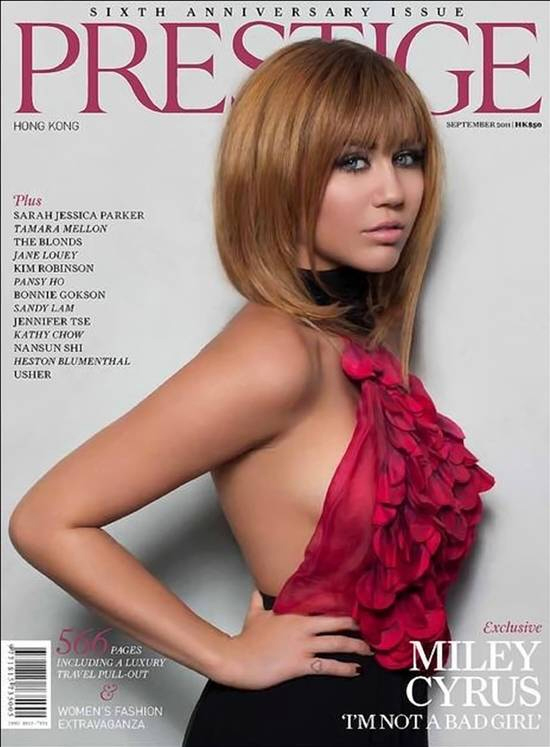 Miley Cyrus covers the new issue of Prestige Magazine, probably to promote some new film – that one she did with Demi Moore? Probably. Let's talk about the photo shoot! I don't hate it. It's an interesting choice for Miley, to put herself out there like an adult woman (she's 18) with an adult sexuality, rather than a infantilized teenage girl/pop princess. My only real complaint is the hair. You know, I've heard a lot of complaints and criticism about Miley, but I do think she's a pretty girl, and she doesn't NEED bangs. They don't really do anything for her face, in my opinion.
On to the interview, which is getting some comments. Miley continues to go off the Disney reservation by talking about her sexuality and stuff:
Her relationship with Liam Hemsworth: "I stay in the house pretty much every day," she said. "I don't go out. I've had same boyfriend for two years."

On her haters, and on her sexuality: "I'm a great role model, or I'm completely inappropriate for anyone under 13, and I am controversial. I don't know how I became this. I'm not some crazy lady who's gone off the deep end, because I definitely haven't. I just always try to be real. Every 18-year-old explores sexuality and experiments and tries things. For me there's no reason to change that. You have to be true to yourself."

Miley on her role model, Joan Jett: "She got locked down for talking about sexy and drugs or whatever. They were life, 'How dare a woman say that. How dare a girl come out admit those things,' when every other girl her age was doing the same thing. She just went on stage and sang about it."

On LA: "Who I am now is very different from who I was when I was 11. I had to grow up extremely quick. When you live in LA you see a lot. I'm not a big fan of LA, I've got to be honest. I like being able to work here, but any chance to go back home [to Tennessee], I love it. Everyone [in LA] is so busy and everyone is trying to be better than the other person, and everyone has got so much going on. Nashville life is just so laid back and people enjoy every second of life that they have."

On missing Hannah Montana: "I miss the family vibe, but I don't miss the routine at all. I was so bored doing the same thing every day. It's a lot easier not being on a show, to live my life a little bit and do some of the others thing that I want to do, I don't have to be back at a certain time."

The paparazzi: "I'm with my boyfriend, for instance, and we're walking around. We're sure that no-one is taking our picture. We are sure of it. No one has followed us. No one is here. And then, a few hours later, it's like, 'Miley Cyrus Alert.' 'She was seen with a fan in public; they were kissing and hugging,' and you're like, 'What the hell?'"
[From Hollywood Life & The Improper]
I continue to think that Miley has spent the past few years doing a lot of growing up, and most of it has been done out of the spotlight. I think Miley's experience and transition to adulthood has been different from, say, Britney Spears because Miley, for all of her faults, is a smart girl. I'm not saying Britney is stupid… okay, well, maybe I am. Britney is a sweet girl, and she surrounded herself with smart business types, but there's a difference I see with Miley – she's inquisitive and interested in the world beyond her fame, she actually thinks about issues beyond clothes and music, and she struggling to be honest and forthright with her fans. I do admire her for all of that.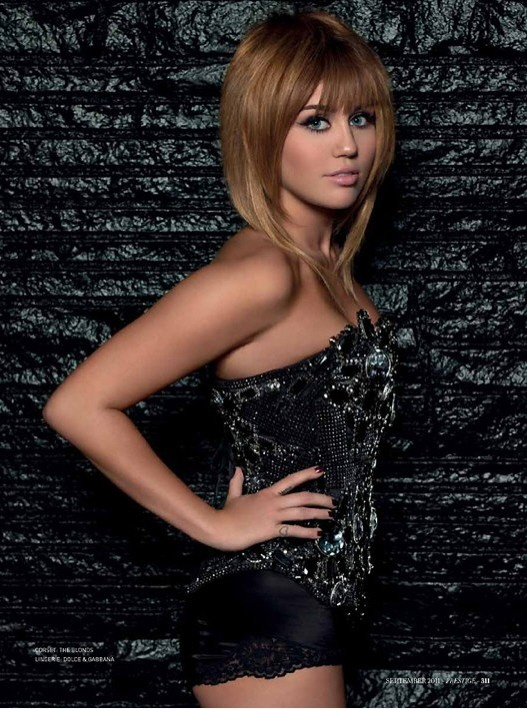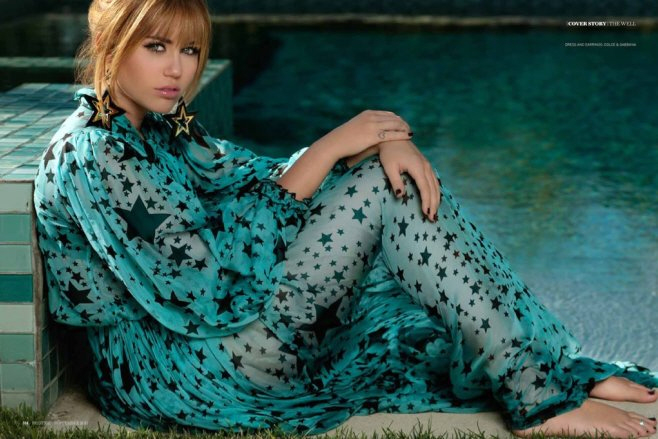 Photos courtesy of Prestige.