Visit msnbc.com for breaking news, world news, and news about the economy
Tonight is the finale of Kate Plus 8 and we would be dancing around to Wizard of Oz tunes if it weren't for Kate's eight kids, who now have to directly deal with the wrath that is their piece of work, germaphobe mom instead of having a camera crew act as human shields. I've set my DVR to record tonight's finale and will be dutifully reporting the worst parts. Kate's nastiness on the last second-to-last episode got lambasted by Anderson Cooper, and The Soup also did a great job of mocking Kate over the weekend. It just makes me wonder what producers saved for us in the final episode. You know they have been covering for her for years and probably have a ton of footage they've saved of her acting awful.
So Kate talked to Matt Lauer on the Today Show this morning. (NBC and TLC are both owned by the same company.) She made a bunch of the same bullsh*t comments we've heard from her to date about how she's been providing for her kids, but she took it a little further this time and we got to see how entitled she is and how she considers good parenting to be the same as making money. It didn't come as a surprise I guess, but I still found it revealing.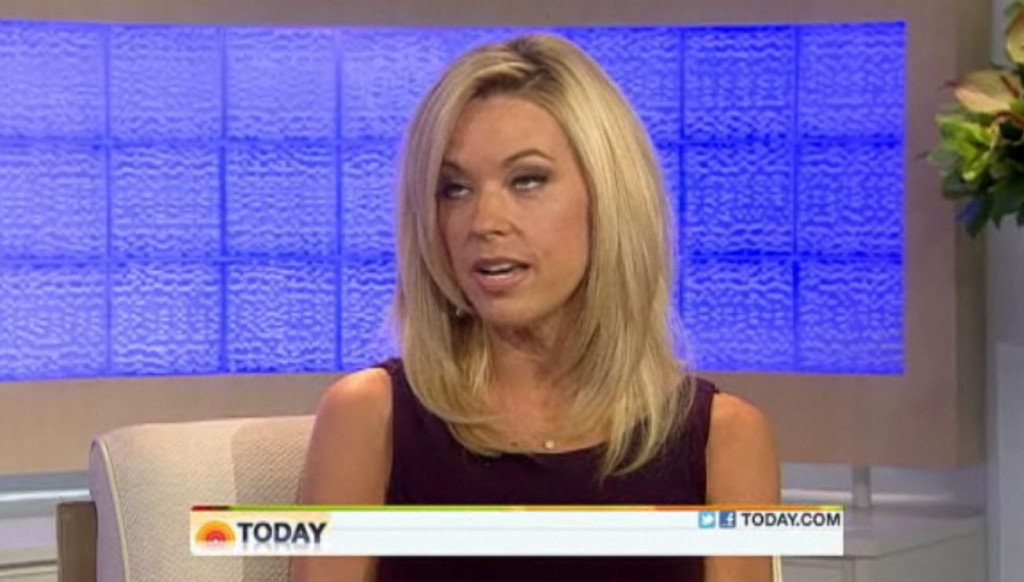 On the end of her show
It was not a surprise… obviously ratings and everything else. So I braced myself and here we are.

On if she will get back to a "normal life" Matt said that "living in front of cameras is not normal"
There is some relief, but there is sadness because it's the end of an era. I feel sad for my kids because of all of the opportunities that they're now questioning what's going to happen. I feel sad for fans because they're devastated. They're saying you know 'you're the neighbor moving far away and we won't see you again.'

On how this is her career now
There's also fear because this has been maybe not my career, it has been the start, essentially of my career and my job and the way I've been providing for my kids for six years so it is a little scary.

On Jon saying he's relieved that the show is ending, she calls him "mediocre"
It's a situation where Jon may be accepting of mediocre for his kids and working a regular job and I want the best for my kids and the best opportunities, not unlike every parent.

I think that to be a good parent is to work as hard as you can and give them the best opportunities in life. This has provided that.

It sounds as if you are keeping the door open to continue to work in television.
I think at this point the best opportunity for all of us would be me continuing in TV as a way to provide for my kids…

On if she would put her kids on reality TV again
If the right thing came along, I'm sure we are all in agreeance [sic] on it. I'm sure you will see my kids again at some point.

On the fight with the nanny
That trip was so much even more stressful than you saw… there was so much more unplanned drama. That was a situation where many people have had family vacations you just don't see it on camera… I've apologized.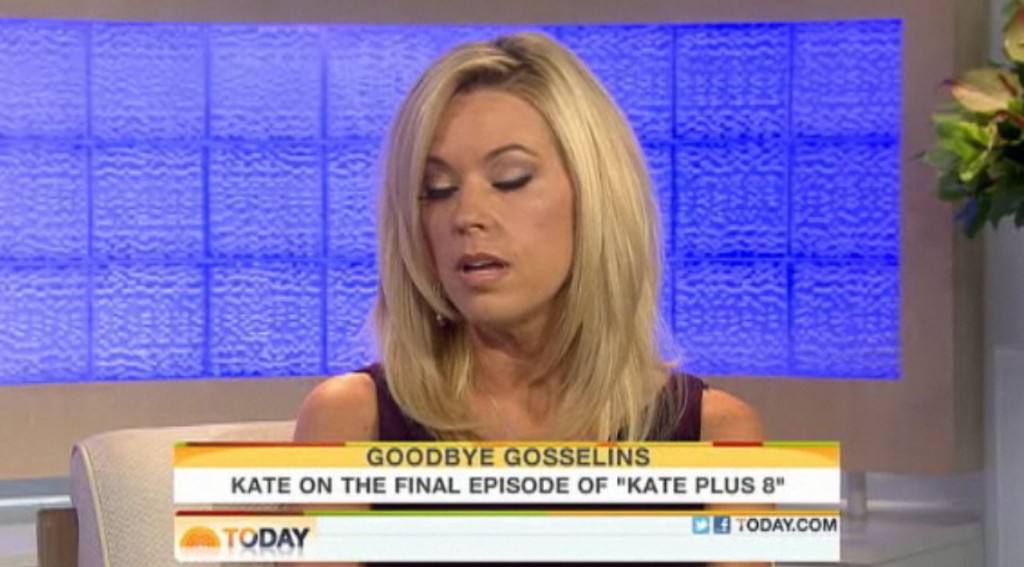 At the end of the interview, Kate thanked TLC and the head of Discovery Communications. Then she plugged her new website, KatePlusMy8.com It's not ready yet, though. How much do you want to bet that she majorly pissed off her web designer and they're deliberating holding up the website launch?
Look, Kate said it all when she said that being a good parent is working hard to provide for her kids. Kate's idea of good parenting is not being there for her kids, it's not understanding what's going on with them, relating to them or working with them to make sure they're healthy, well adjusted little people, it's making money, being rich and ignoring them except to bark out orders. She'll continue to do that as long as she's enabled. Here's hoping she doesn't get that gig with The Talk.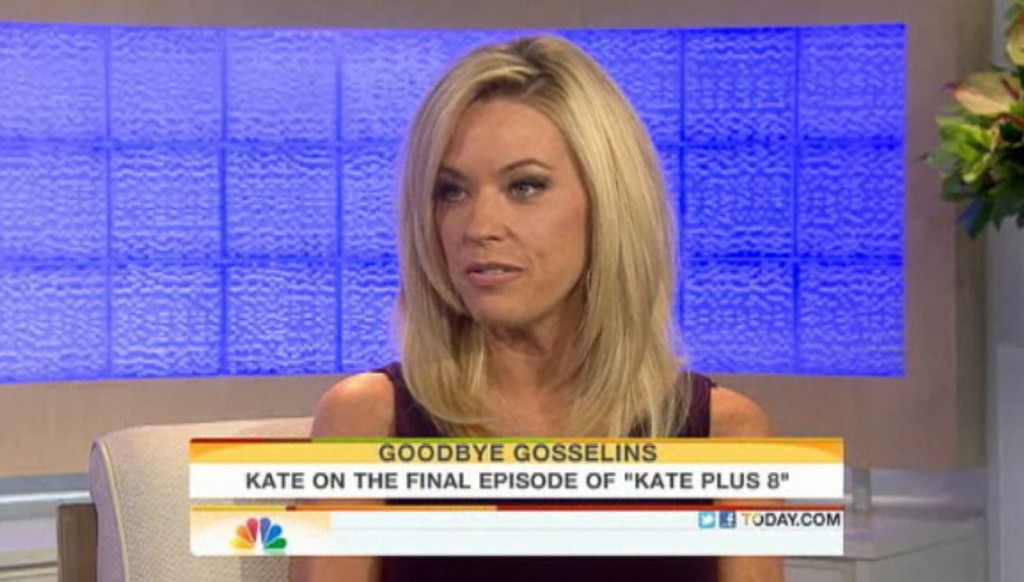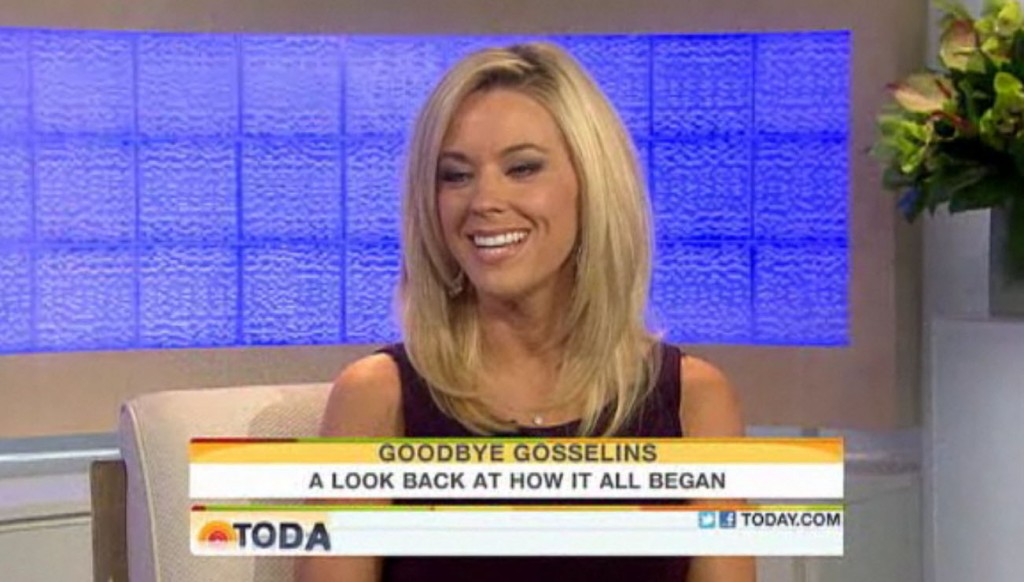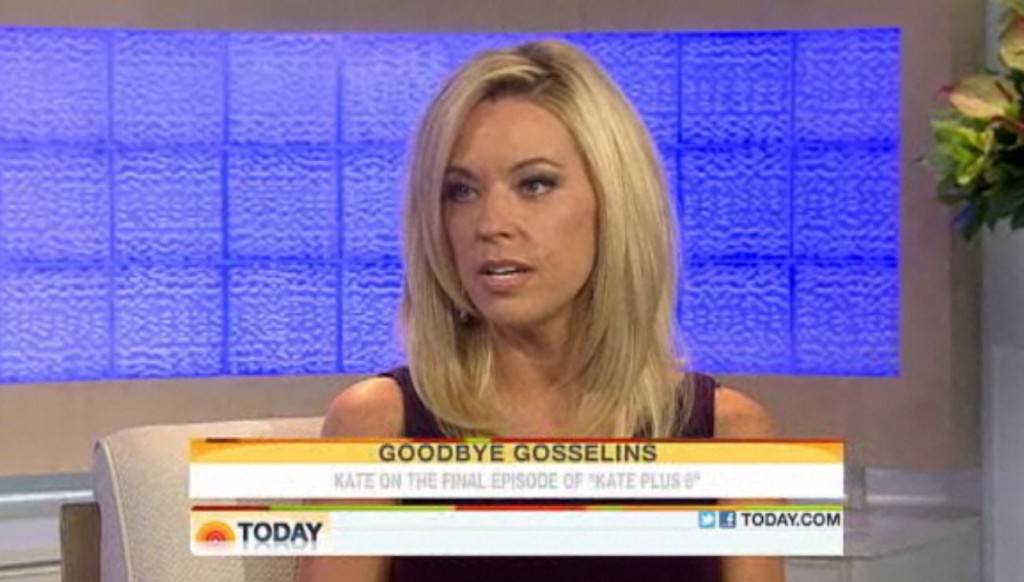 Update: Here's Kate outside The Wendy Williams show today. (Credit: Fame)