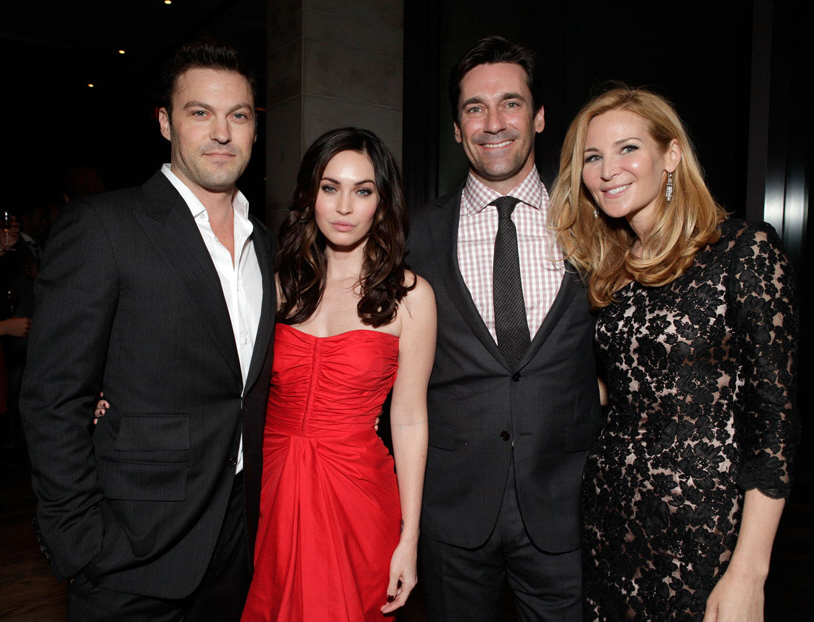 Megan Fox was just in Toronto to promote her supporting part in Friends With Kids, the film written and directed by Jennifer Westfeldt, Jon Hamm's girlfriend/partner of a decade. The Hamm is in the movie too – so The Hamm and Megan Fox have officially made a movie together. The end is nigh! But I digress. Our agencies didn't have any photos of The Hamm or Megan Fox in Toronto, unfortunately, so below I've just included older photos of Megan in yet another red dress, back when she was showing off her 2010 Face. Her June 2010 Face, to be more specific.
Anyway, the film was actually pretty well-received in Toronto – you can read one glowing review here, at Showbiz 411, where Westfeldt's script is compared to something Woody Allen would have written, and words like "fresh" and "well-drawn characters" are thrown around. No specific praise for Megan, but I think Megan's career reboot is probably pretty smart – she's not going to carry a film for a while, so she's trying to choose smaller parts in better scripts. Speaking of Megan 2.0: The Supporting Actress Years, Megan has given a new interview where she discusses babies and whether she's saved enough money to take a few years off to have a little BAG-baby.
Former Transformers star Megan Fox has revealed she wants to have kids – when she's got enough money saved in the bank. The 25-year-old star, whose career nosedived after she was sacked from the latest Transformers film, said she wants to be financially secure before becoming a mother.

She revealed her hopes for the future while promoting her latest film Friends with Kids, a comedy about couples whose lives are altered when they become parents.

She said: 'I want to have children — I absolutely want biological children, I've always wanted kids, it's just about the timing being right. I have a number in my mind of what amount of money I want in the bank so that I can protect that child's future and really protect it so that kid never struggles. Once I feel safe with that, then I'll have kids.'

Fox, who married actor Brian Green a year ago, is already step mum to his nine year old son Kassius from a previous relationship. The actress, once tipped as the hottest star in Hollywood, has suffered a series of career setbacks after Steven Spielberg personally ordered her to be sacked from Transformers: Dark of the Moon.

It followed an interview the actress gave about director Michael Bay when she described him as being like Hitler on the set. As executive producer Spielberg, who is Jewish and made the Holocaust epic 'Schindler's List', told Bay to fire her from the $120m film and she was replaced by British model Rosie Huntington-Whitely. Fox's other recent films Jennifer's Body and Jonah Hex also bombed at the box office.

But speaking at the Toronto film festival in Canada Fox accepted that her career had not been all hits.

'Careers sort of go up and down, not everybody makes a hit,' she said.

Fox also confessed that if she had not made it as an actress she would have wanted to be an archaeologist.

She said she was fascinated by the subject and had taken several Egyptology classes and has even considered studying it full time after quitting acting.

'I would want to be an archaeologist — and I want to still do that now… it holds the answers!'
[From The Mail]
I was actually thinking about Megan and money the other day, wondering if she had been smart with her investments and stocked away part of her Transformers paychecks. When you go and look through her filmography, you quickly realize that the only major paychecks Megan has had are probably from Transformers 1 and 2, and maybe Jennifer's Body, although she probably took a pay cut for that film. Plus, her modeling contracts, I guess. Sure, in her heyday (2008-2010), she was probably making about $10 million a year, but Megan isn't doing all of this on her own – she's got a large team of people working for her, and they all have to get paid too. And then you've got to figure out how much all of that tweaking and surgery costs. Basically, she might not have much of a savings left. Poor Megan.
As for her desire to wait for a while to have a baby – well, she's only 25! And she's already a step-mom. I'll give her a break.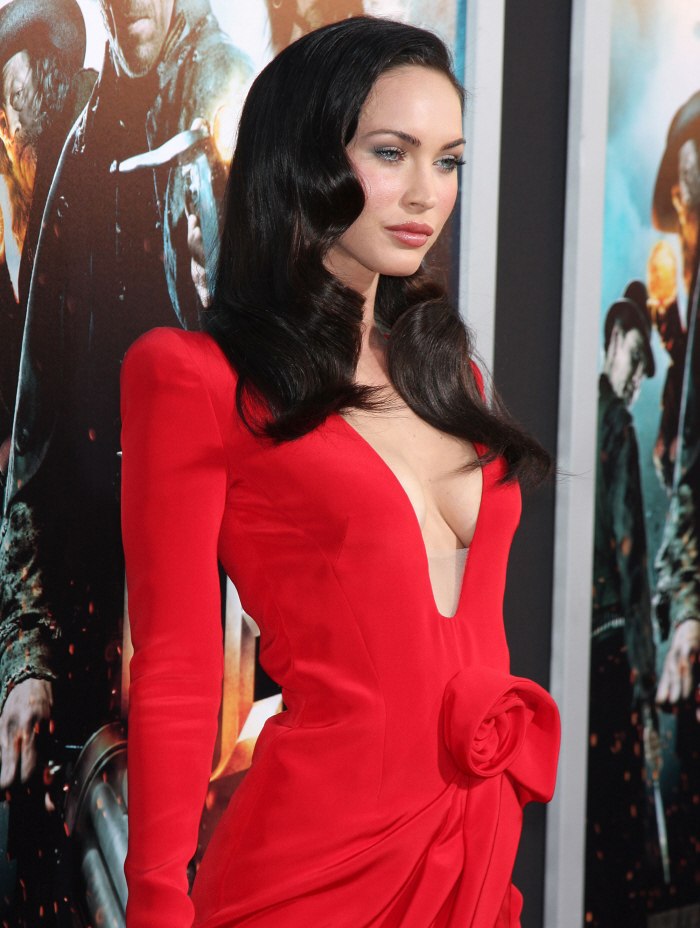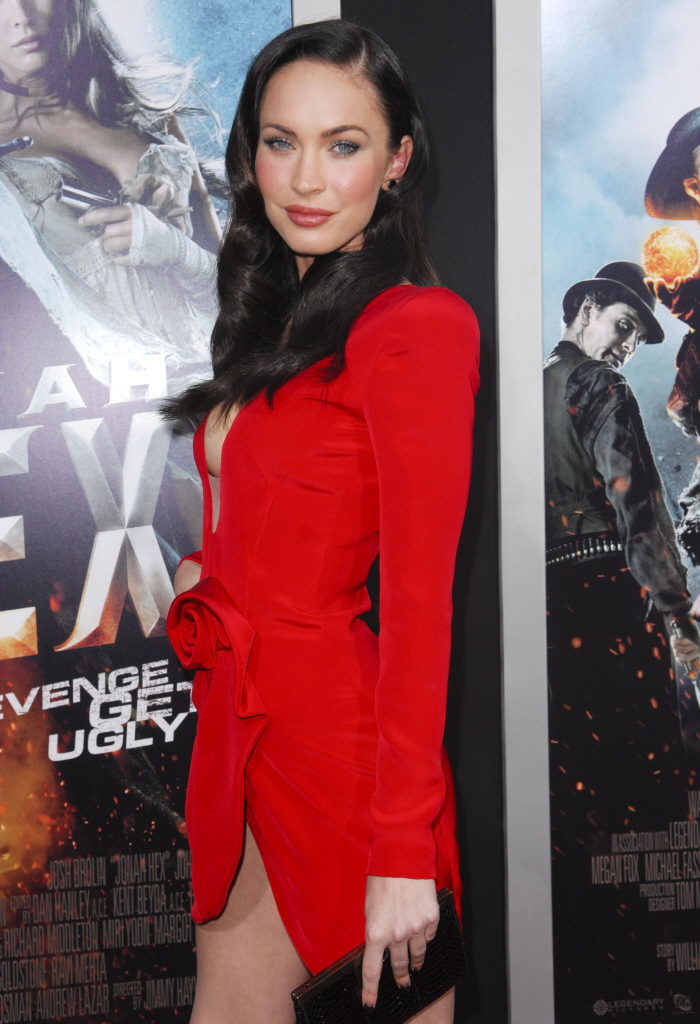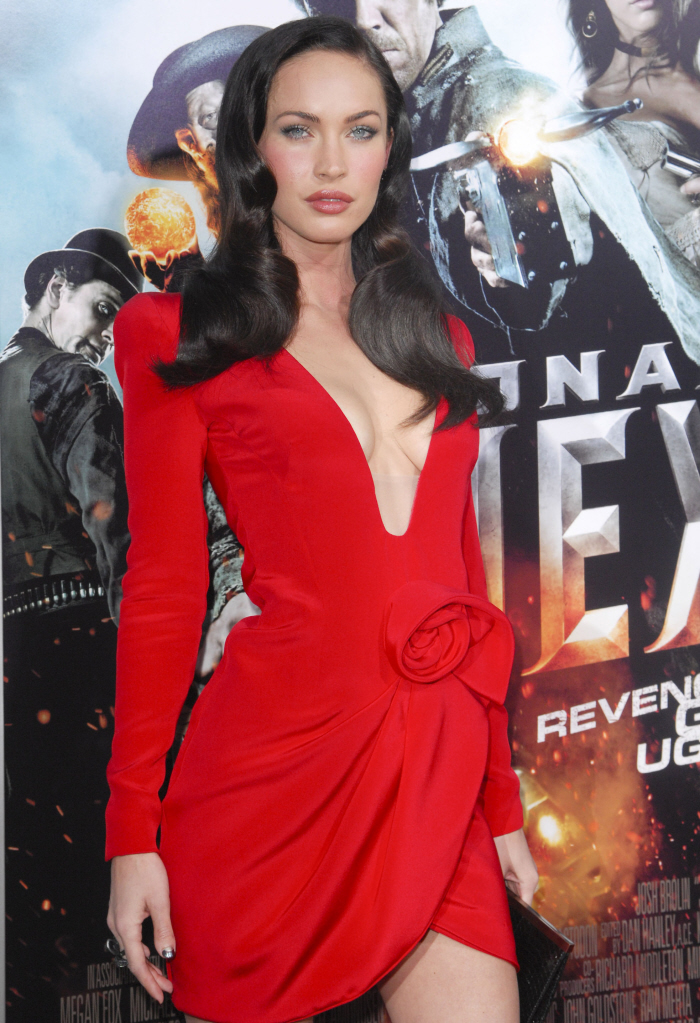 Photos courtesy of Vanity Fair & WENN.