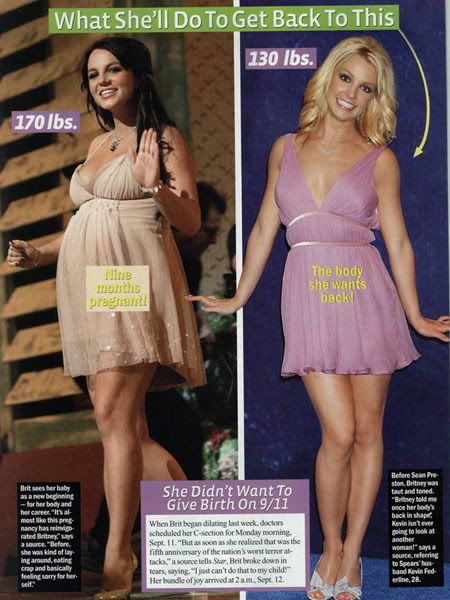 Britney Spears has fired her publicisit, Leslie Sloan Zelnick, and has brokered a $2 million deal by herself with People Magazine for the rights to the first pictures of SPF2 (Name borrowed from DListed). Spears wasn't accepting much-needed help from Zelnick anyway, and showed up for her interview with Matt Lauer looking even trashier than she eventually appeared.
Page Six is reporting that Britney has refused to confirm that her new baby is named Sutton Pierce, and that the world won't know the truth until the People spread comes out:
Britney Spears' new son may not be named Sutton Preston Spears. An insider said, "She is refusing to confirm the name until the pictures appear in People – until then, it is just media speculation."
It seems like the tot probably does have the same initials as his one year-older brother, though. Life and Style reports that Britney shelled out six figures to redecorate the room that Sean Preston shares with his new baby brother, and that she had giant "SPF" intials painted on the wall:
According to L&S cost Spears $100,000 to redecorate in blue with nautical themes and a large SPF — the initials of both tykes — stenciled on the wall.
We'll have to see what Britney named the little one, and it's hopefully not as bad as the girl's name she was said to have picked out, "Jailynn."
Star Magazine has an article titled "Britney's plan to drop the weight fast," which you can access below. It basically has no insider information and is just general diet and exercise tips and the fact that Britney wants to lose weight.