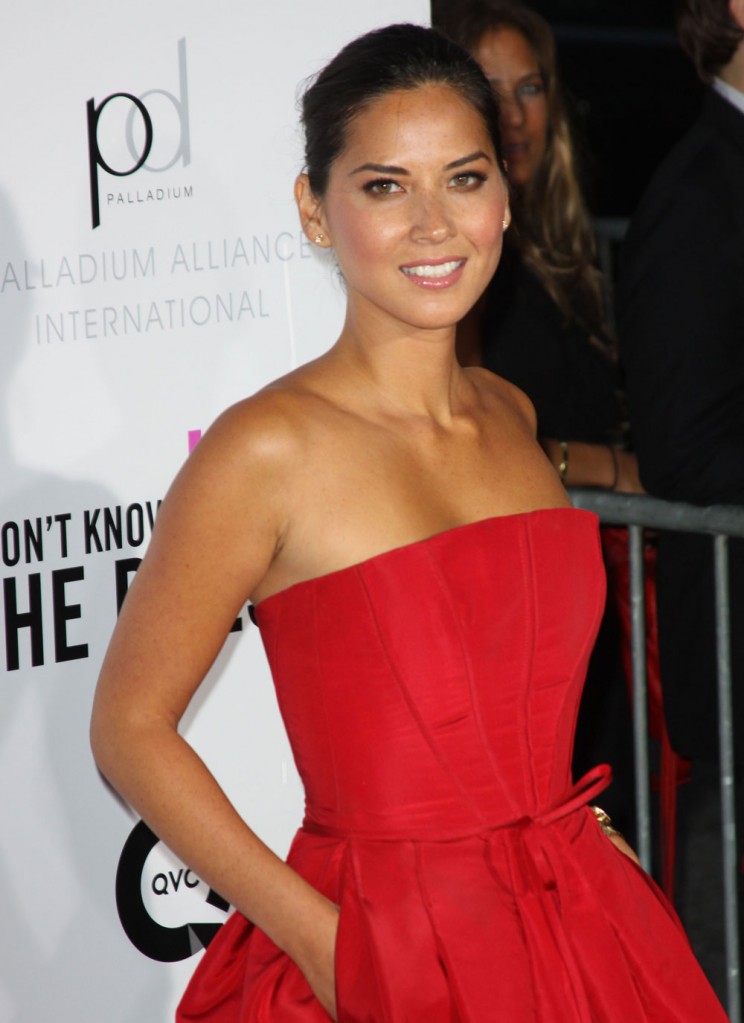 I don't know much about Olivia Munn, except for the fact that she hooked up with Justin Timberlake back when he was with Jessica Biel, then seemed to go running to the tabloids about it. (US Weekly to be exact, and it sounded like they got it straight from her.) Plus Kaiser and some of you are telling me she's annoying, can't act and is messing up The Daily Show. Anyway she has her "25 Things You Don't Know About" in this week's US Weekly. It's not particularly braggy, like Joe Manganiello's obnoxious list, but it's not at all funny or self deprecating like Anderson Cooper's either. It's just kind of there. She does say one thing that I found really off putting. She said she hates to get gifts for her home because they might not be to her taste. Is that really something you would put in your "25 Things" list? That's so bothersome to you that you want everyone to know about it? Ok, just put the offending item in the attic and put it out when the person who gave it to you comes over. It's not that hard! Here's more:
. My favorite board game is Taboo.

2. I love "day drinks" — special drinks to make hard days better and good days awesome.

3. One of my pet peeves is when people give you gifts for your home. Are you really forcing me to display this "Footprints" framed poem every day for the rest of my life?

4. I'm the second youngest of five kids.

5. I'm half Chinese, but I was born in Oklahoma and raised in Japan.

6. My full name is Lisa Olivia Munn.

7. If I weren't an actress, I'd be a molecular biologist astronaut because I love when people answer that question with a crazy-hard profession as if it were a real possibility, hoping you'll think they're smart.

8. I surf on a 7-foot-4 board.

9. I believe in rescuing your pets, not buying them.

10. I once kept an orchid alive for five months.

11. I hope to have lots of babies.

12. I'm excited to adopt one day.

13. My mom has a pool in her front yard.

14. Biggest turnoff: entitlement without work behind it.

15. I've never smoked a cigarette.

16. La Rochefoucauld is my favorite poet.

17. I've never permed or colored my hair.

18. Close talkers give me anxiety.

19. Y: The Last Man is my favorite comic book.

20. I competed in the World Championship Rock, Paper, Scissors Tournament in Toronto.

21. I'm designing a Narnia wardrobe in my house.

22. I can beatbox.

23. I credit everything I have to my fans, the OMFG (Olivia Munn Fan Group).

24. It was my idea to cut off my hair for my character in I Don't Know How She Does It.

25. I just got my motorcycle license but I haven't ridden yet. I'm not scared; it's just really fun to sit on it in my garage, that's all.
[From US Weekly]
Well Y: The Last Man is one of my favorite comic books too. (It's awesome and I mentioned that here.) Other than that, and that snotty thing about giving her gifts, this list is kind of meh. Anderson Cooper set the bar really high for me with his "25 Things" last week though.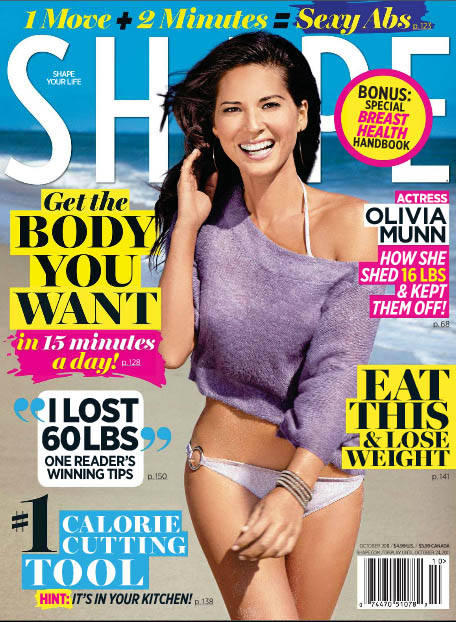 Olivia is also on the cover of Shape this month. I don't see how she's getting magazine covers, but I guess they were hard up. They promise to tell you how she "lost 16 pounds and kept them off!" but she just gives some vague response about only eating naturally according to some plan she made up, since she's so clever and makes up stuff like that all the time. Later they do give you an at-home workout planwith a balance ball and resistance bands, but it sounds like Shape made it up and just had Olivia pose to look like she was doing it. Here's my favorite part of Munn's interview with Shape, which did not change my mind about her at all.
Shape: Were you ever afraid you'd be pigeonholed as just a pretty face with a smokin' bod?
Munn: Not at all. The idea that women can't be sexy and smart is so antiquated. Don't get me wrong – I'm proud of those other covers. But doing Shape… I'm going to get a little emotional here… is a huge deal because it speaks to so many women.

Shape: So you really are female-friendly, huh?
Munn: Yes, it may surprise you to know that most of my close friends are women. I don't trust a girl who says she has a hard time being friends with other women. She's the person who will steal your boyfriend.

Shape: So if you're not hatching plans to steal one another's boyfriends, what are you and your besties doing together?
Munn: We make up funny dances about guys. I came up with dance aerobic routines that we do a few times a week to a 45-minute playlist. They have funny names like the One-Night-Stand and the Ex-Boyfriend. We all have that ex with the stupid dance who we love to hate, right? Mine did the jumping- up- and- down- fist- pumping- in- the- air- with- an- overexcited- smile- plastered- on- his- face dance. It's so much more fun than the alternative workouts my friends plan. They always ask me if I want to go for a hike. And I'm like, "No, why would I do that when I've got Tivo?"

Shape: Obviously, your TV habit isn't making you pack on weight. In fact, we hear you lost 16 pounds in two months a couple of years ago. How did you do it?
Munn: First, I made up a diet I called, "If I can't see it, I don't buy it." For example, if you buy a roasted chicken at the store, it sounds healthy, right? But those brown juices in the pan are made of what? Sugar? Soy sauce? If I don't know for sure, it's not going in my mouth.

Shape:Do you use a scale?
Munn: Absolutely. I need to see the hard numbers in order to stay on track. I don't believe in the "jeans" test because it's easy to cheat – I have a pair that fits like sweatpants because I haven't washed them since 1998! God forbid I'd have to go through the pain of stretching them out again.
[From Shape Magazine, print edition]
Don't you love the part at the beginning when she gets choked up doing Shape as if it's this groundbreaking moment for women? (Remember her Maxim cover?) It's not as obnoxious as it sounds, she had just talked about how her grandmother was a breast cancer survivor up until she passed. Olivia also said she does an monthly self exam.
Oh, Munn is in I Don't Know How She Does It, which stars Sarah Jessica Parker and is out in the US tomorrow. I think it's going to tank at the box office, but we'll see.
Here's Olivia at the I Don't Know How She Does It premiere and at Fashion Week this past week. She's been sticking to the same style lately. Credit: WENN and Fame