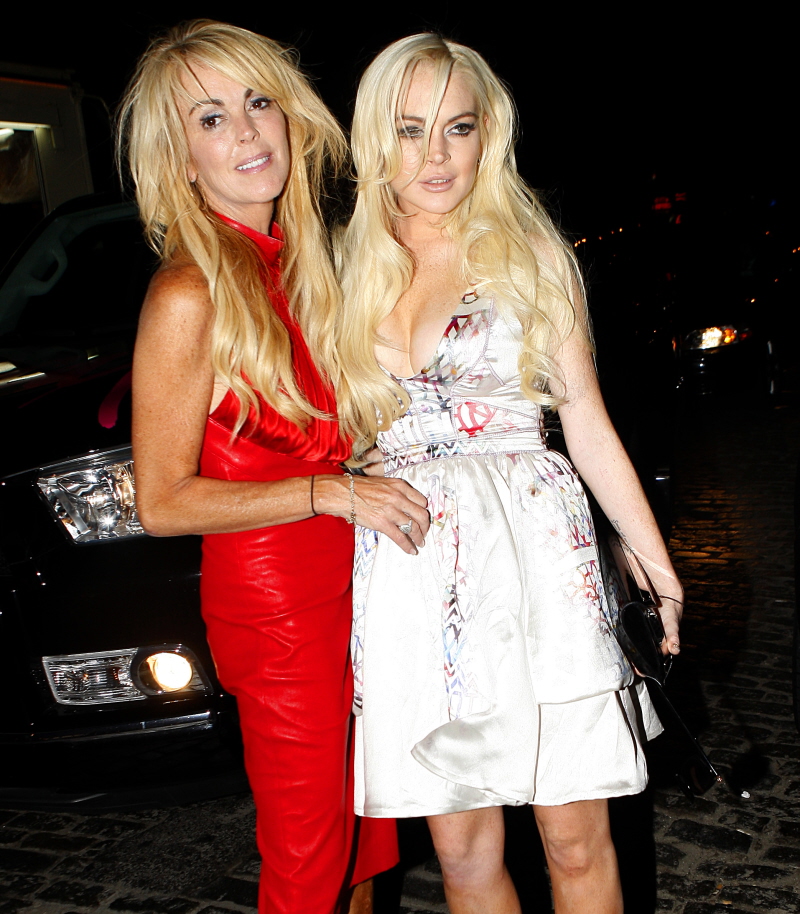 As many of you pointed out on yesterday's Linnocent post, Linnocent was a drunken, cracked-out mess at a party for V Magazine on Wednesday night. The basic gist of the story was that photographer Jasper Rischen was photographing inside the event, as he had been hired to do by V Magazine, probably for a feature in the magazine's next issue. When Rischen took a photo of or near The Cracken and Mother Crackhead, Linnocent threw a cocktail at Rischen.
He tweeted all about it, writing, "Wow. Lindsay Lohan is as trashy as they always say. She threw drinks and glasses to me as we tried to take a shot for @vmagazine." And then he called her a C-U-Next-Tuesday. Then, responding to a Linnocent defender, he tweeted: "Youre right, sorry for the c-word. But I've never seen such a hostile group in a club before than Lindsay and her friends…I used to always like the girl, without having met, and thought the press overreacted. But she's simply looking for trouble." Then he just went all out after getting some nasty tweets, and he put this photo up with the message, "This is when LiLo just threw her drink at me and @CPXSanders. Don't her friends look lovely":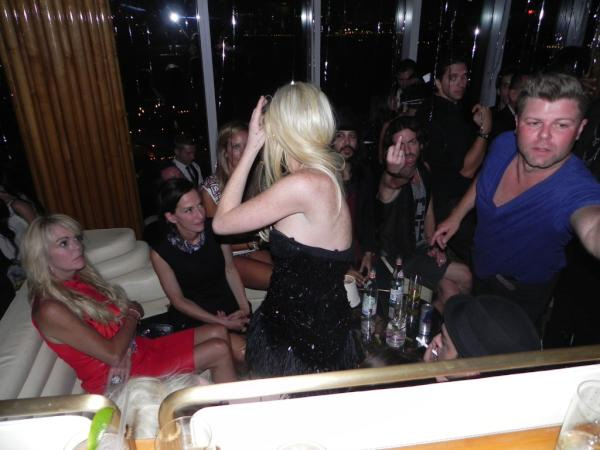 Mother Crackhead just sits there, looking at Linnocent like a puppy looks at another puppy who has just snorted a big line of coke.
My absolute favorite thing in the world is this report from New York Magazine about the incident. I adore the added insult of Linnocent "sucker-punching" a bystander. "MOVE THAT PERSON, I'M LINDSAY LOHAN."
Lindsay Lohan continued on her path of Fashion Week mayhem at last night's V Magazine Black and White Ball at the Top of the Standard. The crowd (which included Alexander Wang, Carine Roitfeld, and Rachel Zoe) seemed to be in good spirits, when Lohan, without warning, rose from a banquette in a sunken section of the club (where she was sitting with her swashbuckling compatriot from Cynthia Rowley's show) and sent a drink — still in its glass — sailing over the wall and directly at a cocktail waitress.

After the waitress cleaned herself up, she told The Cut that the soaking had been a case of poor aim. After tossing the glass, Lohan yelled to the waitress, "Not you, him!" indicating a nearby man in a white T-shirt. From there Lohan, accompanied by Rowley and the ill-mannered pirate, nibbled on French fries (she threw those, too) and refused to speak to reporters. She then moved her group to another section of the bar, sucker-punching a seemingly innocent bystander as she walked past.

Just when it seemed things couldn't get stranger, the lights came on and the music went off. "She's bleeding!" yelled a man at the bar. Medics surrounded a brunette woman, lying with her black sheer-stocking-ed legs elevated on a white leather couch, adjacent to where Lohan had been sitting. When they lifted her up to place her on a stretcher, the back of her black dress was soaked in blood. Broken glass, a security guard confirmed after she had been rolled out. By then, the crowd had thinned out.
[From New York Magazine]
Yep. Sounds about right. Don't you imagine that this is what it's like to party with Linnocent every night? Every night, crack drama and thrown glasses and blood everywhere and camera flashes. So, so… ugh. She's just ridiculous. Oh, and here's Page Six's version of events:
It was a bloodbath at the Top of the Standard when a Fashion Week partygoer fell on broken glass minutes after Lindsay Lohan pitched a drink at a photographer.

A female guest at the V magazine party in the hotel's Boom Boom Room on Wednesday night fell onto a table as Carine Roitfeld, Mario Testino, Linda Evangelista, Mary-Kate Olsen, Courtney Love, Alexander Wang, Rose McGowan and Usher partied on.

Multiple witnesses told us that the woman fell from a flight of steps near Lohan's table. Her tumble caused glass to shatter and cut her arm.

A witness told us: "There was so much blood spurting, it was like a horror movie. The party was packed and blood was spurting onto people's clothes. Paramedics were called, but they took more than 20 minutes to get there, and a friend held the girl's arm to try to stop the bleeding."

The music was turned down and the lights were turned on as staffers tended to the unidentified victim, whom we're told is OK.

Lohan, partying with her mom, Dina caused a stir moments before by throwing a drink at a guest who tried to get a picture. Photographer Jaspin Rischen said on Twitter: "Wow. Lindsay Lohan is as trashy as they always say. She threw drinks and glasses to me as we tried to take a shot for @vmagazine. [bleep]" But a Lohan rep said, "Lindsay did not throw anything at anyone, plain and simple. Making up stories about Lindsay has become a pastime for many people."

Lohan then headed to the Electric Room at the Dream Downtown. Once there, she threw a drink at photographer Todd Eberle, which landed on his laptop. Eberle confirmed the incident, telling us with sarcasm, "I'm thrilled to be a part of Ms. Lohan's colorful history!"
[From Page Six]
OMG. "Lindsay did not throw anything at anyone, plain and simple. Making up stories about Lindsay has become a pastime for many people." EVERYBODY SAW HER. Everybody saw her throw the glass. But who are you going to believe, The Cracken or the lying eyes of more than a dozen less-cracked-out witness?
And in case you get the impression that Linnocent was simply not in the mood for ANY photos, you're wrong. She posed by a zebra, looking especially crackie, at the same party.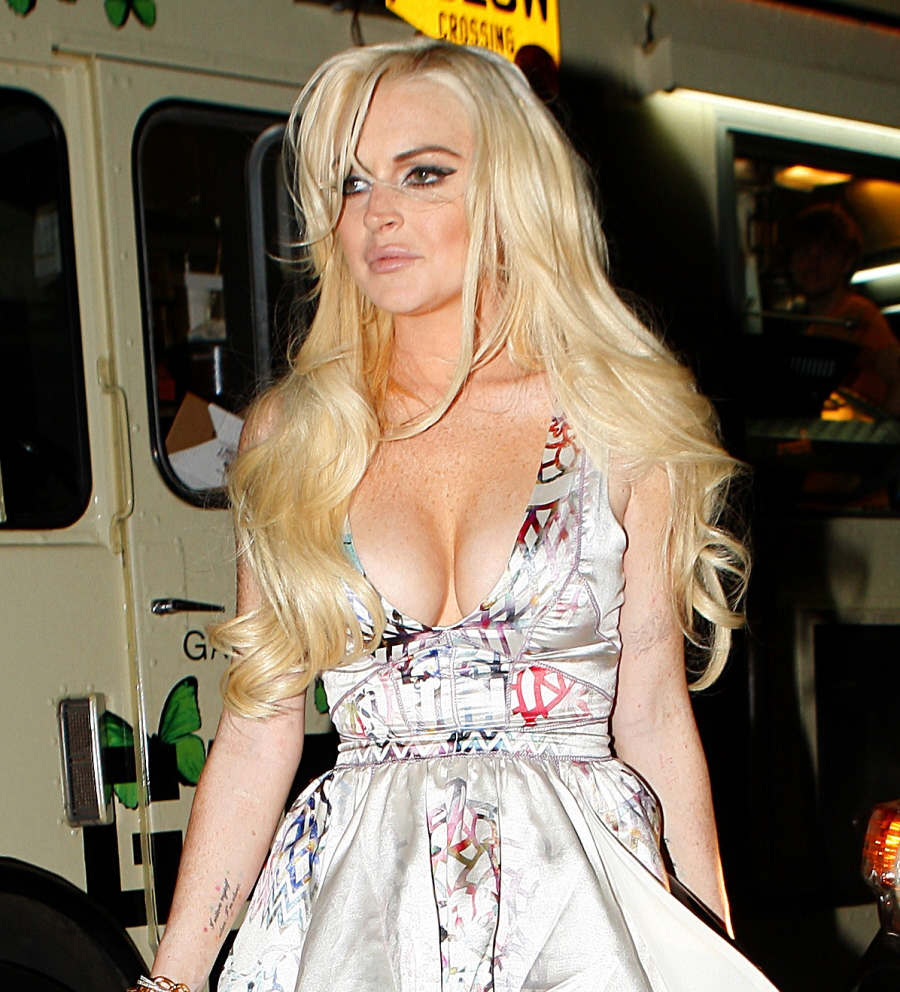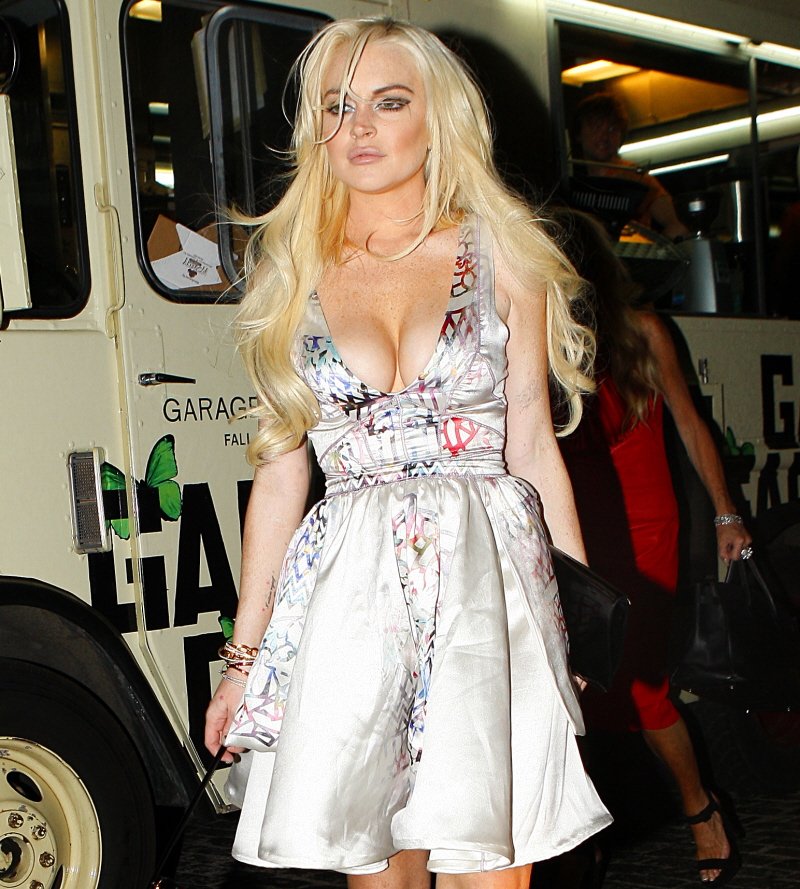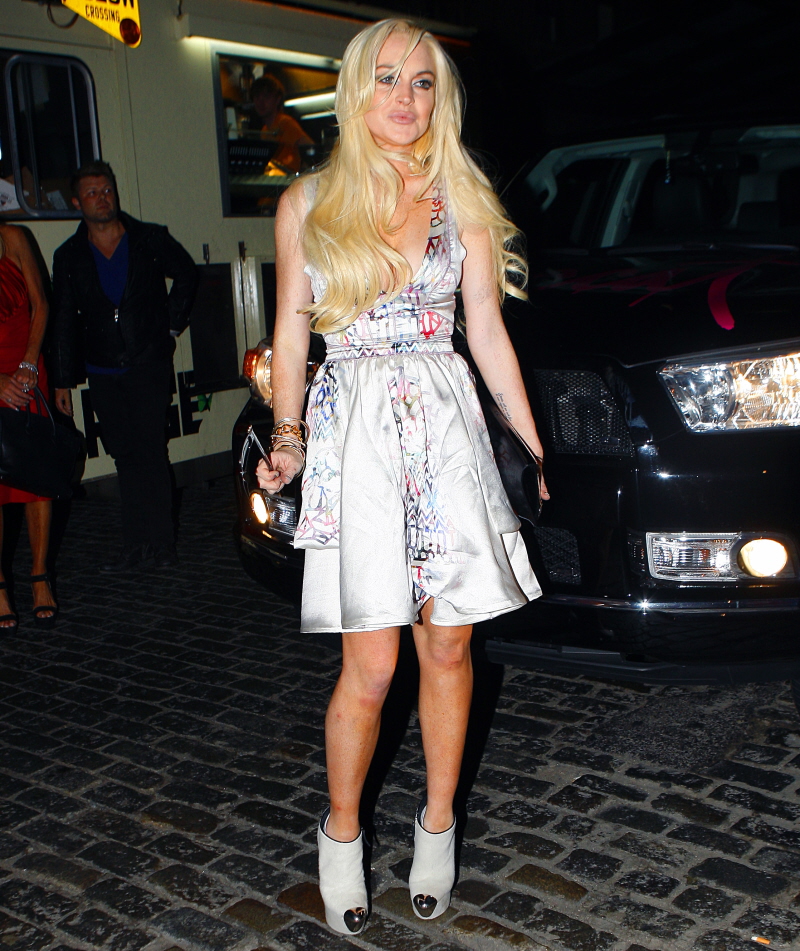 Photos courtesy of Fame.