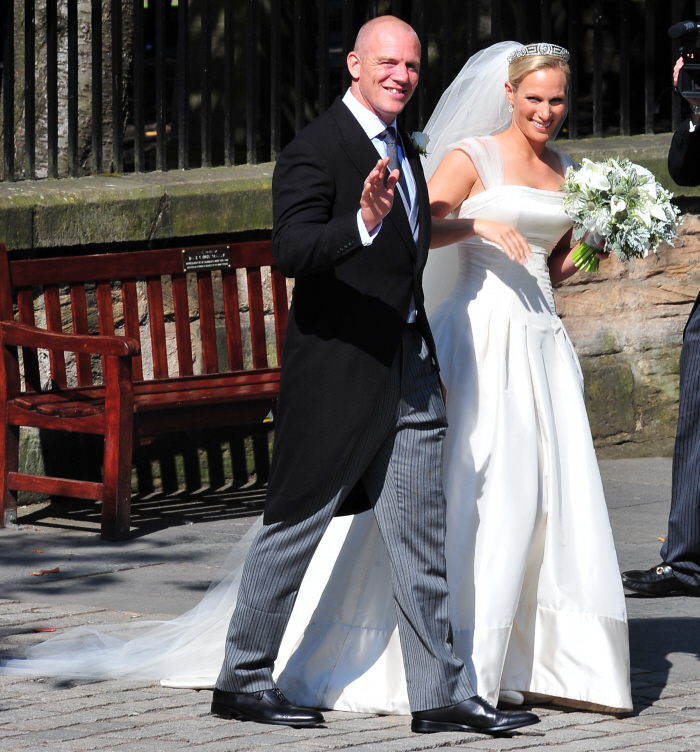 Zara Phillips and Mike Tindall just got married this summer, back in July. It was the second "royal wedding" in the House of Windsor in 2011, but Zara and Mike didn't go all out like Kate Middleton and Prince William. No, Zara and Mike did their thing in Scotland, and reportedly, it was just one big liquor-soaked, lovefest party. Zara is the daughter of Princess Anne and Captain Phillips, by the way – she is the Queen's granddaughter, and reportedly, one of the Queen's favorite people. Mike is a rugby captain, and up until now, he's just seemed like a nice bloke. Not particularly deep or anything, but like a nice guy. My opinion of him is changing, though. There's a scandal brewing, and it involves Mike getting extra friendly with a random. You can see photos (video screencaps) here, at the Mail, and here's the basic gist:
England rugby captain Mike Tindall, the newest 'member' of the extended Royal Family, DID cuddle a beautiful blonde in a nightclub – and there's 12 embarrassing minutes of security camera footage to prove it. The CCTV clip emerged today as the England team rallied behind their captain and the boss of a nightclub softened his earlier denials of a 'Tindall grope' by admitting that it could have happened without him or his staff seeing it.

The footage shows a buxom, long-haired blonde holding the back of Tindall's shaven head and seemingly pulling his face down towards her bosom in the dim lighting of a New Zealand nightclub on a rowdy night out during the World Cup. She also has her lips very close to his head as he bows forward. Other parts of the video show Tindall with his left arm around the woman, who has her back to the camera, and they appear to be kissing.

The footage was released by a man who claims to be a bouncer. Facing the camera as he 'presents' the video, he criticises the England captain for his 'unbecoming' behaviour, adding that he 'felt' for the Queen and Tindall's bride of six weeks, Zara.

The video shows Tindall talking animatedly with the blonde at the bar and she then has a drink before leaning forward to kiss Tindall. The pair are then joined by a brunette who also moves in very close to the rugby star, her hands running up and down the sides of his body. Outside the club, another security camera catches the couple embracing one another and later she is with a group, including Tindall, who leave the doorway and walk away out of sight of the camera.

Alarm bells went off when the CCTV footage was posted on YouTube today by 'pinksnz' and shortly after word got around that it showed the newly-married captain in the arms of a party girl it was removed from the social networking site. But by then the evidence had been revealed.

The England club management had issued a soft denial after claims of Tindall's flirtatious behaviour were first aired, with a spokesman insisting that 'like all the lads, he plays for England with a massive amount of passion and he was relaxing after a tough match', against Argentina, which England won. Despite captaining England in their opening pool B victory, Tindall will not play in Sunday's clash against Georgia in Dunedin, though it is unclear if he has been dropped or is merely being rested against weaker opposition.

After Saturday's game, the team made their way to the Altitude night club in the South Island lakeside town of Queenstown. Part of the night's entertainment was a dwarf-racing competition in which a team of 'little people' raced across the bar with bungy cords around their waists to see who could complete the 'course' the fastest. Drinks flowed and, according to one Facebook post from Lewis Norman, the England players were 'legends rocking it.'

The damaging video footage, which flies in the face of denials from the England team, its management, and the Altititude Club that anything untoward had gone on between Tindall and the mystery blonde woman, was introduced by a man who said he was a bouncer. In a gruff voice, he attacked Tindall for what he said was his 'unbecoming behaviour'. The un-named man said that no-one was going to make a cent out of the video but he was posting it so that people could make up their own minds about what they saw and could pass their own judgement.

'Mr Tindall,' said the bouncer, interrupting the playing of the video showing Tindall and the blonde at the bar, 'your behaviour was that of someone unbecoming, especially to someone such as the Queen and Zara Philips. I do feel for them. Mr Tindall, let me give you a word – in my country it means your word completely, you don't break it for anyone. You gave your word to God, Queen and country.'

Miss Phillips – or Mrs Tindall as she now prefers to be known in private – declined to comment on the allegations yesterday. The former world champion three-day eventer, who has high hopes of representing her country in next year's Olympics, was competing in Ireland and will not return to the home the couple share in Cheltenham next week. But her spokesman confirmed that she would still travel as planned to New Zealand to see her husband mid-way through the tournament. Sources say she is expected in two weeks' time. The feisty 30-year-old has discussed the incident with Tindall in an emotional telephone call, although she is understood to be standing by him.

'Zara is like her mother – outspoken, fiery and very, very feisty. She adores Mike but won't take this lying down and will no doubt feel utterly humiliated by what has happened,' said a source.

The couple decided to put off having a honeymoon for a year or more due to their respective sporting commitments, particularly this month's Rugby World Cup.
[From The Mail]
So… it's not like Mike was boning this "buxom blonde" in the club, and no one is really saying anything about what happened after Mike left the club (like, did he go back to the hotel alone?), but still. Making out with some chick, motor boating her in the club, all while you're still a newlywed? Trashy. Bad form. That being said, I think the bouncer who "revealed" this information has a stick up his bum. Yes, Mike let down Queen and country! But mostly he just fooled around on his poor wife. Poor Z.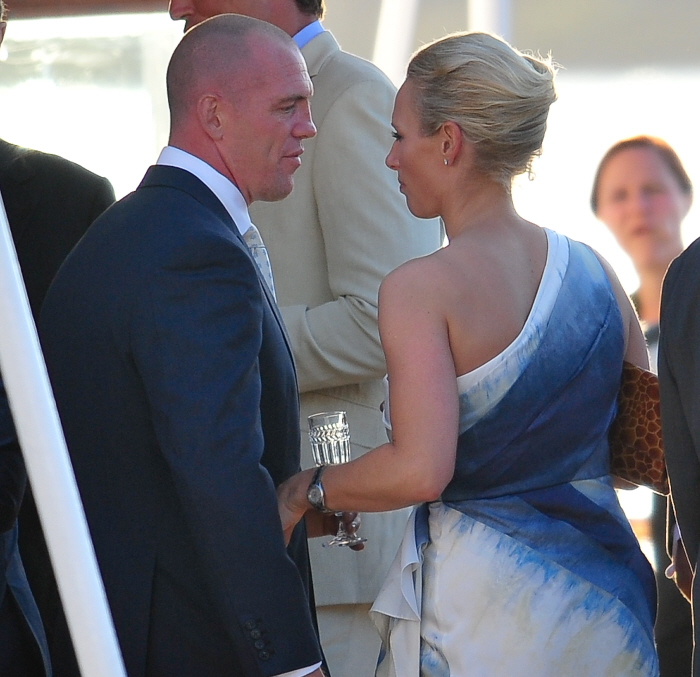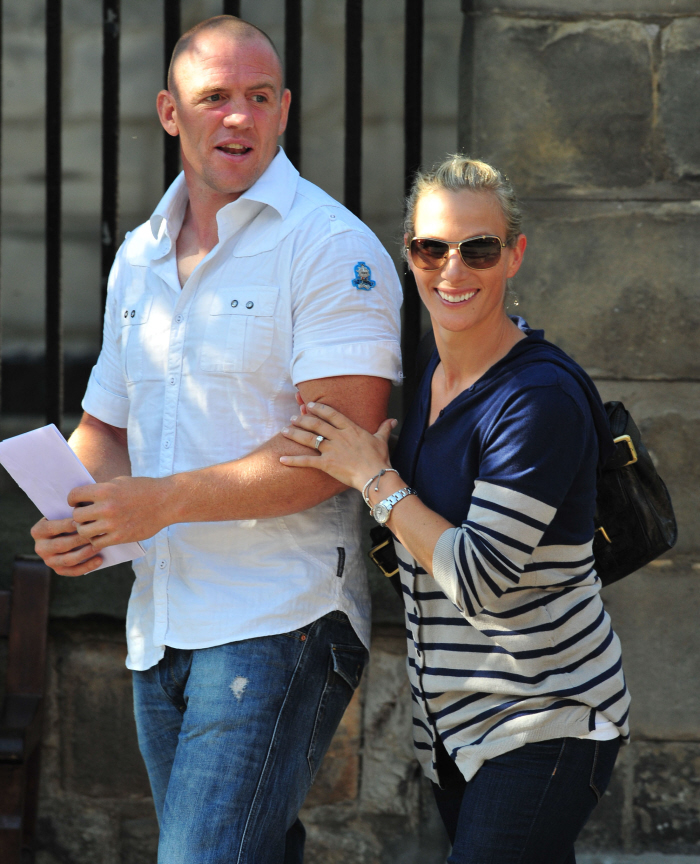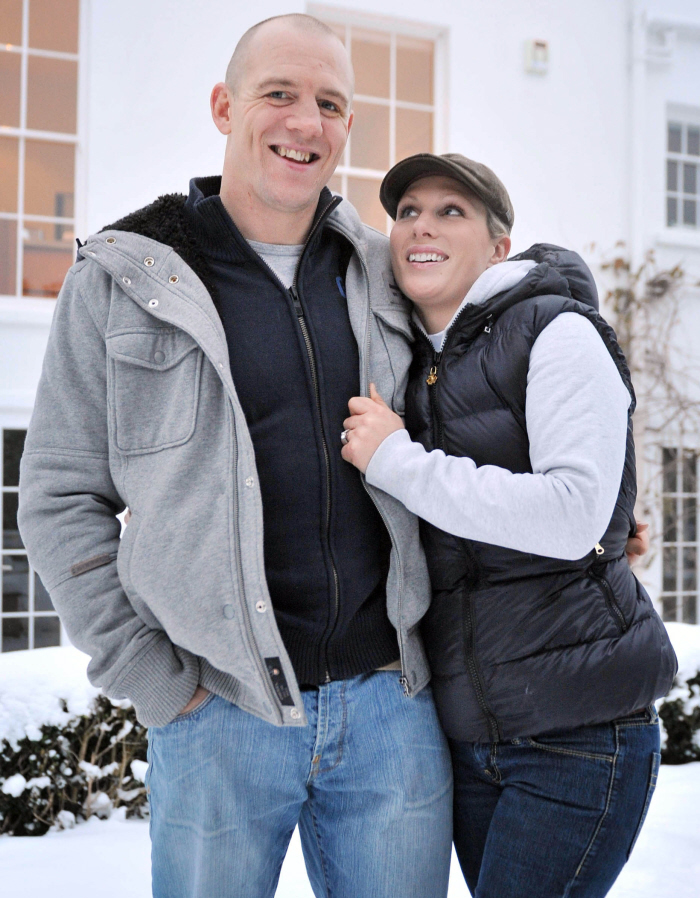 Photos courtesy of WENN.