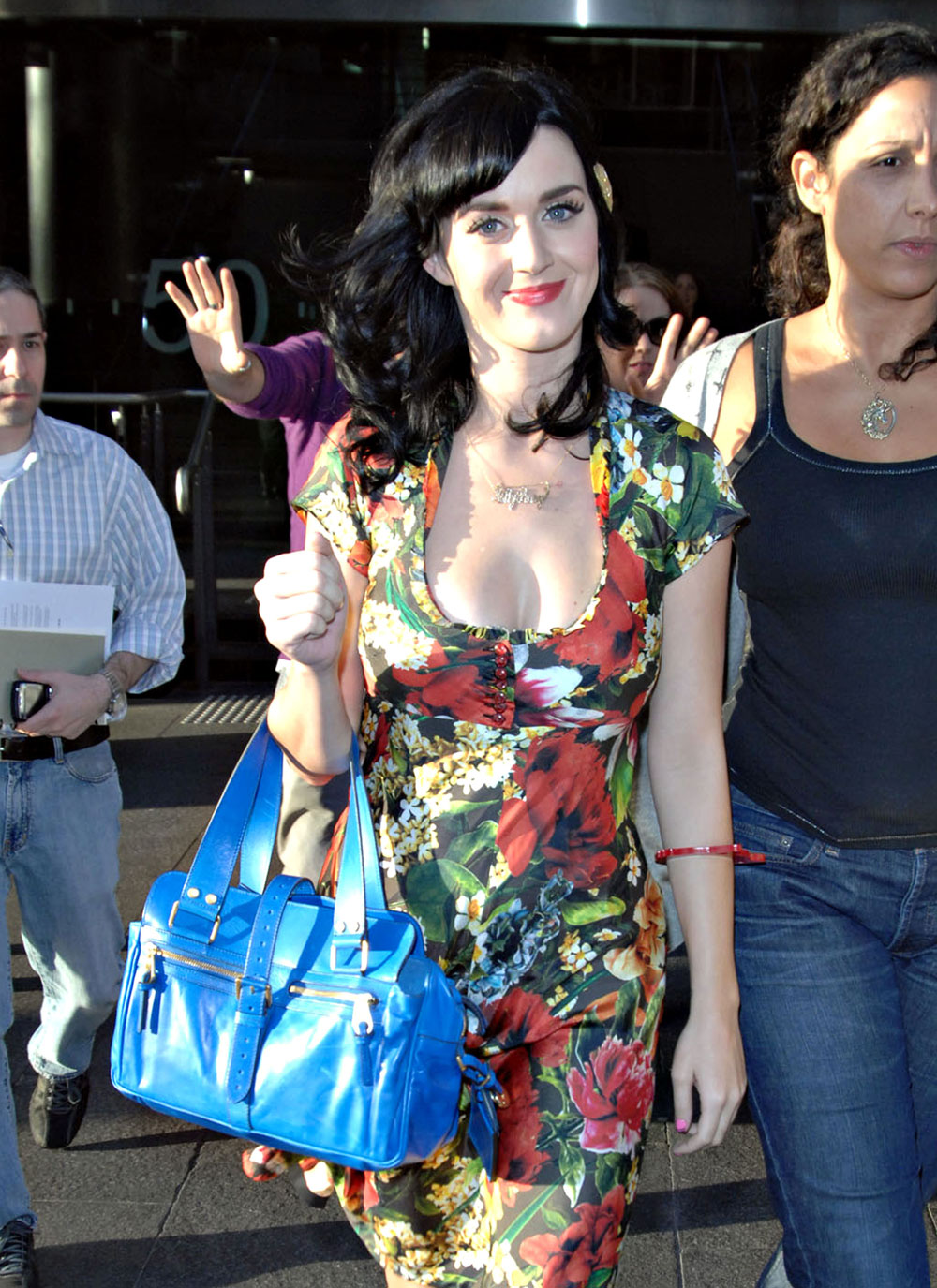 Katy Perry has blown up on the pop music scene since the release of her love-it-or-hate-it song "I Kissed a Girl." I was first introduced to her music a few months before on Chris Crocker's myspace page, where her song "Ur So Gay" was his song du jour. A very cool sounding dig at emo boys with a killer video, I was impressed enough with her to appreciate the kitsch of "I Kissed a Girl" and was psyched she was getting radio play. But even if you like it, you can seriously only listen to that song so many times before you want to kick the radio, and then Katy Perry herself. Not ingratiating herself to any fans over 16, Perry also started talking too much and pulling crazy "look-at-me" antics.
So when Katy Perry announced that she wasn't going to be like Britney, my first thought was it's too late, you're following the blueprint, chica. Between outing her ultra religious, minister parents as wild, drinking, sexing young adults, jumping face first into a cake, posing in knife-wielding photo shoots and attempting to strike pseudo-retro-coy poses any time a camera was around, she looked to be fast-forwarding on her way to overexposure and crazy ala Spears. My second thought, was you're right, Katy, you're no Britney Spears. With said fast-forwarding overexposure, Katy Perry is prime to be little more than a flash in the pop music pan if she's not careful.
What Katy Perry meant though was the one thing that didn't cross my mind.
When asked how she would stop herself copying Britney, who had a public breakdown earlier this year, Katy replied: "You have to be really strong-headed to survive in this industry.

"If you are going to get into it, lose your vices because they are not something you should have – especially if you are in the public eye. Eat your vegetables, take your vitamins and be discerning about the people that are around you.

"Know who is a creep and who is not, who is there for the right reasons and who is not there for the right reasons."
[From Female First]
Perry went on to explain her fashion sense as a fascination with the style and poise of women in the 1940's. While Katy might or might not be another Britney, she's definitely no Dita. Perry's style is more of a caricature of 40's fashion, punctuated by what looks like 80's reproductions. She embraces the kitsch, though, and pulls off the very poor and uninformed man's Dita Von Teese.
I still like her, she's still fun in an absentminded kind of way. But her appeal diminishes with each unabashed and tawdry attempt to call attention to herself. If she just stopped trying to appear so cool, she might actually be cool.
Katy Perry is shown performing in Sydney on 10/10/08 and out in Sydney on 10/9. Credit: Fame Pictures