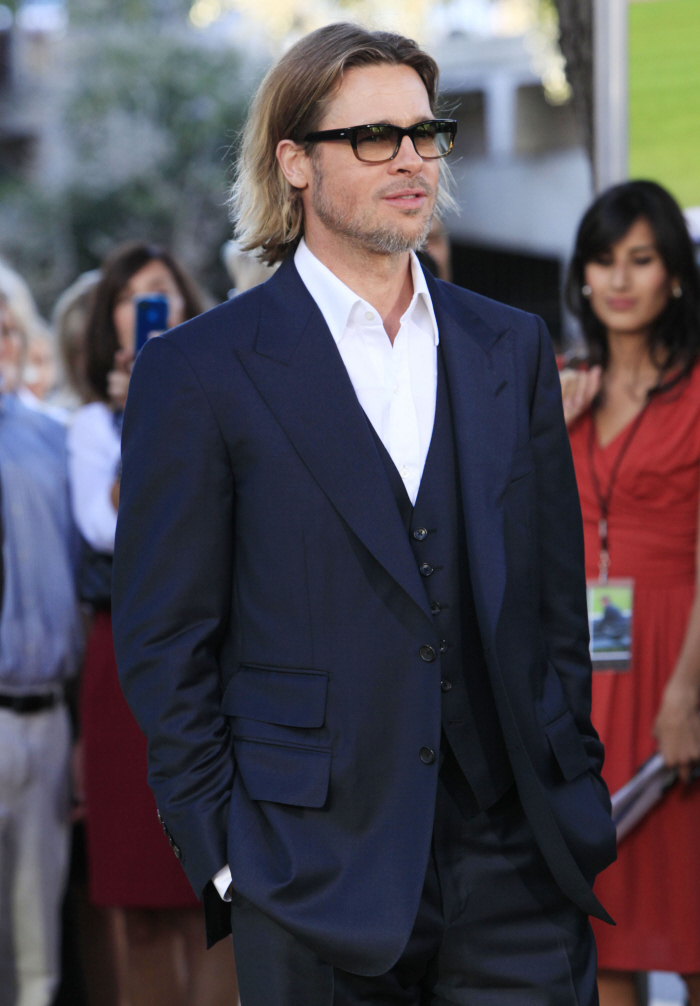 Where to start? There's lots of Brad Pitt news today, and I suspect that Brad and the Unholy, Uncool Bermuda Triangle of Dullness and Doom will take several more tabloid covers today, so just prepare yourselves. First, while Brad was flying solo at his Moneyball premiere in Oakland two nights ago, he once again "clarified" his Parade Magazine remarks, saying: "That was never my intention for it to be spun that way. People read things into it that just weren't there."
Next up: Brad and Jennifer Aniston take the cover of this week's OK! Magazine, because IT'S STILL NOT OVER.
Brad Pitt doesn't give many interviews — and now maybe we know why. After discussing his personal life with Parade magazine, the Moneyball star managed the rare feat of enraging and humiliating both his ex-wife, Jennifer Aniston, and his current partner, Angelina Jolie.

"Brad is in deep trouble with both Jen and Angelina" an insider tells OK! in this week's issue, on sale everywhere Thursday!

The interview started with a little healthy self-deprecation. Reflecting on who he was 10 or 12 years ago, Brad described himself as a "pathetic" slacker, "sitting on a couch, holding a joint…. I wasn't living an interesting life."

So far, so good. Until Brad added, "I think that my marriage [to Jennifer] had something to do with it — trying to pretend the marriage was something it wasn't."

Remember when Jen said Brad was missing "a sensitivity chip"? Apparently, he still hasn't grown one. Here, Jen has finally put their painful divorce behind her and is talking marriage and babies with new love Justin Theroux — and Brad brands her a mindnumbing bore and implies that his whole life with her was a lie.

Was it really mere thoughtlessness? Some insiders believe otherwise — that it's killing Brad to see Jen and Justin mooning like giddy teens.

"Brad's got a real competitive, vicious streak, and I wouldn't be surprised if he's jealous," a Jen pal tells OK!. "Justin is everything Brad couldn't be. He adores Jen; Jen is deeply in love with Justin. And she'd fallen in and out of love with Brad during their marriage. Truth be told, they were both bored. Jen saw Brad as a dull stoner. But Justin is a poet and an author and well-educated and amazing."

At first, the public put-down wounded Jen, adds another source: "She was angry and confused. But then it became obvious to her — and everyone else in their world — that he's just envious of how happy she is with her new man."
[From OK! Magazine]
Is that seriously the Aniston-approved talking point? That Brad just said that he was bored and unsatisfied in their marriage because he's so JEALOUS of her new relationship? Really? Did Jennifer and her "friends" not read the parts about Angelina and their six kids? Well, if thinking that makes Jennifer Aniston happy, God bless.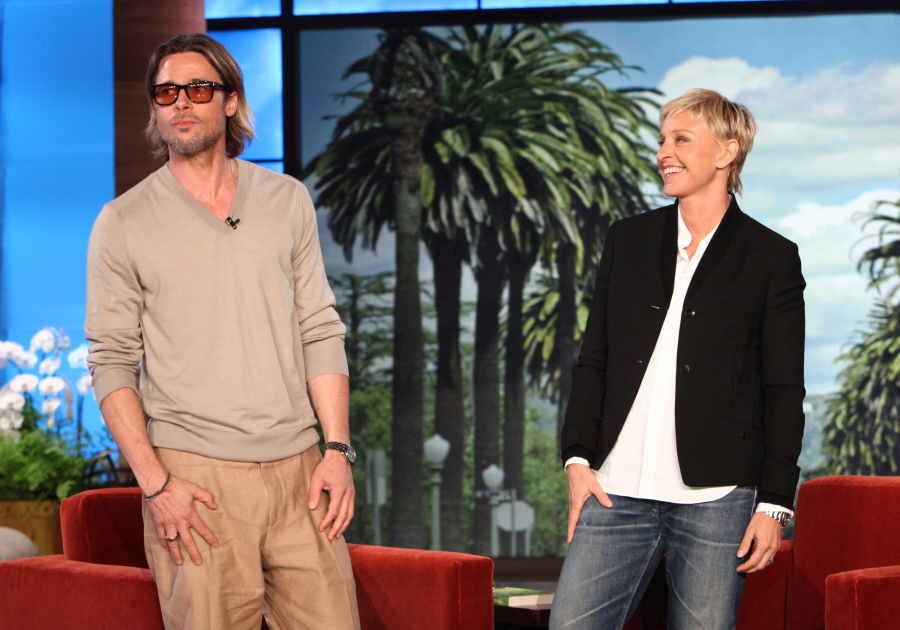 Last story: Brad is making an appearance on The Ellen Degeneres Show tomorrow – it's a pretaped piece, and we've already got some details. He compares life with six kids to the movie Cuckoo's Nest (is he referencing One Flew Over The Cuckoo's Nest?): "That's morning time in our house. …Cheswick screaming for a cigarette, someone's doing ballet over there and on it goes." Here's more:
Brad on his "favorite" child:
Ellen: Portia and I have been together for six years and you and Angie have been together about the same amount of time. I just think wow, Maddox and Pax and Zahra and Buff and Hensman and…Tito. There is so many of them. I don't know how you balance? There's got to be one really, really well behaved one. Who's your favorite?

Brad: (laughing)…How do I get out of this one?

Brad on finding "Mommy, Daddy" time:
Ellen: So you're traveling a lot. You have the kids. You have a career and Angie has a career. How do you have time to keep..to have the romance. Have alone time.
Do you just sometimes say, we will be back in a month? Just leave them at home?

Brad: We find our time. We carve out Mommy, Daddy time… It's called a hotel.

Ellen: That's what I'm getting at.

Brad: You got to get out of this house. You got to leave.

Brad on marriage:
Ellen: When people ask you and Angie if you're getting married you've said that, well I'll let you say it.

Brad: I've said that we would not be getting married until everyone in this county had the right to get married…

Ellen: I love that.

Brad: …We live in this great country that is about freedom. It is defined by our freedom and equality and yet we allow this discrimination to go on everyday and that's not what we're about. That's not what makes us great. Until that is reversed. I just don't get it. "It'a make'a no sense to me" (in a italian accent)

Ellen: Thank you. So that means if like, next week if it's legal for everyone to get married that you would then be getting married the very next day. It seems.

Brad: It seems.

Ellen: Doesn't that seem like the right thing?

Brad: I do. The kids are putting on the heat. They really are. They are putting on the heat.

Ellen: You'll still hold out?

Brad: How do you I get it out this one? Somebody help me. I don't know what the future holds…
[Transcript courtesy of Ellen's Show]
Apparently, Ellen also gave Brad baseball jerseys for the whole family, which say "Jolie-Pitt". That's kind of cute. As for what he says about marriage… I consistently get the feeling that Brad is really the one holding back on the idea of getting married. I think Angelina really wants to go for it, and now it seems like the kids want it too (probably being egged on by mom). So is Brad really going to hold out until the gays in Texas can get married?
Oh, I have a conspiracy theory too – notice how little effort it took for Brad to change the subject away from those reports he was boning his assistant? Maybe Brad prefers speculation about the Bermuda Triangle and not about an attractive side-piece?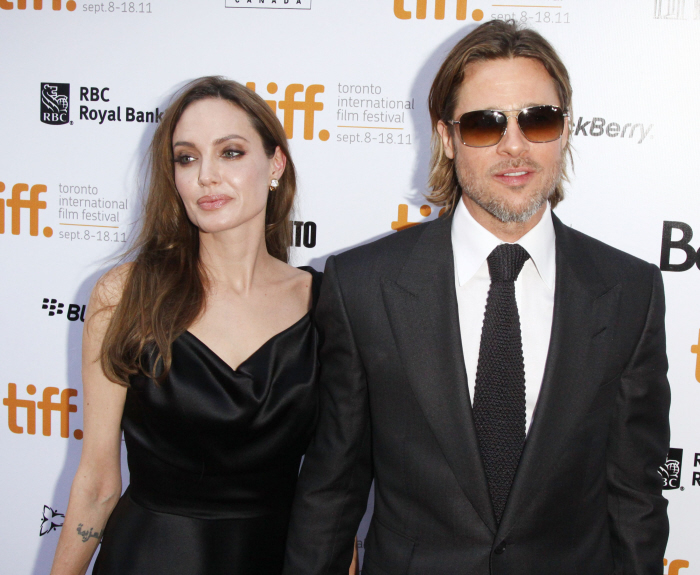 Photos courtesy of WENN, one photo from Ellen, Photo Credit: Michael Rozman/Warner Bros.