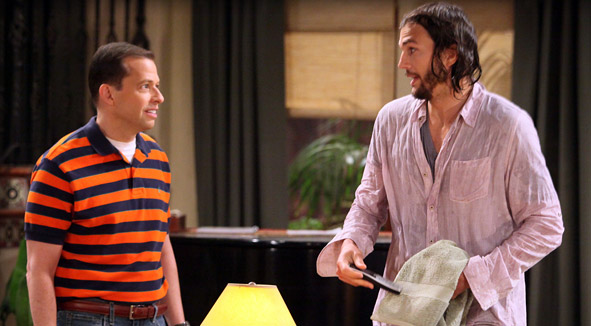 I've watched a few episodes of Two and a Half Men prior to now. Usually that was the result of being stuck in a waiting room or an airplane with absolutely no other programming options. It's a dumb show with canned laughs, but at times it did crack me up. So I went into this with low expectations, which were met I guess. I mean it sucked. The show opened with Charlie's funeral, where his ex lovers trash talked him and listed off his sexual fetishes. There were plenty of dumb jokes and groan-inducing one liners. A few were kind of funny though. Here's my very brief recap. Evil Beet has a better one you're interested.
Rose explains how Charlie died, by "falling" in front of a moving subway train after she caught him cheating on her. "I want you to know that Charlie didn't suffer. His body just exploded like a balloon full of meat."
Jake asks "does anyone else feel hungry?"
They establish that no one can afford the house now that Charlie has passed. Later, when Alan is alone, Ashton Kutcher comes in to use the phone after unsuccessfully trying to commit suicide by drowning. He tells someone on the other line "I want you to know that I just flung myself in the ocean because I can't live without you. No, I'm not calling you from the ocean. Because it was cold."
Ashton's tech billionaire character Walden: "Money does not buy happiness."
Jon Cryer's character, Alan. "I don't know I've never had either."
Ashton then strips down to his skivvies to change. Then they go out to some TGI Fridays type place to bond over drinks. Ashton picks up two chicks with his sad sap story, and the two of them bring the ladies back to Charlie/Alan's place. Ashton scores a menage a trois and gets laid while Jon Cryer's character goes to bed alone with no nookie.
The next morning Walden/Ashton proceeds to walk around shirtless/nude while everyone exclaims at his penis size. Then he announces he's buying the house.
At least the whole episode was only 20 minutes or so. It wasn't terrible, just kind of there.
A lot of people tuned in to watch Ashton's half dressed debut, though. The show got over 27 million viewers and a Nielsen rating higher than any single episode when Charlie starred. So it's safe to say that Ashton will be sticking around. Don't cry for Charlie, though. He just made $25 million from Warner Brothers for his past episodes and could get $100 million for syndication rights over the next ten years. I guess it was money he was owed or something, but still that sounds outrageous.