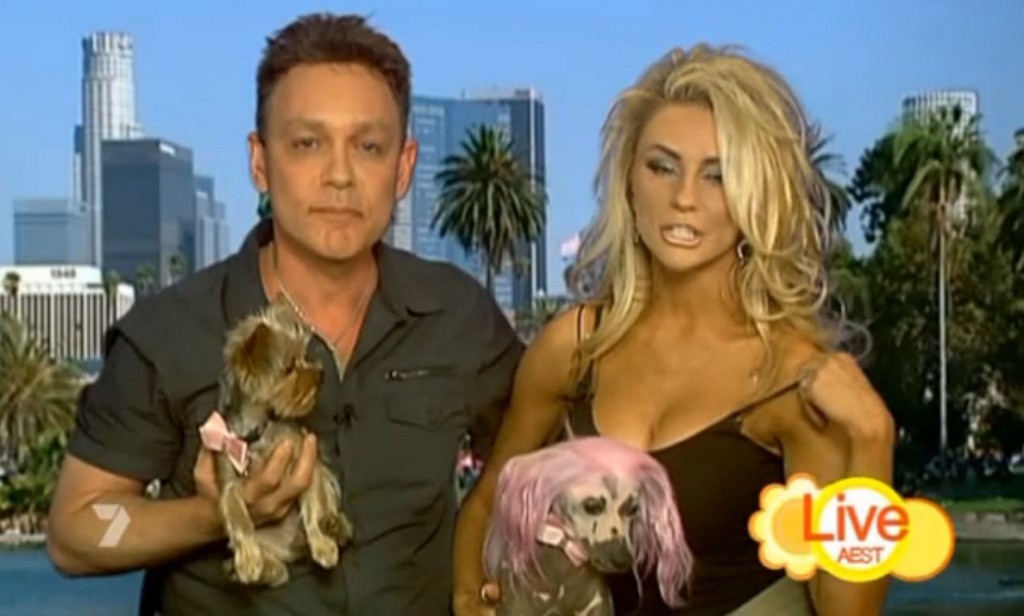 You know that look you make when you taste something really sour and your bottom lip curls down while you make a uncontrollable grimace? I swear my face has been stuck that way for the ten minutes since I read this article. Well yesterday Courtney Stodden, who just turned 17, stopped by the offices of Radar Online with her new 51 year-old husband, Doug Hutchinson. As is typical for Courtney, she said a lot of suggestive, totally inappropriate and cringe-inducing stuff, only this time she seems to have taken it to the next level. She told Radar (this is your last warning, turn away now if you don't want to imagine this) that she was "aroused for 24 hours straight" on her wedding night with her old ass husband. Then she claimed that her version of college was learning about his body or something. Do I need to eat a s'more or something sickly sweet to make my face go back to normal? I don't want to get wrinkles from this.
Teen bride Courtney Stodden and her 51-year-old actor hubby, Doug Hutchison stopped by the offices of RadarOnline.com Thursday for a spellbinding interview.

Fielding probing questions from our readers Courtney gave a no-holds-barred sit-down, dishing on her home life with Doug, what she would study if she went to college (Doug's body!) and her super sexy wedding night.

"We went to the Chateau in Hollywood it was so beautiful it was a wonderful experience. I was aroused for 24 hours straight," Courtney, who was a 16-year-old virgin when she married Doug, candidly confessed of their first night together as man and wife.

When asked why she thought people found her and Doug's union so controversial, Courtney teased: "I think it was because he was 51 and his life is over and I'm just venturing out on mine. I'm here to make the second half of [Doug's] life a lot better!

One highlight of the Q & A was Courtney's response when asked what she would study if she wanted to further her education. "I would go to college and study all of Doug," she laughed. "All of his body, and all the elements within that. What they do and what they still do. It would be a lot of fun."

At times the 17-year-old sex kitten seemed more like she was posing for Playboy than being interviewed by an entertainment website — pouting provocatively, tossing her abundant blonde mane, and stroking her tanned and toned thighs.

But, when asked what it is about Doug that inspires her, Courtney took no time in getting straight to the point. "He's cooking for me, cleaning for me, he's like the wife around the house. He picks up the slack around the house and that's very inspiring to me," she said.

At that point Doug interrupted the interview and insisted that he does NOT wear an apron around the home!
And, there's more to Doug than just his cleaning and bedroom skills!

"He's teaching me acting, thank you. We just did a little acting class two nights ago," Courtney purred at her beloved. "We have to resume that."
[From Radar Online]
My favorite line "he was 51 and his life is over and I'm just venturing out on mine." Is that what she's counting on, the dude to take care of the house until he dies, at which point she can head out on her own? It's probably going to be at least 30 years.
The only upside to this story is the fact that there is no video of this. (Update: There's video now. It's as bad as you might think.) In Courtney's case, it actually does look worse than you might imagine when she makes all those freaky faces and licks her lips. She looks like a cat in its first heat. She's just a kid, though, and it's not her fault she turned out like this. I blame the awful stage mother who turned her into a parody of a sex kitten. This also answers the question of whether she writes her own tweets. I think she does.
Courtney was live on Radar's Facebook page via UStream to answer user-submitted questions. The comments on the video are hilarious:
Chesley: my question is why you dress like a hooker?
Lucia: i think that was so lame…she won't get big!
Eric: Wow none of my questions were answered. Now I hate my life.
Courtney and Doug are making all these appearances to promote that reality show they just scored a production deal for THAT NO NETWORK WILL EVER RUN. This is skeevy and exploitative as hell, no matter how much the poor teen seems to be complicit in it. She doesn't seem capable of making that decision on her own at all.