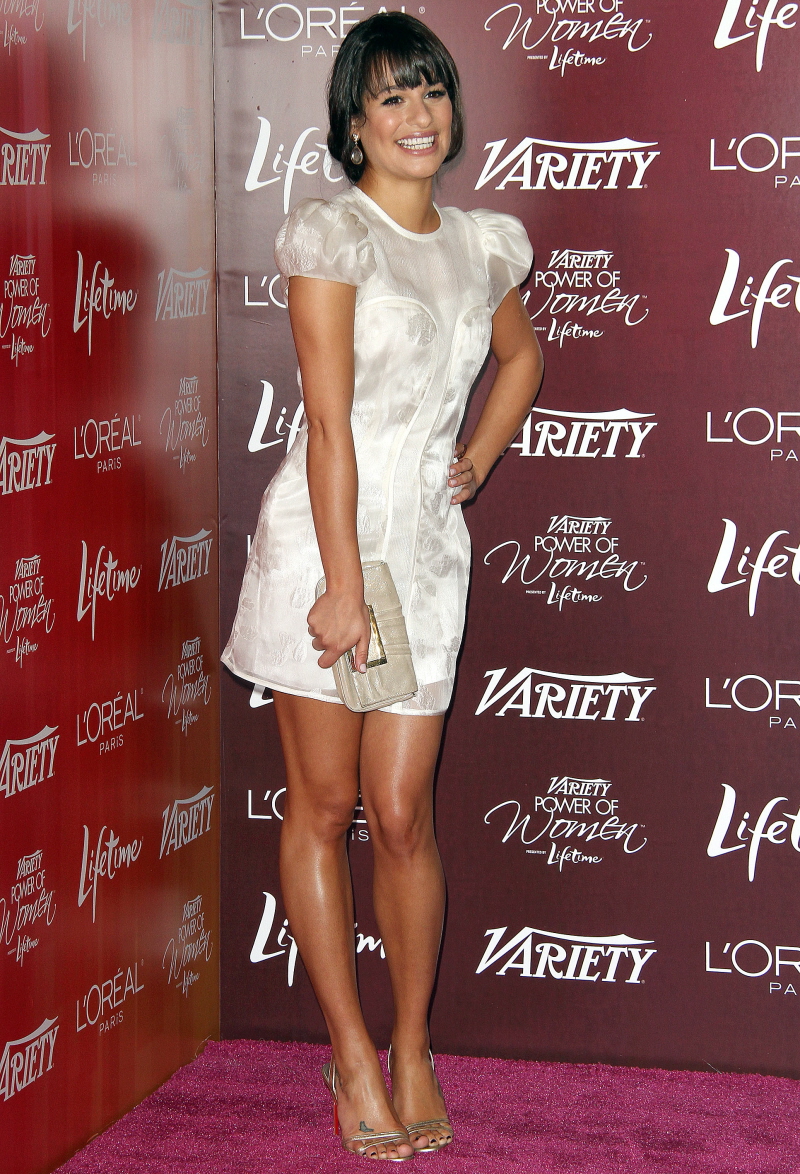 These are some new photos of Lea Michele at this weekend's event for "Variety's Power of Women" luncheon. Demi Moore and Eva Longoria were the hostesses, but I'm thinking that Lea Michele was a decent "get" for the luncheon. I mean, it's not like Lea just goes to the opening of an envelope, right? Oh, wait, she does? Nevermind. Anyway, Lea's dress is Katherine Kidd… it's okay. Not stunning. Looks sort of like an oversized baby doll dress. Like, literally, for a doll. And I'm so over Lea's hair. I wish she would go back to no-bangs.
Anyway, did you hear about this completely dumb controversy about Lea's pose-harding? Little Sarah Hyland, the 20-year-old, Mila Kunis-look-alike actress from Modern Family, was on an episode of Fashion Police a few weeks ago, and when Sarah and the group (which included Joan Rivers and Guiliana Rancic) began discussing a recent red carpet appearance by Lea Michele, Hyland started joking around and imitating Lea's always-overboard pose-harding. Here's the video:
If you've ever seen video of Lea posing, you know that Hyland was totally underplaying it. Now, as for whether or not Hyland was being rude… eh. I mean, yes, it was sort of rude, but it's also funny and pleasantly bitchy (not full-blown bitchy). Anyway, Hyland was attacked by rabid Glee-fans on Twitter, and then on the Emmys red carpet, Hyland tried to half-apologize (but not really) for mocking Lea. If I remember correctly, Hyland even did her Lea impression again, which is kind of awesome. And then Hyland was criticized all over again, to which she tweeted, "I did not intend for my comments to be taken in a malicious way. But I did hate [her] dress. Called her ass great. Did you all hear that one?" And then: "Congrats Lea. You know how to work the red carpet. I can't take it as seriously as you. I can't take myself that seriously. I don't like the red carpet. I feel silly. So props to her for knowing what she's doing and enjoying it."
So… Lea has finally spoken about this epic catastrophe. At this Variety event, Lea told Us Weekly, "I gotta be honest. It hurt my feelings a little bit. I really think the message of today is that women should motivate and empower women, and so that's why I'm honored to be a part of today." Oh for the love of God. And then Lea wept hyper-dramatic tears and sang a few bars of "Mister Cellophane" and continued to Us Weekly, "I send her love. I think she's a great person." So… there you go. Lea Michele and Sarah Hyland hate each other. MEAN GIRLS.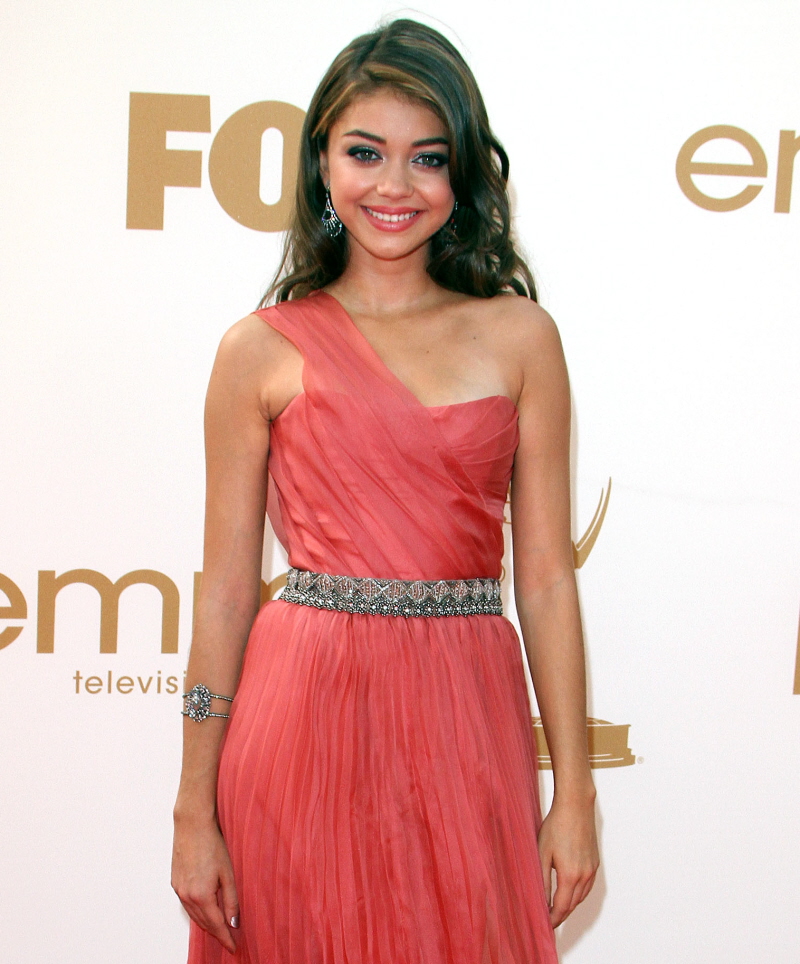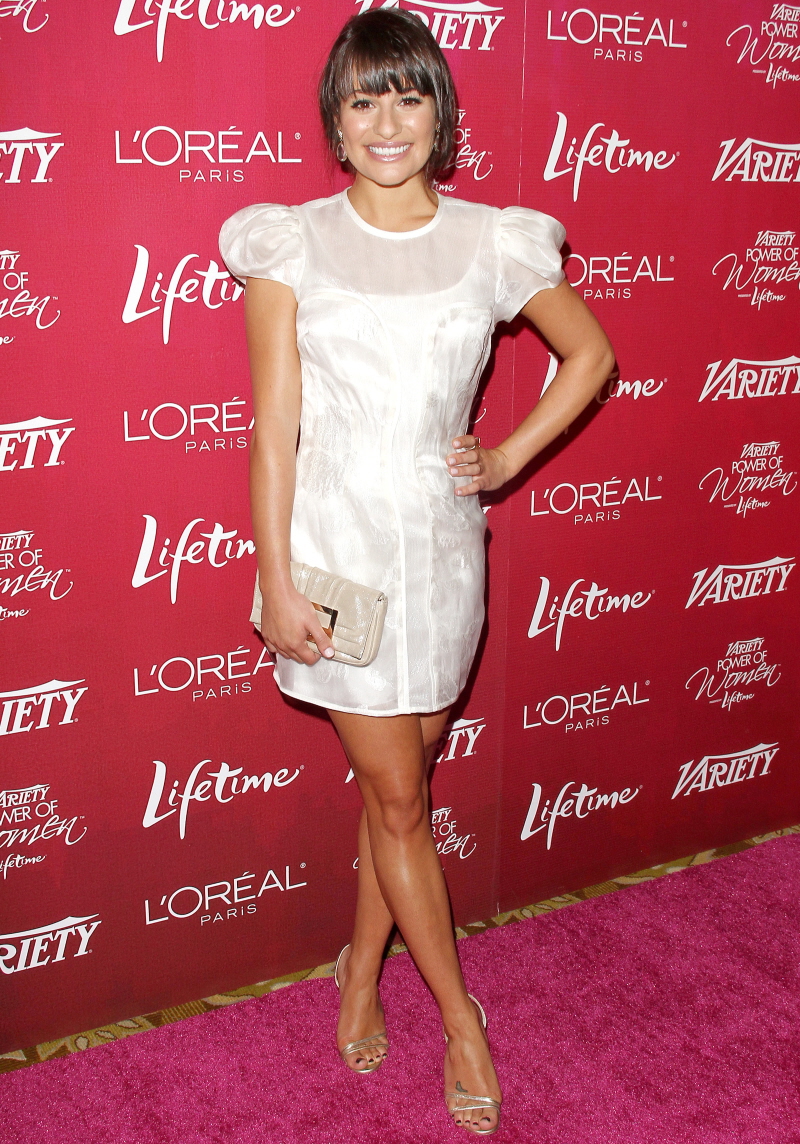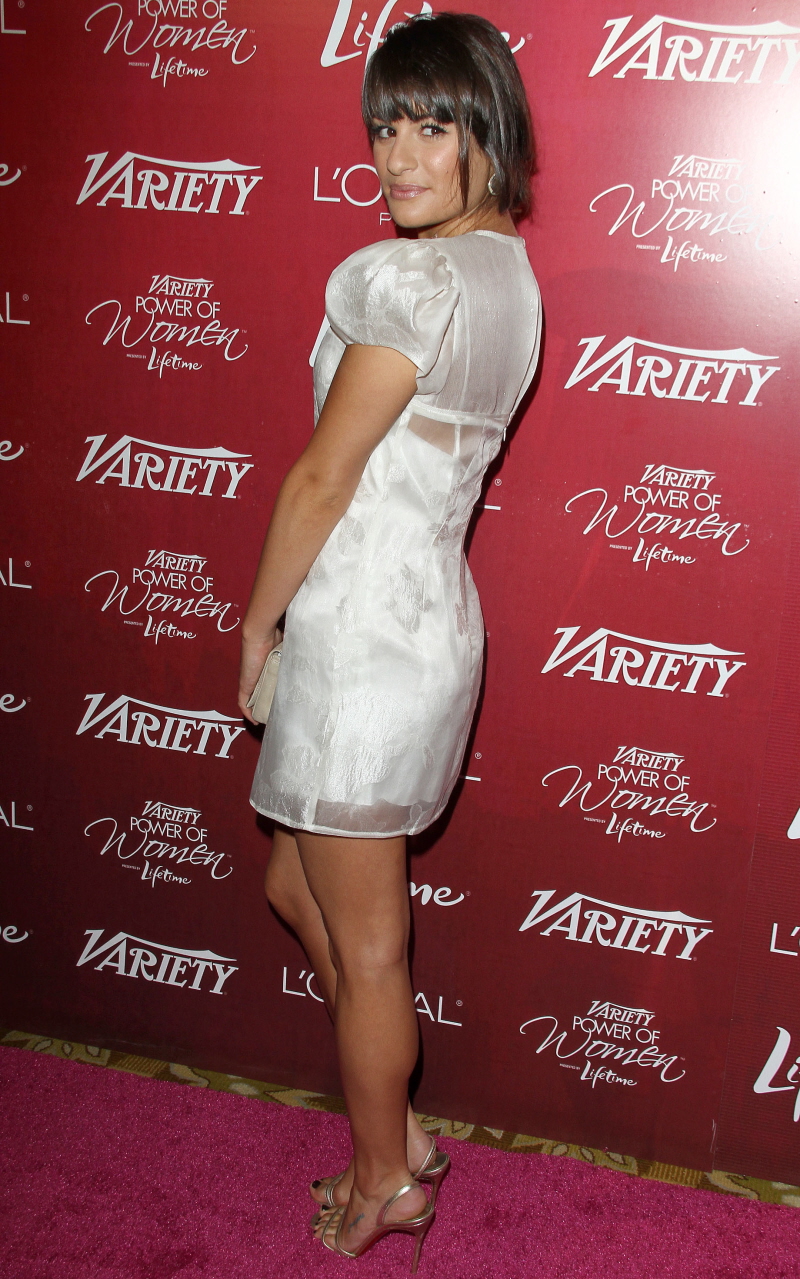 Photos courtesy of Fame.