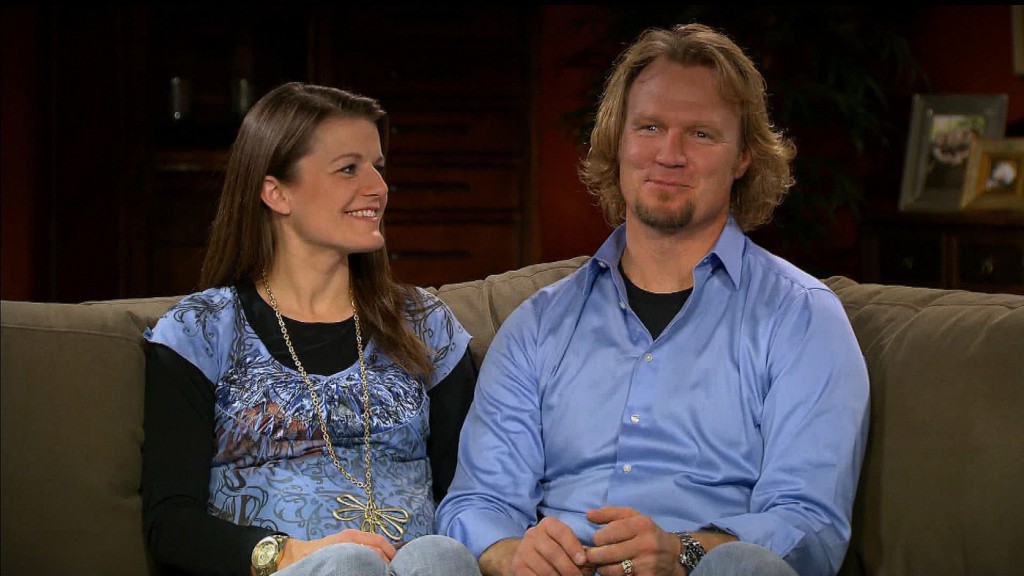 Last night was the premiere of the third season of "Sister Wives." The big plot this opening episode is that the newest, youngest (and dumbest, really she's a dimwit) wife, Robyn, is pregnant. On last night's show, Robyn made the big announcement to family, having of course conspiratorially told her husband Kody first. The first other wife that Robyn decided to tell was Kody's first wife, Meri, who has been unable to bear additional kids for Kody after having her daughter Mariah, 15. Meri's infertility has been brought up several times over the past two seasons and all the wives know that she wants kids and can't have any more. For that reason Robyn told her "alone" before the rest of the family (with a camera crew there, natch), telling Meri that she wanted to make sure she was ok with it. Meri said she was.
Robyn: I know that this has been sort of a thing for you.

Meri: I mean it definitely has in the past. Not that I haven't been upset that Janelle and Christine were pregnant, just kind of sad that I couldn't be. It's something I've always wanted more of. I don't feel that with you… I'm really excited for you.
Later, Robyn went on to explain why this was significant to all the wives, since it reminded them that she was screwing Kody too. It was dumb and obvious, but that's Robyn.
Robyn: A baby is a physical manifestation that there is an intimate relationship between a husband and one of his wives. A wife in a plural family will put the idea of her husband having an intimate relationship with another wife sometimes completely out of her head. And then when she's told that her sister wife is pregnant, it's like there's no way of not putting that out of her head anymore.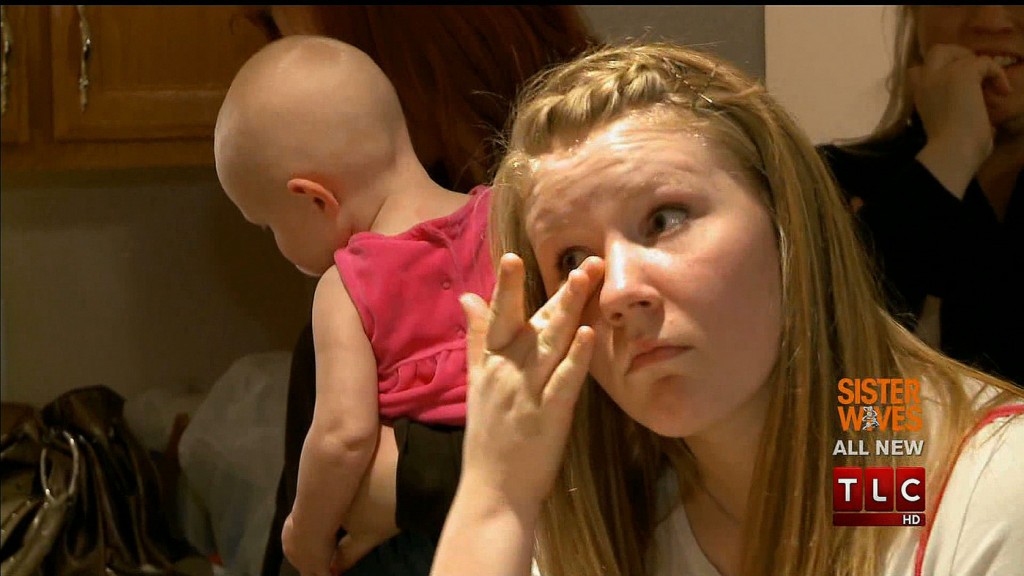 It turned out that it wasn't the other wives Robyn had to worry about, it was the teens. (The Browns have 13 children that range in age from 1 to 16; Robyn has three of her own children.) Christine's daughter Aspyn, 15, and Janelle's daughter Maddie, 15, seemed to take it hard and wouldn't look at Robyn at all when she made the announcement at a family dinner. Then Meri's 15 year-old daughter Mariah went up to the bathroom and started crying. Mariah told Meri she was upset for her because she couldn't have any other kids. When Robyn went up to see what was the matter with Mariah, I thought it was insensitive and she should have left her alone. Instead she said "You feeling your momma's pain?" and gave her a hug. Some may find that sweet, but it seemed patronizing to me.
Robyn narrated later "It's still a little bit difficult to me to know that someone is having a hard time with something that's so wonderful to me."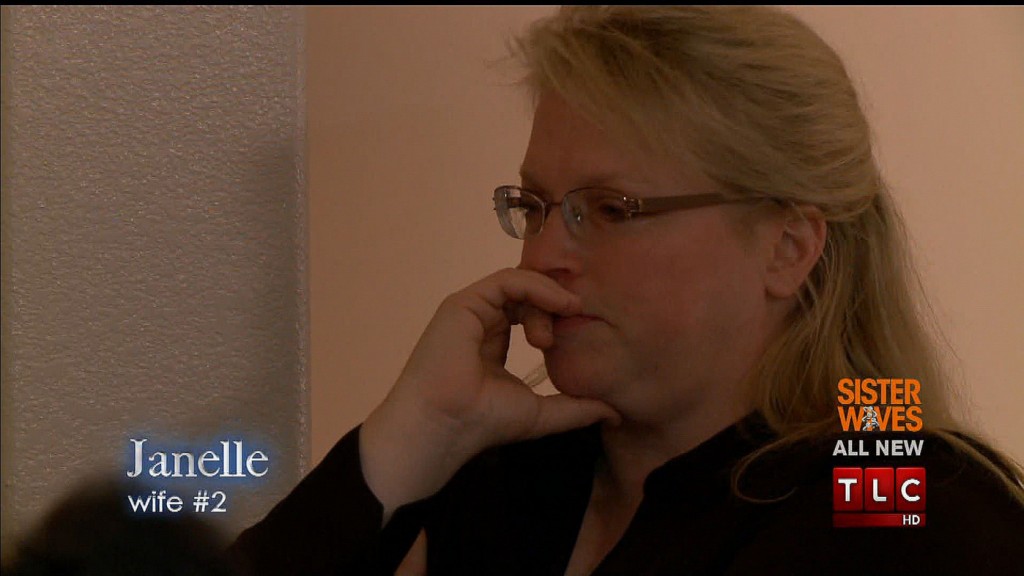 Janelle was pretty quiet during the announcement, but she later claimed that she wasn't upset because of the pregnancy announcement, and it it was because things have been sucking for her in Vegas. "There's been a lot of changes for me, culturally, with the move. [From Utah to Vegas] My world is upside down."
Janelle had a great job back in Utah, and she explained that "I'm no longer working, we are living with finite resources at this point. I've always identified with my career." Everyone's resources are "finite," but these people must be doing pretty well to rent four sweet houses like that.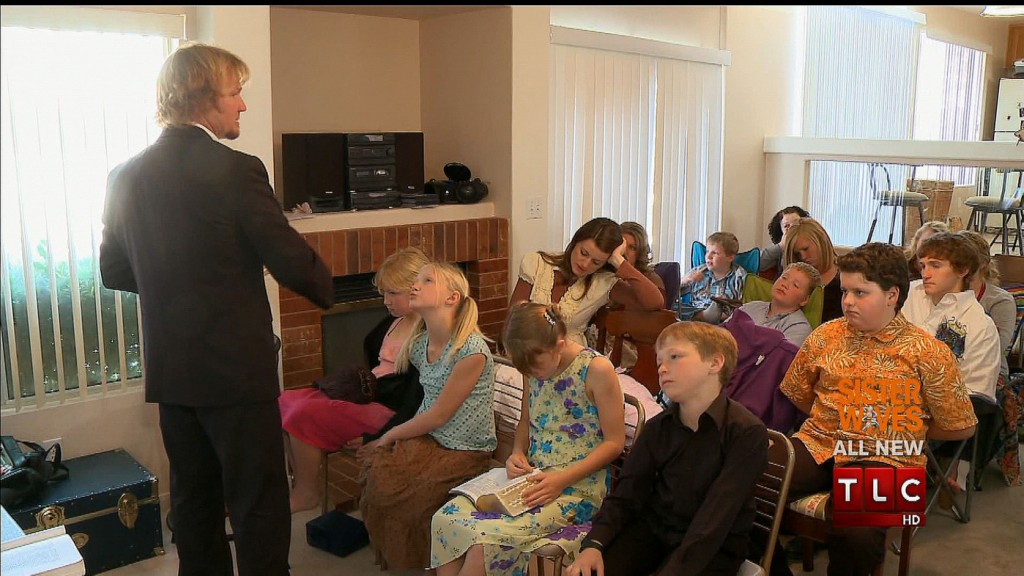 Meanwhile their kids were suffering, with Janelle's son Hunter, 14, being depressed and hanging around the house. Then when they were about to have "church" time at home, their daughter Mykelti, 14, said she didn't want to go because God wouldn't want cameras there filming their personal worship time. Kody got pissed "I'm glad you are willing to express God's opinion, but I disagree with you." I got the impression that he would have chewed her out if the cameras weren't there, but he was nice enough.
They visited a Presbyterian church to ask if their kids to go to have "fellowship" there with other teens, even though they're Mormon, and Christine objected that it didn't feel right to her because it wasn't their church. The pastor was really nice to them about it though.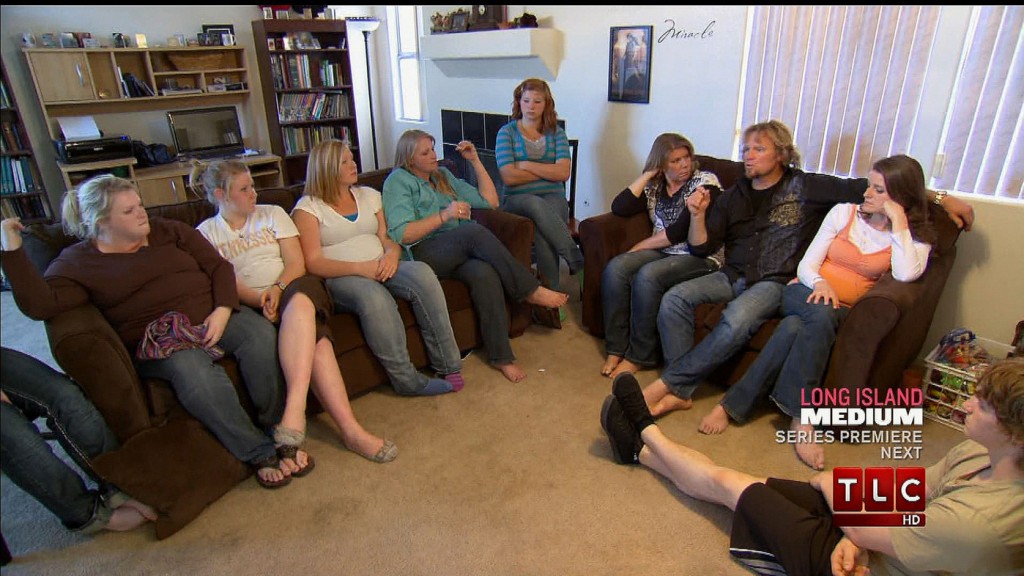 Then they had a family discussion with the oldest kids to see if they wanted to go to that Presbyterian youth group. No one could agree, basically. Christine and Janelle said it didn't matter which faith their kids explored and that the socialization was the important part. Robyn, Kody and Christine said they should stick with their LDS/Mormon faith. (Kody explained that they didn't try out a Mormon youth group first because they had a lot of discrimination there for being polygamists.) Madison told everyone that she didn't want to be Mormon and would go to any other youth group. Robyn got worked up and told them that they could make that decision when they're adults. She started crying about it.
They later had a pool party for the teenager's friends. We kind of covered that earlier. Poor Hunter stayed up in his room the whole time, but he went over to Christine's house at one point to visit with his little one year-old half sister Truely. That cheered him up.
My take on this whole Sister Wives situation is that we're no longer looking at a polygamist family working together, we're looking at a reality show family in which the relationships and the children have been permanently affected by the fame and coverage that goes along with that. This 14 year-old kid is sitting up in his room after being uprooted from his hometown and his friends. He surely doesn't want to be filmed on top of that and he has no say in that! It's sad for the kids first of all, and it's sad for the wives in a way. I really like the original three wives, Christine, Meri and Janelle. They had a nice balance worked out between them before the move. Robyn screwed everything up, but so did the cameras. This isn't a Kate Plus 8 situation because these kids knew life before the cameras came. It's clear that they really miss it too.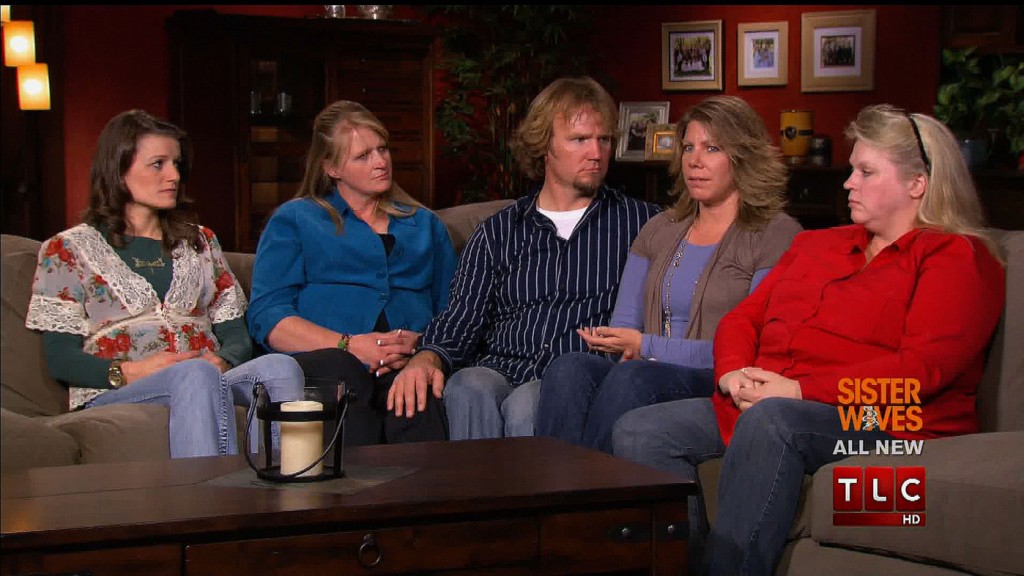 Screencaps via Pacific Coast News