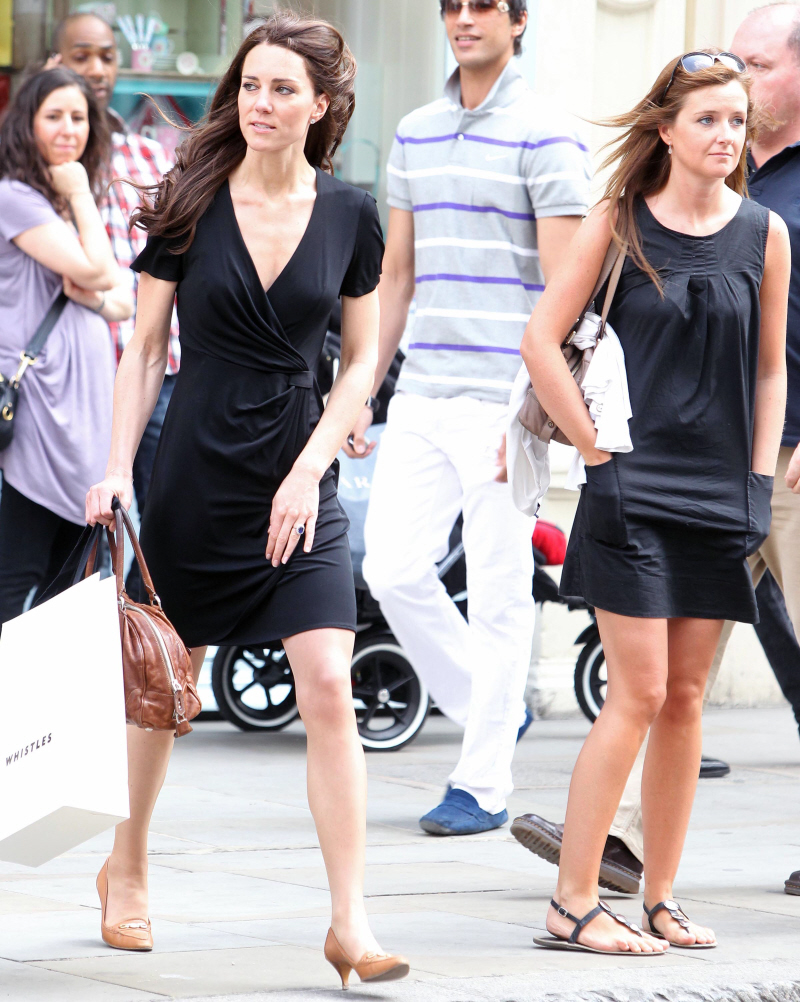 The running theme of Duchess Kate's first year of royal life seems to be "Kate is hilariously lazy, and the palace is constantly in damage-control mode to convince everyone that she's just like Diana." Kate just made an increasingly rare public appearance over the weekend, when she and her sister went to a friend's wedding. There were obligatory fashion stories because Kate chose a new, bright-red lace dress for the event, and she kind of looked like she was there to steal the bride's thunder. Us Weekly did a story yesterday where they described Kate's four-hour salon visit in preparation for the wedding – which… sounds like she spent more time getting ready for a friend's wedding than she spent getting ready for her own:
After being absent from the spotlight for a few weeks, Duchess Kate stepped out at her friends' Wiltshire wedding on Saturday where she and younger sis Pippa Middleton nearly stole the show with their glammed-up ensembles.

Like clockwork, Kate's hair looked especially glossy and fresh underneath her red fascinator, which matched her scarlet lace Collette Dinnigan knee-length dress. And it's no wonder her brunette strands looked so gorgeous — she had just spent four hours at the salon Friday!

The 29-year-old royal stopped by her go-to hair haven, Richard Ward Hair and Metrospa, in London's stylish Chelsea neighborhood where she sat all afternoon for a series of services including getting her hair colored with an organic vegetable-based hair dye.

An insider tells Us Weekly that "Kate goes in for a long appointment about every eight weeks. The shorter appointments for trims and treatments aren't always done in the salon, but she doesn't want to stop visiting the salon for her longer appointments. She loves her time there and she has known everyone there for years so it's really relaxing for her."

Kate, Pippa and their mother Carol Middleton have been trusting the salon's tress masters Richard Ward and James Pryce for over eight years. (Pryce created Kate's hairstyles for her April 29th wedding day and accompanied her on her North American tour in July.)

Earlier this summer, Ward told Us the trick to creating the princess-in-training's picture-perfect blowout.

"To create the natural Chelsea blow-dry, apply a holding serum onto wet hair to take out the frizz and make the hair silky smooth. Start with hair that's 80 percent wet and use a good blow dryer with a concentrator nozzle and a real-bristle brush. The serum memorizes the form and holds the curl in place while you blow dry."

"Anyone with long hair should have it trimmed regularly," he added. "Also get a deep conditioning treatment every six weeks or so to keep it healthy. I like our Richard Ward Couture Hair Silk Protein Masque."
[From Us Weekly]
Now, I'm not begrudging Kate her hair appointments. Her hair is her signature, and I understand that it takes a lot of time and energy for Kate to keep her hair picture-perfect. But an image is beginning to form of Kate, isn't it? An image that isn't quite what the Palace wants. Instead of seeming normal and down-to-earth, she seems like a rich girl who doesn't know the meaning of "work," who lives on her trust fund and on a new royal allowance, who spends her days shopping and getting her hair done and planning her outfits for rare public appearances. Basically, a girl who spent a decade focused only on getting the ring, and who has no interests or accomplishments beyond that.
So, the Palace did some damage control, predictably. On the heels of the American reports that Anna Wintour was trying to get Kate for the cover of Vogue, the palace spokesperson issued this hilarious statement to People:
Glossy magazines hoping to carry exclusive portraits and an interview with Kate, The Duchess of Cambridge can forget it, for now. Latest rumors were that Vogue was hoping to secure a shoot by Mario Testino for the fashion monthly. But the palace denies any deal.

"There are no plans for the Duchess to do anything with U.S. Vogue," a spokeswoman tells PEOPLE.

In any case, Kate, 29, has her mind on other matters. A few days after she attended the wedding of a friend, she is set to open a children's cancer center Thursday with Prince William. While it is part of William's continuing royal work, the event will provide Kate a chance to experience an official royal event at a hospital, the Royal Marsden. The hospital was one of the causes favored by Princess Diana, and the prince took over in 2007.

Kate is also doing her own search over the coming months to seek out the kinds of causes where she believes she can "make a difference," a palace source tells PEOPLE. She is consulting friends, family and aides, and quietly visiting charities as she learns more about the voluntary sector and how the royal family interacts with the British public.

"She knows her role is to bring a spotlight onto causes and she will do that – and when she starts, she will do it with gusto," the palace source adds.
[From People]
She's been "studying" and "researching" charities and causes for about a year now – that's what the palace claimed as soon as Kate and Will got engaged. You'd think that with all of that research and time and careful study, she would have been able to attach her name to at least one charity, right? Sign up to be the patroness of just one? Of course not. To be fair to Kate, she's nearly 30 and part of her "princess training" involves rudimentary civics, so maybe she's not that bright.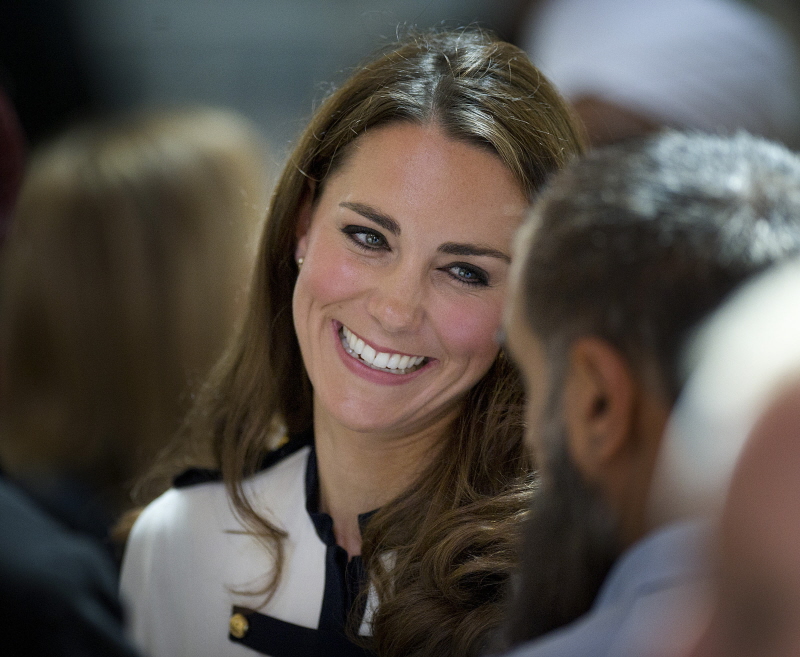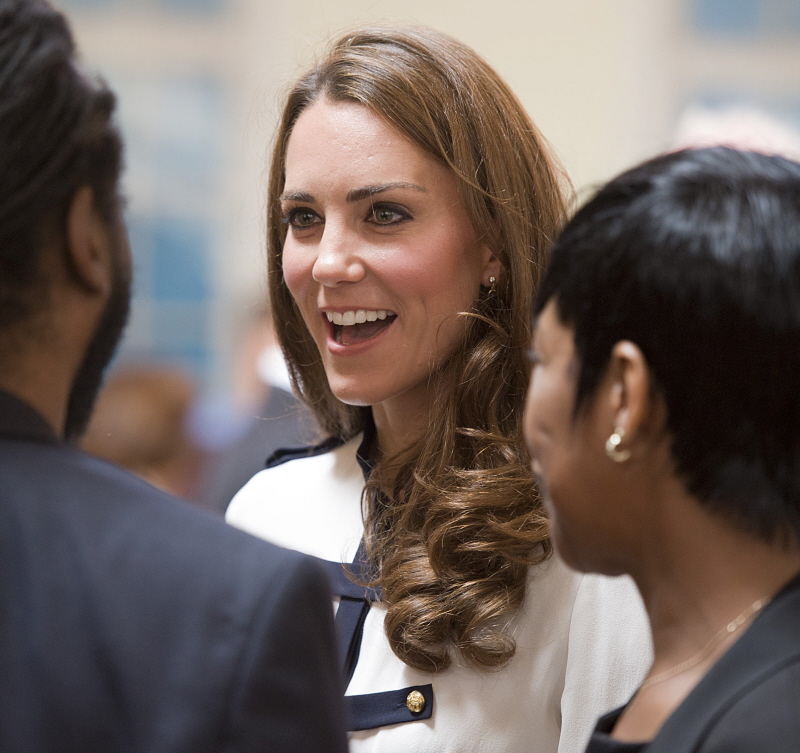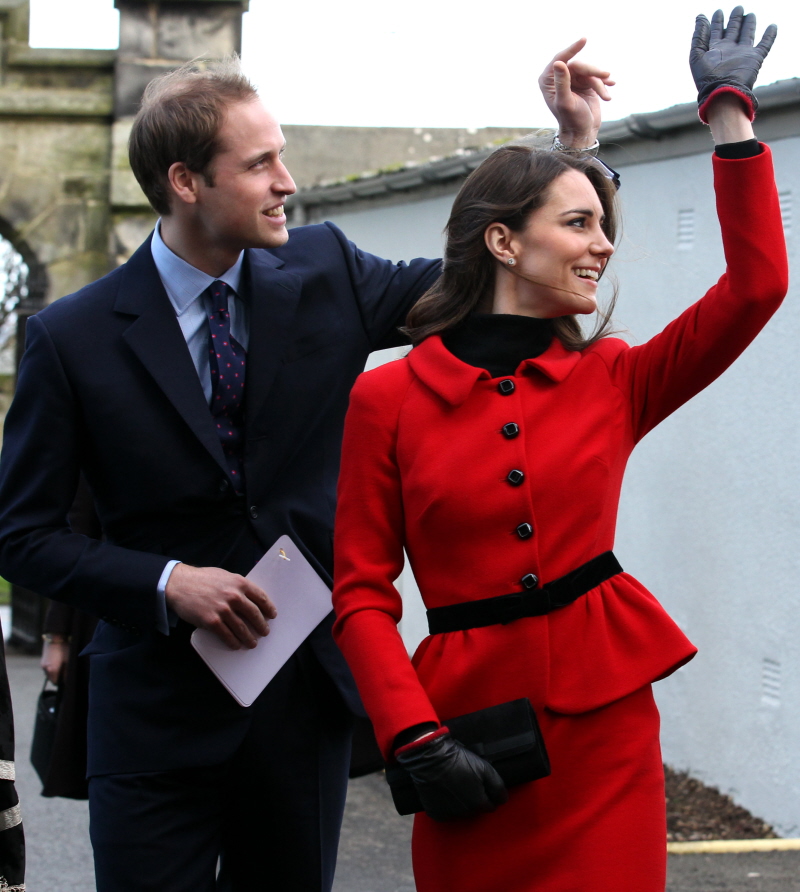 Photos courtesy of Fame.