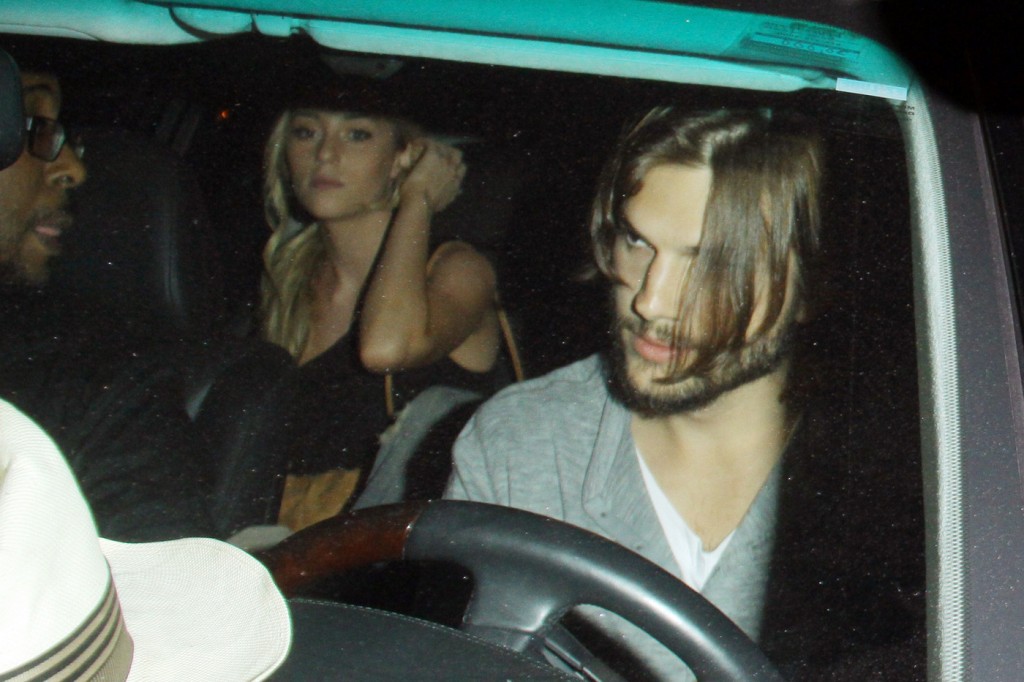 Ashton with Austin Dawn, a "spokesmodel" for one of his tech companies, in June
The news came out a whole three days ago that Ashton Kutcher had a second mistress, whom he allegedly slept with at the classy Hard Rock Hotel in San Diego on his sixth anniversary with Demi. At that time I linked to this story from June where Ashton was busted with a "mystery blonde" in his car leaving a show. A lot of outlets are reporting that it's the same woman, Sarah Leal, who claims to have slept with him last weekend and who has lawyered up. (Not with Gloria Allred unfortunately, but with another Hollywood lawyer out for a stiff settlement.) Judging from the original photo on TheDirty.com of Leal, and these additional photos, it's not the same woman unless she's had a nose job and really toned down the makeup.
The NY Post reports that the woman pictured here is named Austin Dawn and is a "spokesmodel for one of Kutcher's tech companies." Jesse James hired plenty of spokesmodels for his business too, and they inevitably ended up on the coffin couch. What's more is that the more recent mistress, Leal, is about to stage some new photos of herself, according to the Post:
Blonde Sara Leal, who reportedly slept with Ashton Kutcher last weekend, is working overtime to cash in on the scandal. Sources tell us she's working with an ex-lover-turned club promoter to sell her story. She's also in cahoots with a paparazzo who plans to sell staged new "street" pictures of Leal. "She gets a cut of whatever [the photos] sell for," a source said. We revealed Leal has also asked for a six-figure payday from Kutcher to stay quiet about their alleged liaison in San Diego's Hard Rock Hotel last weekend. She's been meeting with attorney Keith Davidson, who represented a Betty Ford Clinic worker who filed assault charges against Lindsay Lohan but later dropped them. Reps for Ashton and wife Demi Moore were mum last night. But Kutcher sounded fed up on Twitter, writing yesterday, "When you ASSUME to know that which you know nothing of you make an ASS out of U and ME." Photos of Kutcher leaving an LA club with a blonde last June got the Web abuzz yesterday, but sources tell us she's Austin Dawn, a spokesmodel for one of Kutcher's tech companies. Moore, who had been here promoting Lifetime's "Five," an anthology of films directed by her and Jennifer Aniston, Alicia Keys, Penelope Spheeris and Patty Jenkins, was back in LA but stayed unusually quiet on Twitter.
[From The NY Post]
There's plenty more news that portends a split for Ashton and Demi. The sleuths at Radar figured out that Demi "unfollowed" Ashton on Twitter at one point and maybe realized that it looked suspicious, so she re-followed him again. Apparently it's easy to determine when a Twitter user follows someone by just looking at the order the person appears in on their list.
Everyone has been paying attention to Ashton's Twitter, where he told people not to make assumptions, essentially, and Tweeted a link to Public Enemy's "Don't Believe the Hype." US Weekly points us to his blog, where he posted a bunch of poems earlier this month that reveal that something major is going on for him. An excerpt (I took out the line breaks ): "I'll admit failure and know that it means I still have a chance. Fine, I'll surrender, I'll exit plan A, I'll move on, I'll put my loss on display for the world to mock." Yeah, they're broken up. He's probably going to claim the women came after, but that's doubtful given that we first heard about one last year.
I had the chance to read the full Star Magazine report on Ashton and Demi's $290 million split, and there were some juicy details in there that I haven't heard before. Here are the highlights that were new to me:
Demi has been dating other men
Demi [has] lined up lunch and dinner dates with several of NYC's most eligible bachelors, a source close to the couple claims.

"Demi's finally ready to move on after all these years because she's sick of feeling like she can't trust Ashton," an insider reveals…

Demi posted the first mistress' phone number on Facebook
Brittney Jones [Ashton's first mistress, revealed in Septmeber 2010] revealed that she had a night of passion with Ashton just before his fifth wedding anniversary with Demi. "He was so handsome and nice," said Brittney, who slipped her number to him on a cocktail napkin while he was at a bowling alley with a group that included his wife and stepdaughter Rumer Willis.

It was only when Jones began getting tons of prank calls that she realized Demi had seized the napkin and posted a photo of it on her Facebook page, blasting Brittney's number to more than 1 million fans.

Ashton bragged about sleeping with Britney Spears before he met Demi
"Before he and Demi got together, Ashton told me that when he was in New York doing Saturday Night Live and filming Punk'd with Britney, he slept with her," reveals the insider.
[From Star Magazine, print edition, October 10, 2011]
He slept with Britney at one point, that's pretty interesting. He wasn't with Demi at that time, so I didn't feel right putting that detail in the title of this story, even though I was tempted. Also, I hadn't heard before that Demi posted the first mistresses phone number on Facebook! That's a scorned woman move for sure.
Oh and Ashton isn't just in hot water at home. The dumbass used a laptop on an episode of Two and a Half Men that had huge visible stickers from four tech companies he has a personal stake in, essentially resulting in massive free advertising. CBS was reportedly pissed, but they're giving him a pass, for now, since his character is a tech geek and the stickers are authentic given the plot.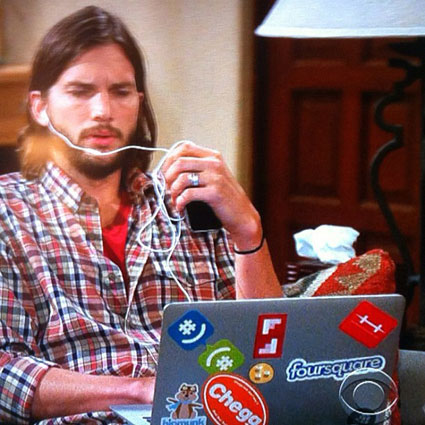 Two and a Half Men photo above via E! Online. Other photos credit: Pacific Coast News.