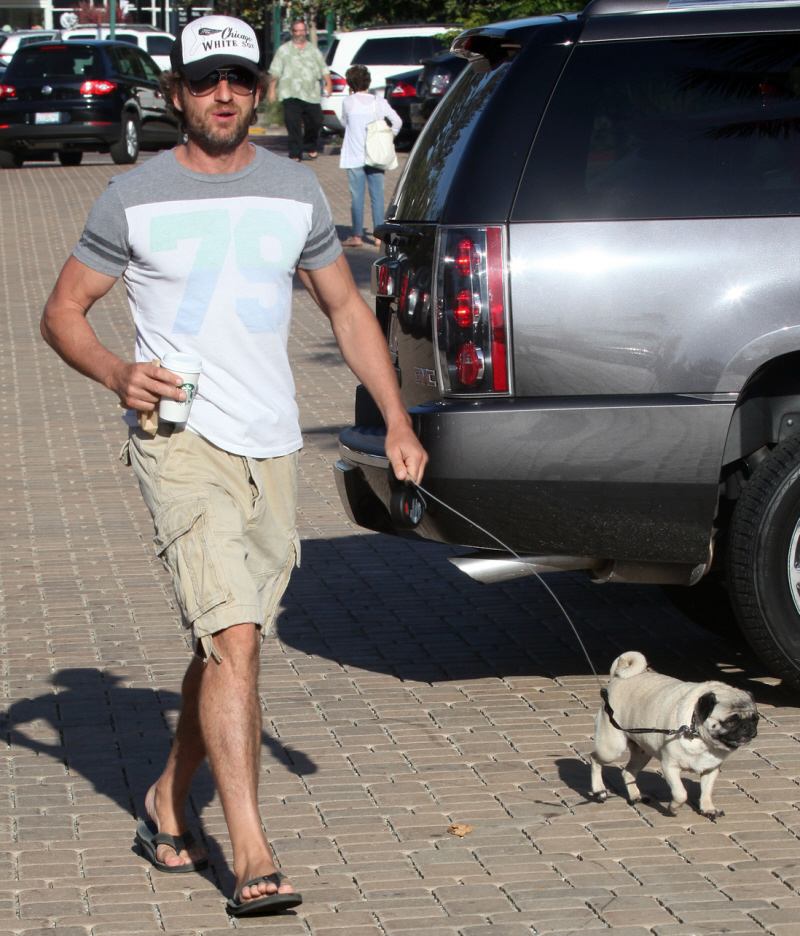 Here's Gerard Butler with his longtime girl, Lolita. Lolita is the tiny little pug, by the way. Isn't she cute? I'm not sure about the name "Lolita" for a tiny little dog whose daddy is a notorious womanizer, but sure. He loves that puppy, and Lolita gets lots of quality time with her dad. Speaking of, The Enquirer's gossip guy, Mike Walker, had this funky little story about Gerard and Lolita is bed together:
Upon awakening at his trendy West Hollywood hotel, Gerard Butler phoned room service and ordered breakfast for two – and he blew the waiter's mind when he arrived to find the hunky heartthrob in bed with Lolita, his tiny pug pooch! Snuggled up next to his pet and perusing the morning paper, Butler – in town promoting his new flick, 'Machine Gun Preacher' – ordered the waiter to set up both trays on his bed. Doing as he was told, the guy lifted silver lids to reveal two plates of scrambled eggs and Lolita leaped off her pillow and lapped up one plate before Butler could even sign the bill!
[From The Enquirer, print edition]
Now, Gerry owns a house in LA. Why would he be staying in a hotel? Maybe he's doing renovations. Maybe he just likes to stay in hotels. Maybe he got some action. Maybe he just wanted to treat Lolita to a romantic evening. I don't know. But I hope this story is true. Any dog owner knows that look in their dog's eye when the dog is debating whether or not to make a play for some people food. I feed my dog before I eat dinner, just to ensure that he won't spend my whole mealtime giving me his best "pathetic-sad-feed me" face.
Gerry also covers the new issue of LA Confidential Mag. Here are some highlights:
The Butler on his current career: "It's not like a supernova anymore, the thing that got me here so fast. Or maybe not fast, because it did happen over 12 years. I counted the other day, and I've actually made 33 movies, so it didn't happen overnight. That passion and energy—maybe not just in the making of the movies, but in the publicizing of the movies—everything that it took to get here, I don't have that drive anymore. But I also don't feel that I need that drive anymore. I'm at a spot where the movies come to me more easily, and maybe I'm more at a place of a kind of spiritual acceptance that what's for me won't go past me. That's good for me, because to be honest, as much as I love what I do, it's not the be-all and end-all anymore."

Jack of all genres: "I think the one thing I have going for me is an ability to play a wide array of roles and genres, and therefore I want to keep challenging myself and keep surprising people," he says. "That's the most exciting thing for me as an actor: Nobody can ever define you. They go, 'Oh, he's the action guy.' 'Oh, he's the comedy guy.' I'm not any of those things, and I never want to be categorized like that. People shouldn't know what to expect from me."

He doesn't like the fame: "I love what I do," says Butler, "but the more successful I've become, the more I've realized it's the things around acting I don't love. I sometimes wish I could just go make a movie and then disappear. I never thought I would be like that, actually. I was surprised at my reaction, because I love acting. It's harder than anything I've ever done, but it also provides more fun and fulfillment than anything else I've ever done." Though cognizant that "whining" about celebrity rarely engenders great sympathy ("'Screw you!' 'Bring out the violin!'" he mockingly says), Butler makes it clear it's the double-edged nature of public recognition that's gotten under his skin; encounters with genuine admirers still give the movie fan in him a relatable kick—the paparazzi, not so much.
[From LA Confidential]
I always like his interviews – in my mind, I've created this image of The Butler – some horny buffoon, a sex-crazed, uninhibited eating-and-sex machine with no shame. But he's actually a thoughtful, self-aware dude who seems pretty grounded. Sigh… I do love him. It's not Fassbender-love/lust, but Gerry is definitely special to me.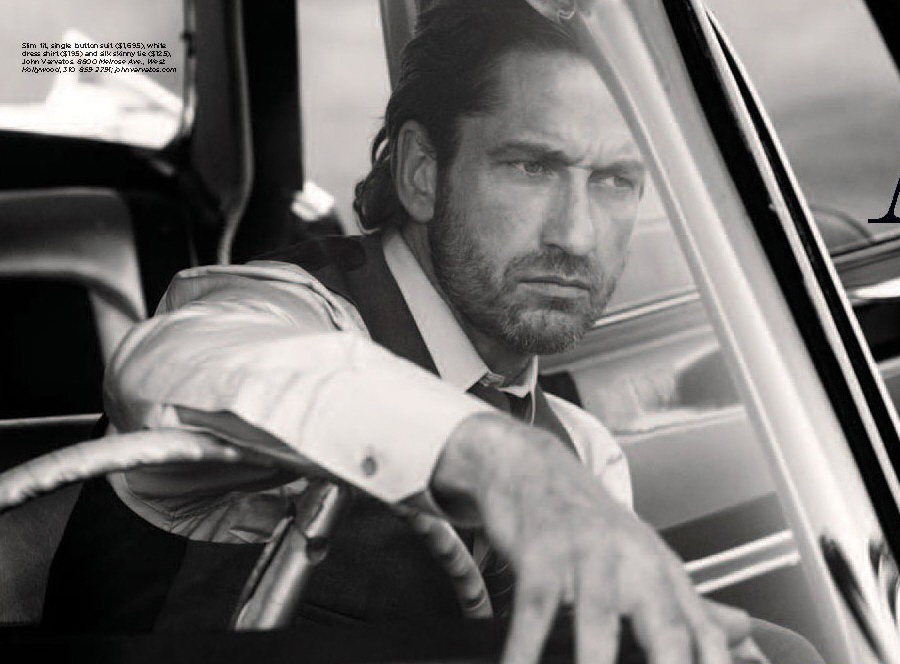 Here are some recent photos of Gerard, out and about in London. I think this is the face he made when he read my love letter to Michael Fassbender: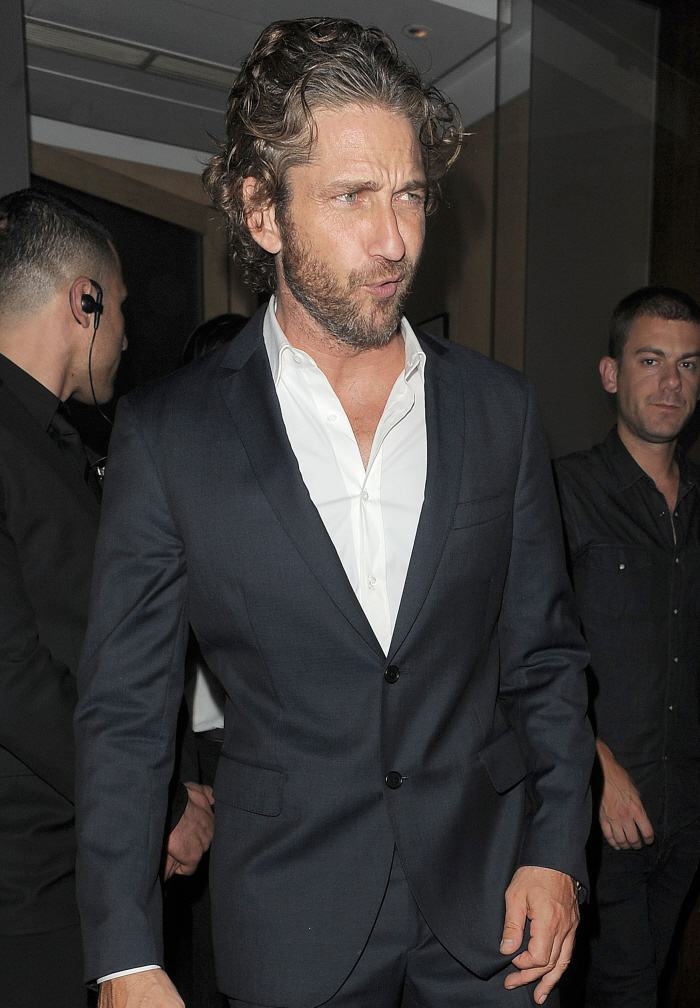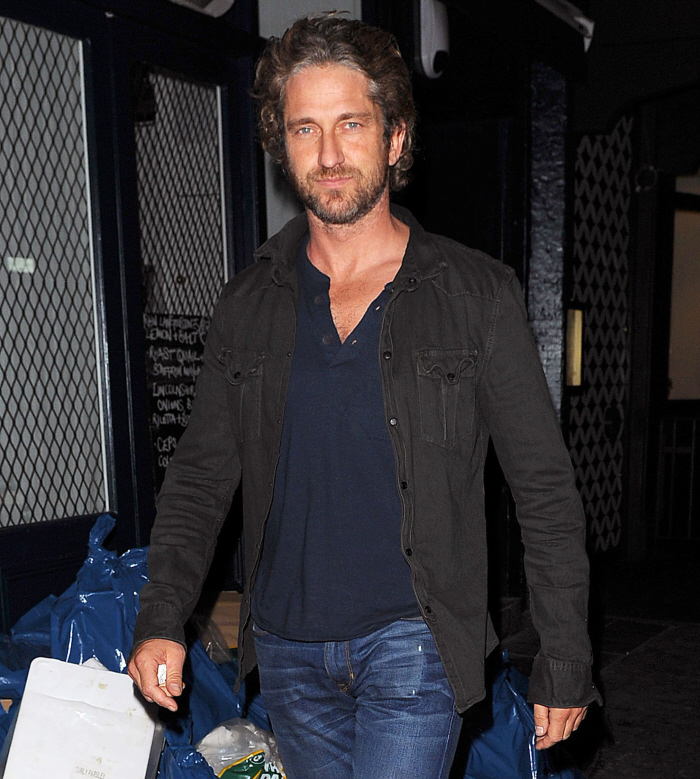 Photos courtesy of WENN & Pacific Coast News.