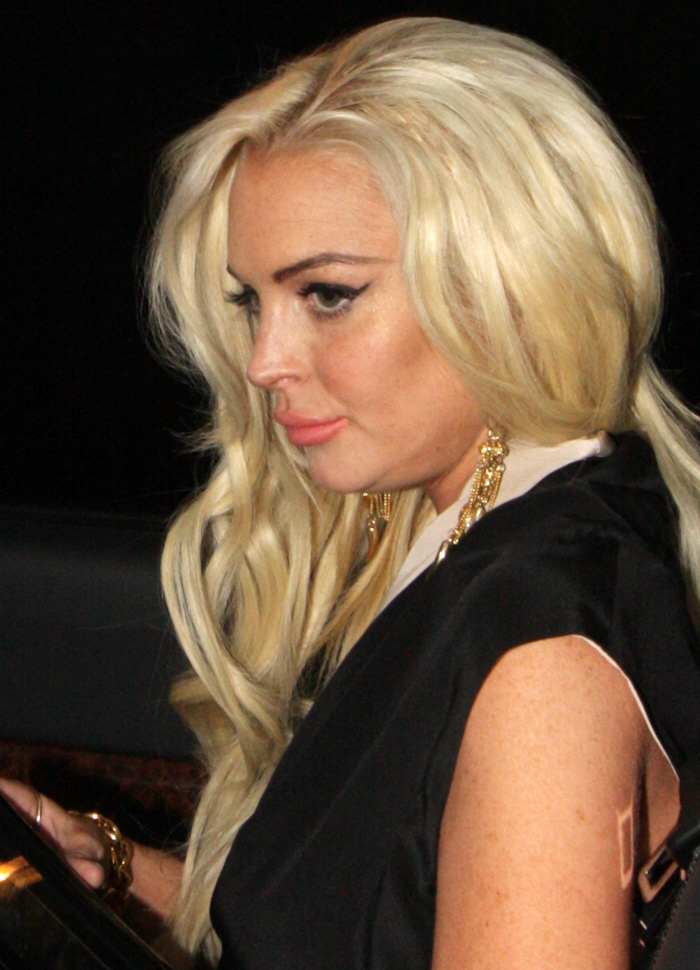 Linnocent is finally back from her whirlwind call-girl tour of Europe. Well, really just Italy and France, but she definitely got around and she definitely made some money. Some may argue that she just has some new-found funds from her "modeling gig" for Phillip Plein. Some may argue that she's charging thousands per night for the pleasure of her cracked-out company. I think it's a little of column A, a little of column B. Linnocent's hustle involves all manner of shilling, hawking, modeling and whoring.
So with Linnocent back to earning that money, she's decided to blow a big chunk of it on a nice new purchase: a new Porsche. Ugh.
Linnocent is back from her European vacation and the first thing she did when she hit the U.S. was buy a new car – and RadarOnline.com has exclusively learned that it is a sports car that cost almost $100,000!

The 25-year-old starlet hit up the Porsche dealership in downtown Los Angeles on Thursday where she purchased a brand new Porsche Panamera, which has a sticker price of a whopping $80,000, a source close to Lindsay told RadarOnline.com.

Back in July when Lindsay appeared in front of Judge Stephanie Sautner, she told her that the reason she hadn't started her court mandated therapy sessions was because she was unable to get insurance to foot the bill and she was financially strapped.

And while she just did a photo shoot for Phillip Plein in Italy and is tentatively going to be in the Gotti movie Lindsay doesn't have any other current projects on the table to generate income right now.

So why did she purchase such an expensive car?

Apparently Lindsay's neighbor and ex-girlfriend Samantha Ronson recently picked up a similar luxury vehicle from the same dealership and Lindsay was in love with that car so she decided to get one of her own.

Lindsay's rep declined to comment to RadarOnline.com.
[From Radar]
So basically Linnocent decided to blow all of that money just to Single-White-Female/stalk/harass/copy Samantha Ronson. Pathetic.
By the way, have you heard all the stuff that Liv Tyler's mom, Bebe Buell, has been saying about Linnocent? Bebe, the inspiration for Kate Hudson's groupie character in Almost Famous, gave an interview to New York Magazine a few weeks ago where she mentioned what a crappy mother Dina Lohan was and is, and then Bebe just did a new interview with Steppin' Out Magazine, in which Bebe goes overboard talking about Linnocent. Here are some highlights from both pieces:
Bebe on prioritizing her kids: "I always look to Jackie Kennedy. She said something in that little voice of hers [imitates], "If you mess up with your children, what's the point?" I would have suffered if I had not done my best to be the best mother I could be. But I'm not a Momager. I'm not into the Dina Lohan — that stuff makes me seriously, Roman-style puke. I'm not into that. What I did for Liv was a little different. I had a lot of knowledge of the industry, so I was able to steer her correctly through her future and show her how to be professional."

On momagers: "I don't think you should be your daughter's best friend. You've got to be a mother. The other night I was at that Lovecat/V Magazine party during Fashion Week and [Lindsay Lohan] threw a drink on somebody and she was there with her mother. I just know that if my daughter threw a drink on somebody, she'd be over my knee getting an old-fashioned whooping. No matter what age. You don't do things like that. First of all, my daughter would never do something like that. It's not in her nature. You have to have something in your nature to do something like that. I find it tragic, because Lindsay to me is extremely talented. I just wish that she had the influence of somebody like me or somebody around her — not that I have time to wear a manager hat anymore, but I'm just saying that I just don't like these moms that run these careers. How do they even understand the industry? When I was working for my daughter, you had to know when to step aside. The spotlight is not on you. It's on them. These moms, they just don't get it. It kind of upsets me. Because I think you've got to be a mother first and foremost, and I personally think when you're in recovery and trying to get better, you shouldn't be going to parties. You shouldn't be going to parties and your mom shouldn't be going with you. That's my humble opinion."

More on Dina: "Dina Lohan's relationship with her daughter Lindsay disturbs me. I don't see a mother and a daughter there. If my beautiful daughter was like that…. I look at Lindsay and I see my own child in her because there's a great talent there. But if my baby girl got that screwed up I would NOT allow to make her own decisions. I'm sorry! Anybody can think what they want. But I would abduct my child and I would make sure that I didn't leave her side until she didn't have those problems anymore. What her mother has done with Lindsay is morally wrong and disgusting. She should back off. Lindsay is the one with the talent. She's the star. But she also has to be responsible for her own actions. Her mother needs to start being a mother and not yes her to death. Maybe I'm speaking out of turn, it's none of my business."

Bebe could get Linnocent an Oscar: "If Lindsay spent a year with me I could turn her around. I could have her winning her first Oscar in two years! First I would want to go some place alone with her. I would take her some where in the fresh air. I would want her to tell me what's happening inside of her and what's hurting. I would ask her why she needs to feel altered. If she says because it's fun and it feels good I would feel she has a good chance. Because we all acted up when we were her age. There just weren't so many camera's on us back then. But this kid can't do anything and everybody judges her. She's so talented. She's like a young Ann Margret to me. I would just love to build her self esteem and let her see how beautiful she is."

Bebe thinks LL needs to gain weight: "The first thing I would do is put 10 pounds on her. She needs a more Kittenish quality. She's looking too thin right now. That's not a good look. And she also needs to go back to being a natural red head. The blonde hair doesn't work. It ages her. She just needs the right people around her. She's got it all man. She's just around people who don't get it."

More on what Bebe would do for Linnocent: "She needs to stop going out and not being seen for a while. The mother going with her to events and witnessing her throwing drinks and stuff like that infuriates me! It makes me angry! It's about a lack of education and connection on the mother's part. I don't mean school when I say education. I'm talking about the education of the soul. Some people just aren't elevated. They're not there yet. She's driven by money, not spirituality. I gave up the desire for money to be there for my daughter. I feel that's what Dina should be doing. Be there for Lindsay, like I'm there for Liv."
[From Vulture and Steppin' Out (via Gawker)]
Of course, Bebe also thinks Kris Jenner is a world-class, completely awesome momager, which kind of detracts from the argument she's making about Dina. Still, Bebe is a million times better than Dina, and her advice for Linnocent… well, it would have been good advice three years ago. At this point, I don't think there's any turning back.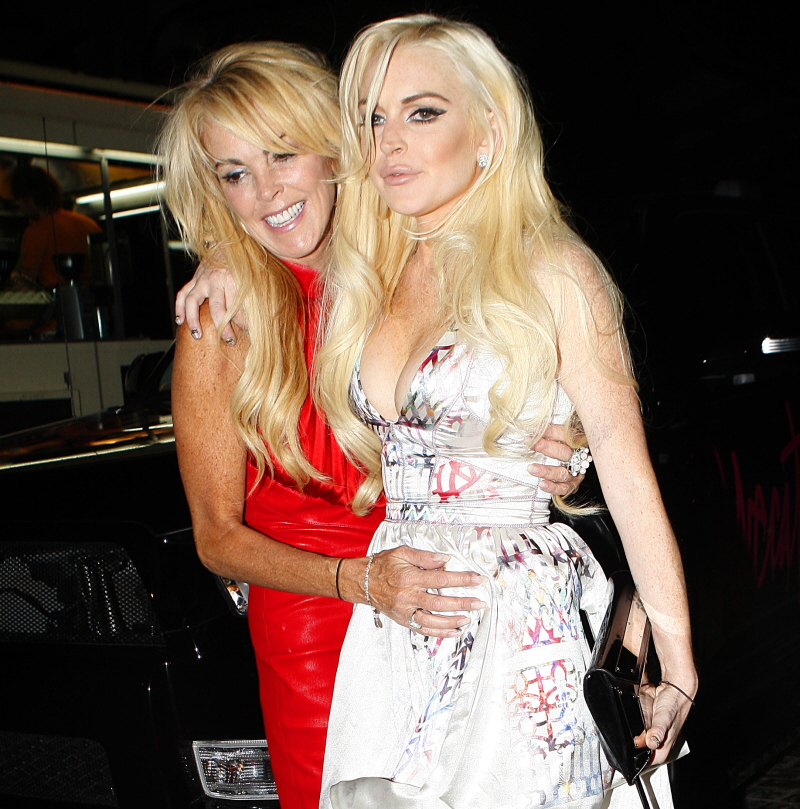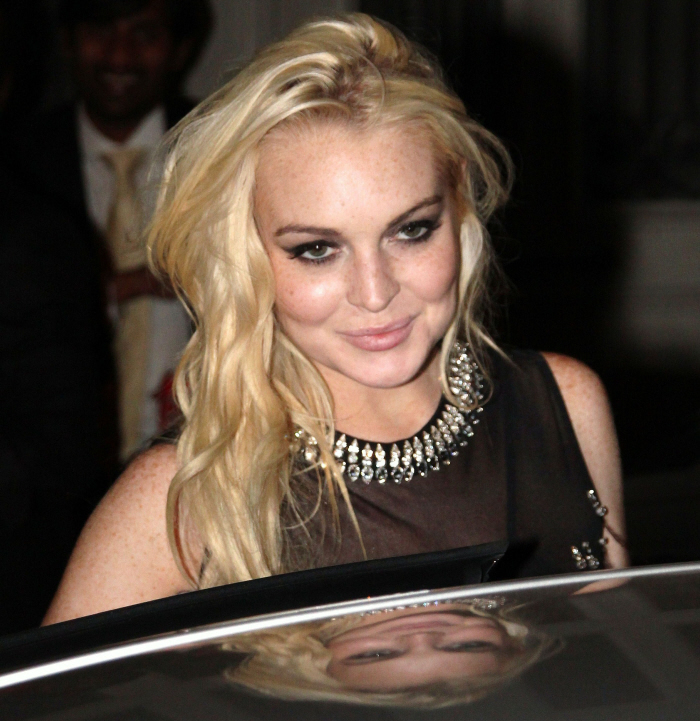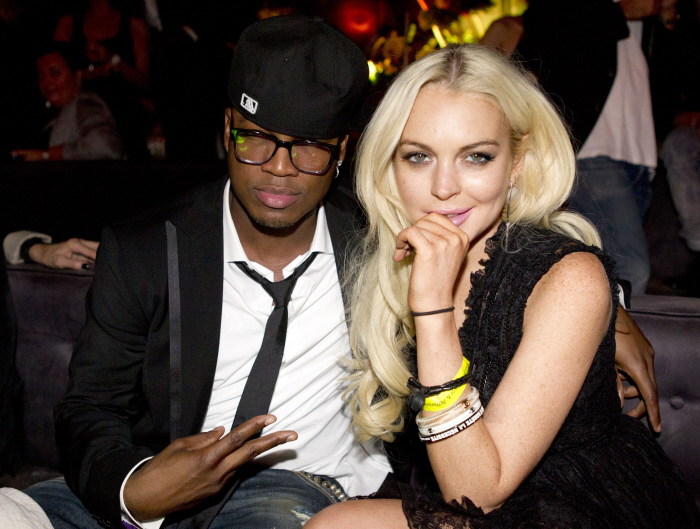 Photos courtesy of WENN & Fame.