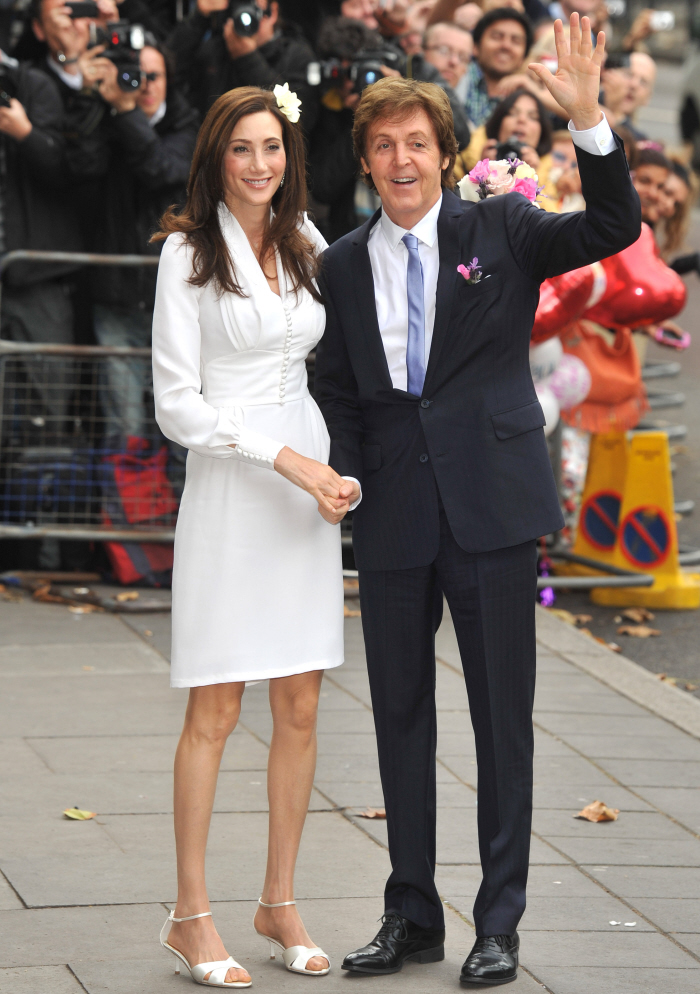 Dear God, these photos are just TOO CUTE. I love old people. I'm not saying that in a mean, bitchy "Paul McCartney is so OLD" way. I'm saying that in a "It must be cool to be insanely rich and at an age where you no longer give a crap" way. These are photos of Paul McCartney and Nancy Shevell's wedding, which just happened a short while ago in London. Nancy wore this adorable little white dress, which was designed by her new step-daughter Stella. I want this dress! Nancy looks so sexy! Paul looks dashing and handsome too – they are a lovely couple. I swear, this was like another royal wedding – Paul and Nancy posed happily for photos all weekend as they were making preparations for their wedding, and it just shows how they're both happy, content and old pros at all of this. I love that they posed for photos coming in and leaving the ceremony too. So sweet.
He loves her yeah, yeah, yeah! After days of wedding preparations, Paul McCartney and New York businesswoman Nancy Shevell exchanged vows during an afternoon ceremony in London.

The couple, who have been dating since 2007 and were engaged in May were greeted with cheers as they arrived at the Old Marylebone Town Hall, which was opened especially for the event.

Shevell, 51, wore a flower in her hair and long-sleeved, v-neck, knee-length ivory dress and shoes by her new stepdaughter, fashion designer Stella McCartney, who also made her father's navy blue suit.

Paul's youngest daughter Beatrice, 7, served as the flower girl and was seen wearing a long dress under a pink wool coat, and a flower wreath in her hair.

As the group left McCartney's home, the former Beatle, 69, joked to the mass of photographers and reporters outside, "What's going on? What are you all doing here?"

Other wedding guests included Shevell's college-age son, Arlen, her cousin Barbara Walters, McCartney's brother Mike, Ringo Starr and wife Barbara Bach, and George Harrison's widow, Olivia. (Perhaps late Beatle John Lennon was there in spirit: Today would have been his 71th birthday.)

During the non-denominational ceremony, McCartney gave his bride a vintage-style Neil Lane diamond eternity band featuring 5-carats of square cut diamonds set in platinum. (The singer proposed with a 5-plus carat, flawless diamond art deco ring, also from the celebrity jeweler.)

"They're totally in love and thrilled!" Lane told PEOPLE in May.

McCartney and Shevell waved to guests as they left the Town Hall amid a shower of pink and white rose petals tossed by guests. "It was terrific – thank you!" McCartney told the crowd, joking with fans and press that he felt "married."

The newlyweds will celebrate with a party this evening at McCartney's home, where guests will feast on vegetarian items including arugula and basil salad, goat cheese polenta, savory tarts, and dumplings.

There will be two wedding cakes – one traditional and one vegan – both baked by Posh Puds Patisserie. "We've worked on this for weeks," a woman from the company told PEOPLE.

It's the third marriage for McCartney, whose six-year union to Heather Mills ended with a bitter, headline-making divorce in 2008. (His first wife, Linda – whom he also married at the Town Hall – died from cancer in 1998, after 29 years of wedlock.) Shevell is also divorced.

On Oct. 3, a beaming McCartney told PEOPLE, "It's a good time for me. I'm happy."

The couple are expected to have a stateside celebration later this month.
[From People]
I always love the details about the jewelry and the food. For the rings, it sounds like Paul knows his way around a jewelry store, and that he has no problems showering his girl with diamonds. YAY! The food is… meh. But Paul's a vegetarian (a vegan?), and I'm not, so maybe that's why I'm not all over the "goat cheese polenta" (the idea of it makes me nauseous).
I will say this though – I think this is a perfectly beautiful and appropriate way for two people "of a certain age" to get married when it's not their first time around the block, you know? Nancy and Paul look gorgeous, but I love that she wasn't wearing some long gown, and I like that everything just seemed low-key and about the people they really cared about. It's nice.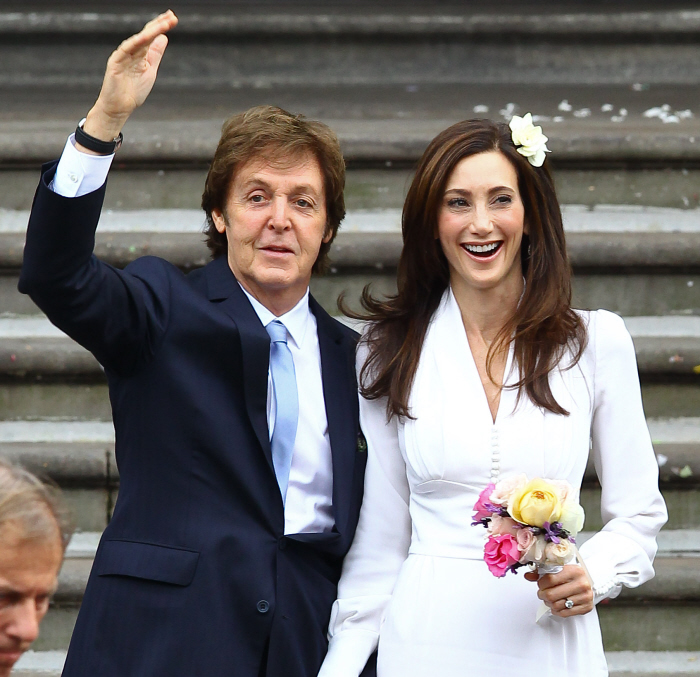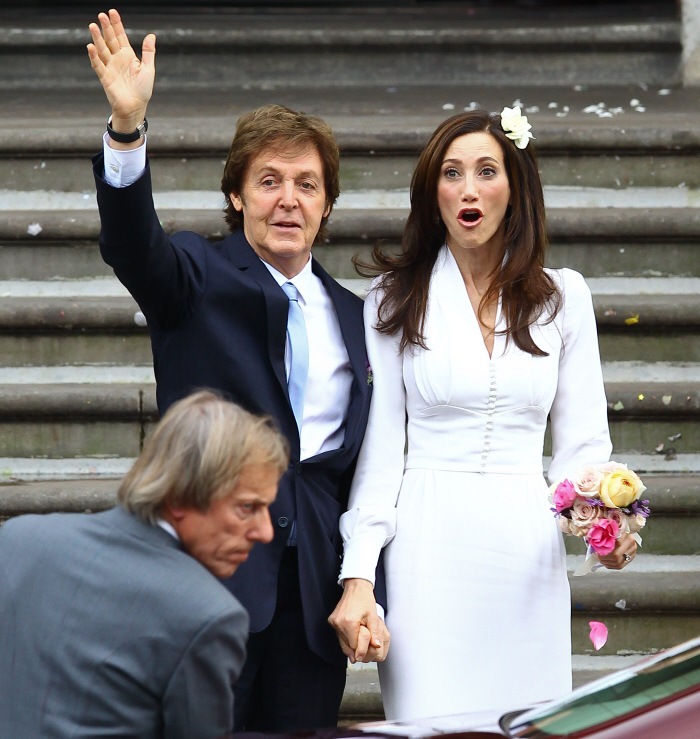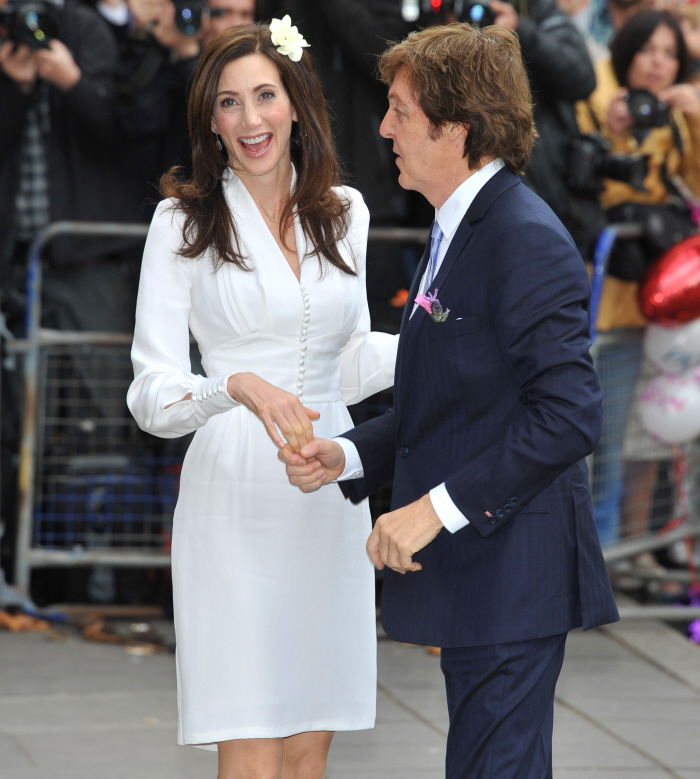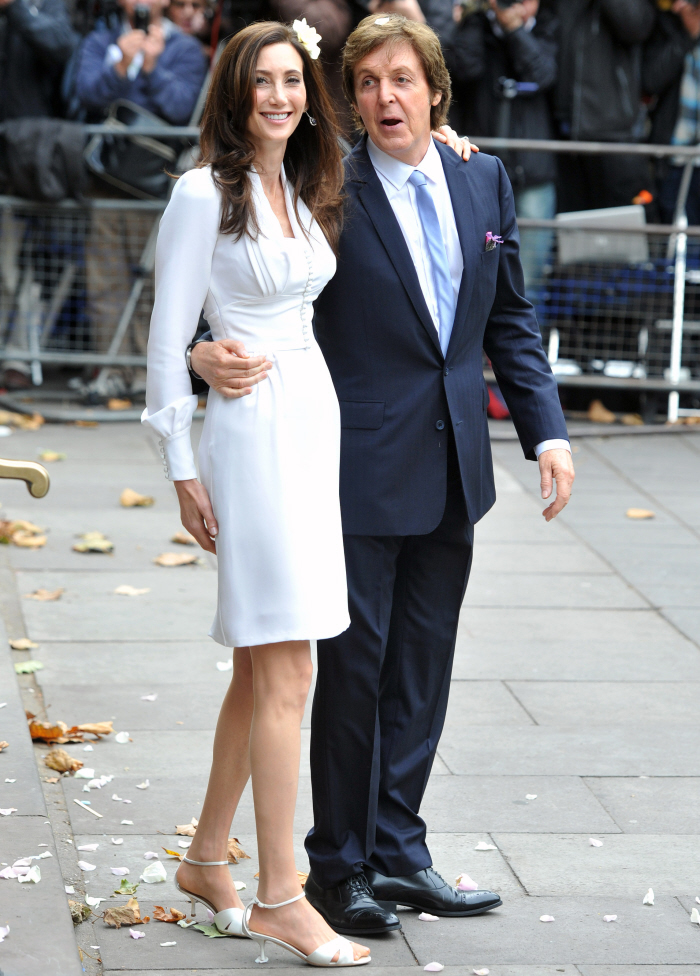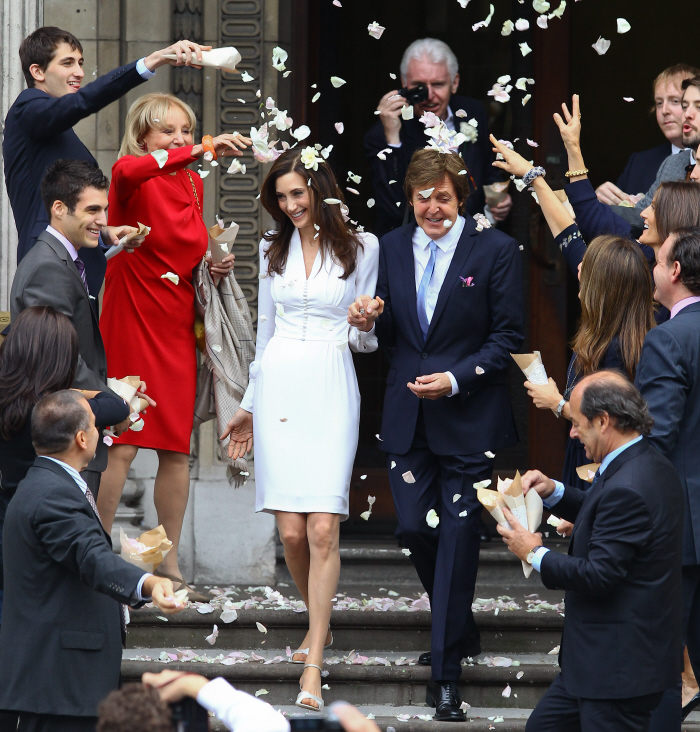 Photos courtesy of WENN.