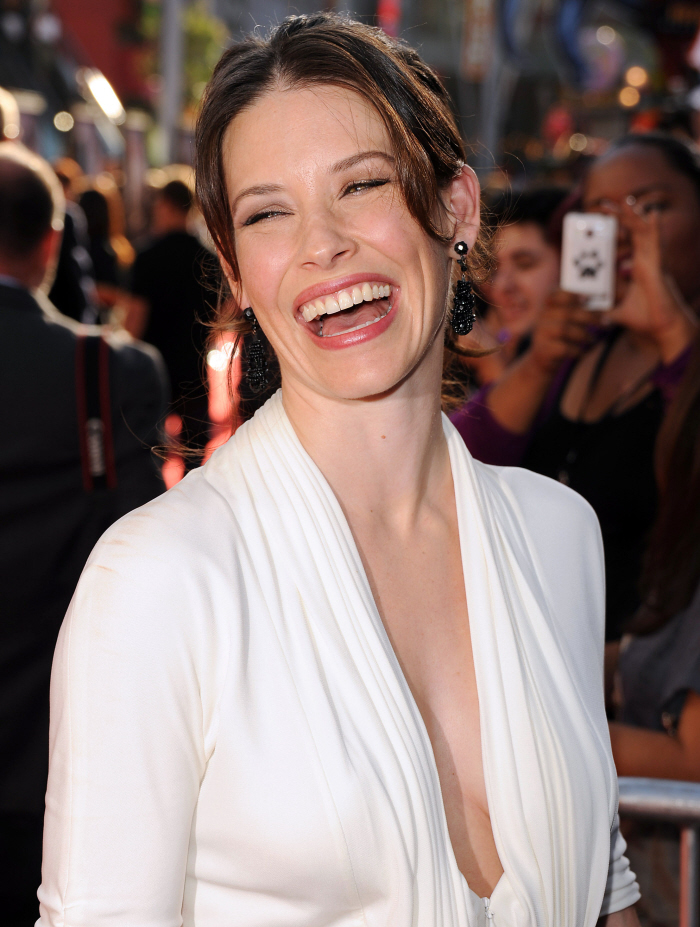 These are some week-old photos of Evangeline Lilly at the LA premiere of Reel Steel, which was the number one movie this weekend. Evangeline (or "Evangelina" as my idiotic fingers keep typing) probably didn't have much to do with the box office, although you never know. Just because I absolutely hated her on Lost, doesn't mean that she doesn't have a devoted base of horny fan-boys. But is Evangeline liked by ladies? Will ladies ever say "Hey, let's go see that new Evangeline Lilly movie?" Probably not. But Evangeline is trying to win our support. Little does she know that I started crying and rocking as soon as I read her "natural childbirth" tale:
Evangeline Lilly knows how to hold her ground. The actress opted for a home birth for the delivery of her son last May, and was determined to see it through — despite the unexpected timeline.

"I actually skipped the hospital … We decided to have the baby at home because we wanted it to be a natural birth, and it turns out that it was 30 hours of natural," the Real Steel star, 32, explained during a Monday appearance on The Tonight Show with Jay Leno.

"Eight hours of pushing, that's the part that men don't understand. Women go, 'Oh, dear, oh, dear God, eight hours of pushing?' And the men are like, 'Okay, eight hours of pushing.'"

Fortunately for the former Lost star, her midwife eventually stepped in to save the day, much to Lilly's relief.

"After about five hours of pushing, my midwife and my birthing assistant said, 'You know, we have a few suggestions,'" she says. "And I was like, 'Really? After five hours of pushing you have a few suggestions? You couldn't have told me five minutes in?'"

Following the baby boy's birth, Lilly planned to "abandon ship for a little while," but the first-time mom — who hopes to have a "brood" of babies — admits that even the best laid plans often go awry.

"I was sitting with my newborn baby and Peter Jackson called and said, 'Would you like to be an elf in The Hobbit?'" she shares. "And I said, 'Yes, I really do! I really do want to do that.' So I'm sort of strapped in, as it turns out, to four movies now."

Luckily for Lilly, her son is brought to set each day to spend time with his mama — unbeknownst to him, however!

"He came to the trailer and I put him to my breast [to nurse] and he screamed his head off, staring up at this strange, pointy-eared, mess of a person that was not his mother," she laughs.

"And then that night I was feeding him at home and he was perfectly fine and my partner [Norman Kali] said to me, 'You know his internal dialogue right now is, "Mom, you won't believe what happened to me today!"'"
[From People]
Eight hours of pushing, thirty hours of labor, all with no drugs? Just shoot me in the face. Seriously. If it ever happens for me, I'm going to ask to be unconscious for the birth. The doctor can handle it, I'll be downing every pill I can find. Don't judge.
Evangeline gave birth mid-May, and we STILL don't know the little guy's name. Evangeline did reveal this blind-item about her son's name: "My baby did not have a name for a month. It took me a month to name my child… I had my baby outside in a thunderstorm. It was really romantic. His name means 'the thunder.'" The baby blogs are having a field day trying to guess – go here to see some of the Hawaiian (and other) possibilities. My favorite is Kane.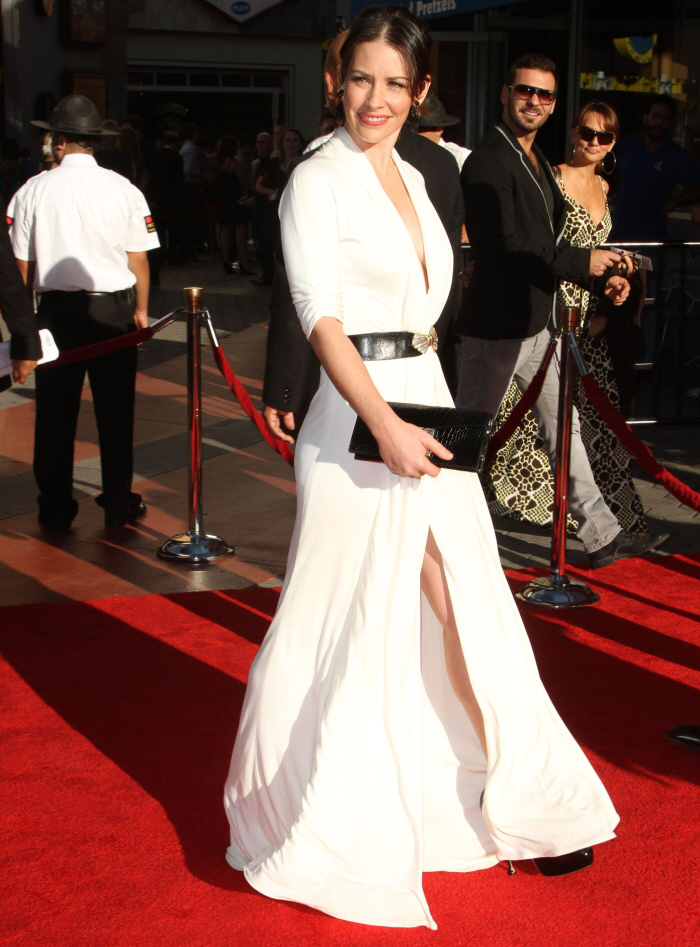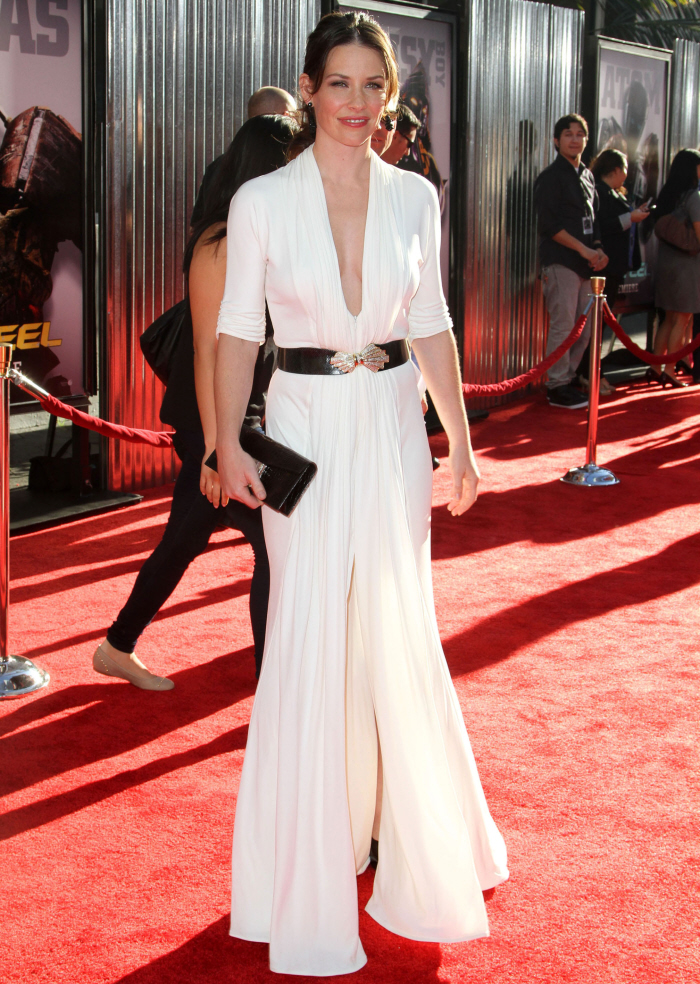 Photos courtesy of WENN.