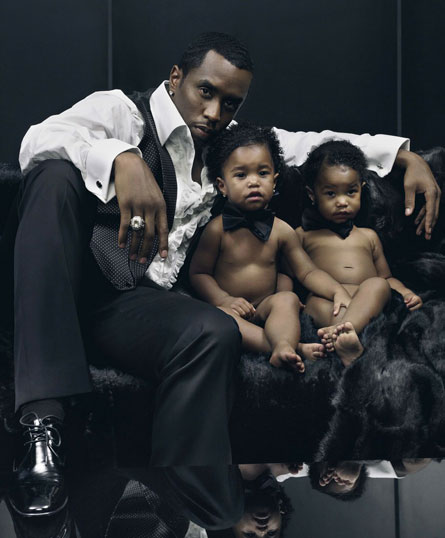 Sean "Diddy" Combs is featured in the L'Uomo Vogue music issue, though he talks less about music than politics, the color black, and fashion. Diddy, who is the founder and creator of the Sean John fashion label, sets a theme for his feature with "Black on Black," dressing himself in all black, in a black room, on black furniture, and in one picture, sitting with his 2-year old twin daughters on a black fur throw.
L'Uomo Vogue is a men's version of Vogue, very fashion and style driven, and October is the Music Issue. To that end, Diddy's feature in the magazine is about clothes, his businesses, some politics, and his music.
Famed photographer, Mark Seliger, shot Mr. Combs in a variety of styles from a variety of designers including Tom Ford, Roberto Cavalli, Michael Kors, Ralph Lauren Black Label and Sean John, among others.

Sean "Diddy" Combs said, "The concept of "Black on Black" in this story represents a level of strength, a level of beauty, a level of sexy and chic that I really want to portray. It's the future. And it's not just a race thing; it's almost a redefinition of the color. Think about how ignorant people actually make the color black represent something negative. Black is so beautiful, I see it in everything I am, as a person, as a man, as a fashion professional. Black is beautiful."
[From WSJ MarketWatch]
It's a wonderful statement, and it deserves to be heard. But it's not what's getting the attention. The photo of Diddy with his twins, D'Lila Star and Jessie James, is stirring up controversy because the girls are completely unclothed except for a black bowtie. People are upset that the girls are (un)dressed like boys, with the ties and nothing else, instead of bows in their hair or something. They are complaining about the poorly posed babies, saying it's below normal Vogue standards. But mostly people are peeved that the girls are naked.
I have to agree that there is a time and place for naked-baby photos, the family photo album, for instance, but Vogue isn't one of them. Especially a men's issue. I mean, men who read a fashion magazine don't do it for the cute baby pictures. It was just an ill-advised shot, bottom line, right down to the bowties and the little one on the right left in the I'm-tired-of-being-here pose. Plus, some clothes on those poor girls would probably save them some embarrassment in about 10 years.