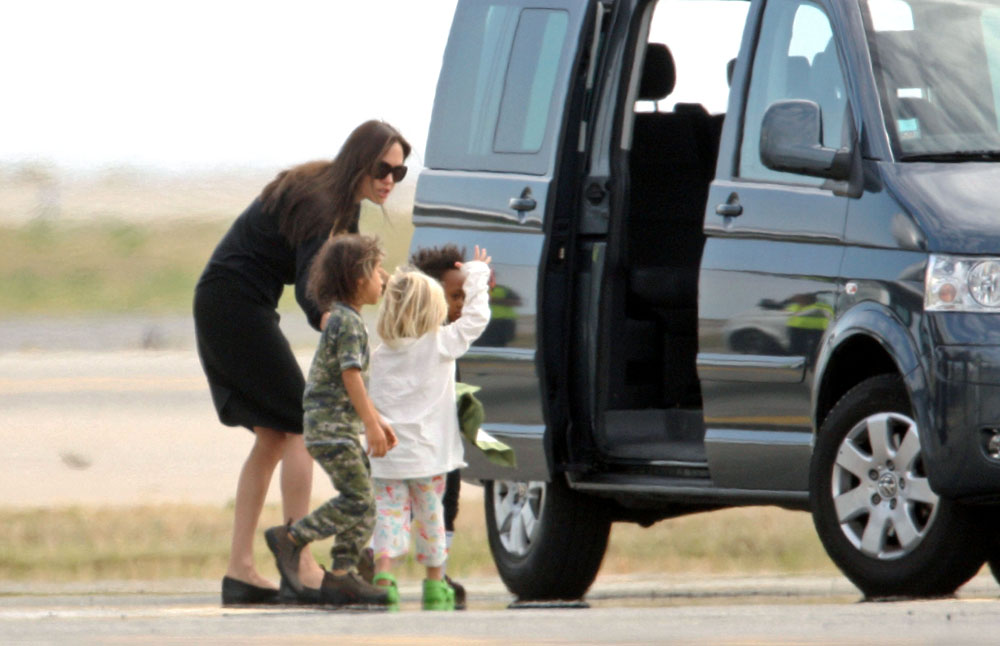 Running Brad Pitt and Angelina Jolie's family probably requires some sort of expert with an MBA or something. It's one complicated setup. The family of 8 requires up to 20 cars for their clan and team of childcare professionals and security personnel – along with up to six nannies at a time! That's one per kid. According to MSNBC they've tried to keep it real and make do with as few as four, but ultimately weren't able to do it.
What does it take to keep the Jolie-Pitt household running smoothly? A fleet of cars and a half-dozen nannies, for starters.

"We've provided them with more than 20 Volkswagens while they're here in Berlin," Mya Walters, a public-relations manager for the car company, told Life & Style magazine.

The magazine reports that the Pitt-Jolie Berlin digs also have a dinner table that seats 16 — that's just a couple extra seats when you factor in their own family of eight and the six nannies the couple sometimes requires

During their recent trip to New Orleans, the magazine reports that they tried to make do with four nannies, but needed to fly in an additional two to combat the chaos.

Don't judge: it's all for the sake of the family. Family friend Wyclef Jean said, "They make plenty of time for the kids, they're great parents."
[From MSNBC's The Scoop]
One nanny per kid seems sort of excessive. I could certainly see how 2 or 3 might be necessary when they're at home, but damn. Six is a lot. It makes sense that they might need that many nannies anytime the kids are out in public or there's a safety issue. One adult per kid (and how many bodyguards?) probably makes sense. Obviously they can afford it and have the right to raise their kids however they want, and it probably minimizes what would otherwise be an extremely stressful situation.
Here's Brad and Angelina loading up the kids in Nice, France on October 8th. Images thanks to Bauer-Griffin.