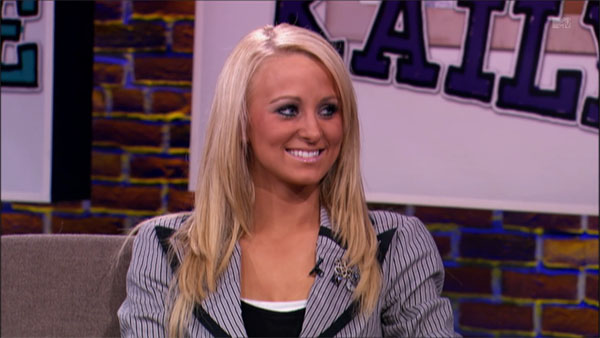 This story is about Leah Messer on "Teen Mom 2," a 19 year-old from Elkview, West Virginia who had twin girls in December, 2009. Leah had a rough relationship with her girls' father, breaking up with him, reuniting, marrying him and then divorcing him, all at an accelerated pace and all captured by MTV's cameras. There's a new article in In Touch about how Leah is upset that she's being portrayed negatively by MTV. She's also said to be particularly miffed at how producers treat her daughters, who are allegedly woken up at all hours and being made to act the same scenes over and over again until MTV gets enough footage for their liking. It sounds kind of abusive they way they phrase it. It's probable that Leah is just annoyed at the way MTV is characterizing her and is retaliating by spreading negative stories about them. How hard is it to believe that "Teen Mom" producers have no regard for infants and just use them as tiny actors, though?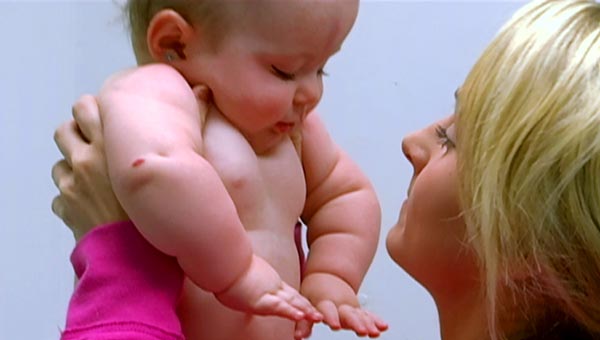 More than two years after the cameras first followed the teen, the now-famous reality starlet's life has become a nightmare. With a production crew… watching her ever move, Leah, 19, thinks she practically made a deal with the devil. "The show controls her," a friend tells In Touch. "It's making her life hell!"

After several months off the air, Teen Mom 2 will return to MTV for its second season in December. But unlike the series' fans, exhausted single mother-of-two Leah never got a break. "The crew often shows up unexpectedly and stays for weeks at a time," the friend explains. And while Leah tells friends she feels like she's on the verge of a nervous breakdown, she is even more terrified about the dangerous effects the production could have on her precious 22-month-old twin daughters, Aliannah and Aleeah.

According to the friend, the producers force Leah to wake the girls for filming at all hours, and then have the tots act out the scene over and over again. "One of the producers is so rude to the girls, which makes Leah's blood boil!"

The show has left Leah with no free time, no protection for her children and no privacy – not even her most traumatic moments are off-limits to the crew. "They've captured almost everything, including the day she filed for divorce," says the friend, referring to Leah's heartbreaking split from her wayward baby daddy, Corey Simms, 20, in April. "She has finally had enough."

Leah desperately wants to walk away from the show that made her a star. Unfortunately, she has no choice in the matter – the teen is under contract with the powerful network until she turns 21. With two-plus years left on the small screen, Leah can only sit and helplessly watch the new season, which she's been told will portray her as a boy-crazy partier. Sums up her friend, "Leah thinks MTV is determined to make her look like a bad mom."
[From In Touch, print edition, October 24, 2011]
It sounds like Leah is more upset at MTV for making her look bad on screen than for their supposed mistreatment of her girls. This is the trade off these teens make for this show. They get a quarter million a year and they have to pimp out their kids, put all the intimate details of their life on screen and get turned into caricature of themselves in order to sell a story line. There are plenty of hard working single teen moms who would change places with them in a heart beat, and those girls would probably have the exact same complaints. They'd be getting boob jobs and doing bikini photo ops too, it's just part of the job.