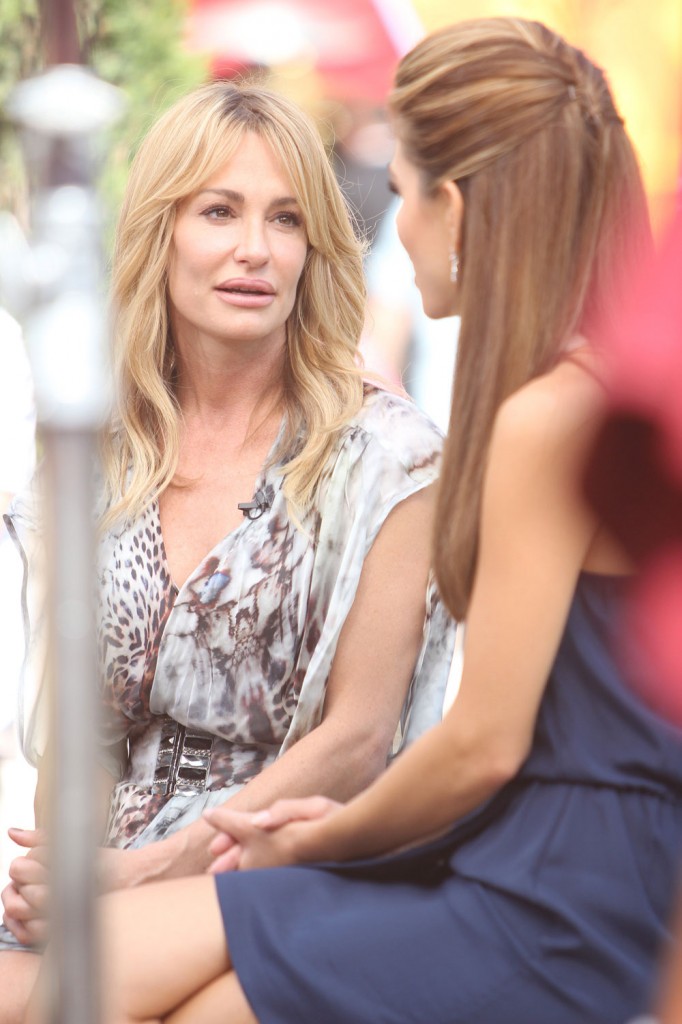 There's been a lot of speculation about whether Taylor Armstrong will continue to appear on the "Real Housewives of Beverly Hills" in light of her husband's suicide in August. Russell killed himself after filming was finished for the current season that is airing now. Taylor has made it clear that she wants to remain on the show, and recently claimed that her husband might have murdered her if the cameras were not around "because a lot of domestic violence situations end in murder-suicide versus just suicide." According to Taylor, the show didn't worsen her husband's depression or his horrific abuse, it just shed light onto them, albeit in a roundabout way.
The National Enquirer (via E! Online) is reporting that Taylor is off RHOBH next season. This story is kind of bolstered by the fact that they've brought on new cast members Brandi Glanville and Dana Wilkey. Clearly producers could not have anticipated what happened with Russell, but they also want to keep storylines and feuds fresh, and Taylor quickly gets tiresome. A source denies to E! that Taylor is off the next season, but I would bet that the Enquirer is right. They get a lot of very solid leads on stories and I can believe that the other housewives would rather not have Taylor around. Here's more:
We've witnessed Taylor Armstrong open up about her troubled marriage, and her own issues, throughout this season. And after the tragic suicide of her estranged husband, we can guess that the media scene is too much for the Real Housewives of Beverly Hills star. But apparently, that's not the problem here.

National Enquirer is reporting the reality-TV lady was "kicked off" the show for next season because her costars "complained to producers that she was constantly trying to steal the show."

READ: Real Housewives of Beverly Hills Recap: "We're All Trailer Park Compared to You"

The story claims that her fellow Housewives felt she "alienated the other Housewives with her nonstop ploys for pity and attention before the tragedy."

Wait, that's not all!

The other ladies also allegedly felt that "The Real Housewives of Beverly Hills was turning into the Taylor Armstrong therapy show. Whenever the wives are together, Taylor would somehow manage to start crying and complaining about her life."

Kinda harsh, right?!

Totally, but it's not true. A source confirms to E! News that the Bravo star has not been "kicked off" of the show.

So we can be sure to expect plenty of "pity" and "therapy" next season.
[From E! Online]
We'll see if Taylor is on or not. Obviously she wants to hang on to RHOBH for as long as possible. It's all she has in terms of a career, and probably friends too. I hate to sound like a bitch about it, but really have we seen her out with anyone else besides the other cast members and people working for her? She's a manipulative social climber, and she's a scam artist too. It's sad that her husband killed himself, and it's sad that she was abused, but she sold her story about it and she's claiming that he probably would have murdered her. I have some sympathy for her, but it's not like I enjoy watching her at all.
Taylor has been dating another Bravo star, one of the castmembers on Most Eligible Dallas, Matt Nordgren. Outlets are reporting that he has a "violent past" or something, but all they've dug up on him is a 2003 incident of parking rage in which he freaked out and damaged a car when the driver wouldn't give up his space. That's a lot different than having accusations of abuse and multiple restraining orders taken out against you, like Russell.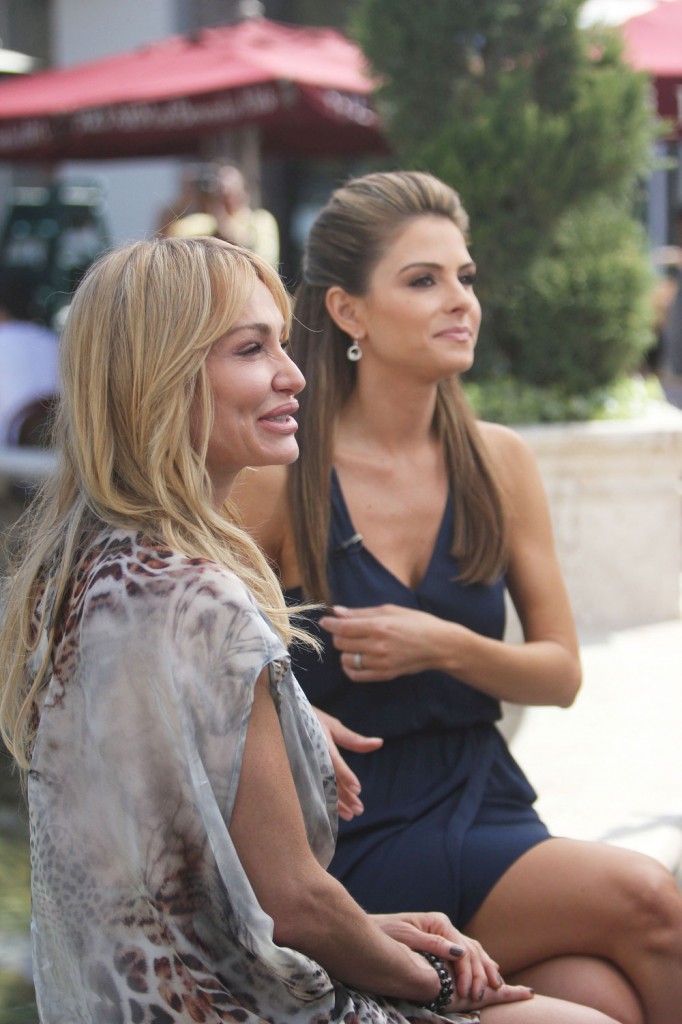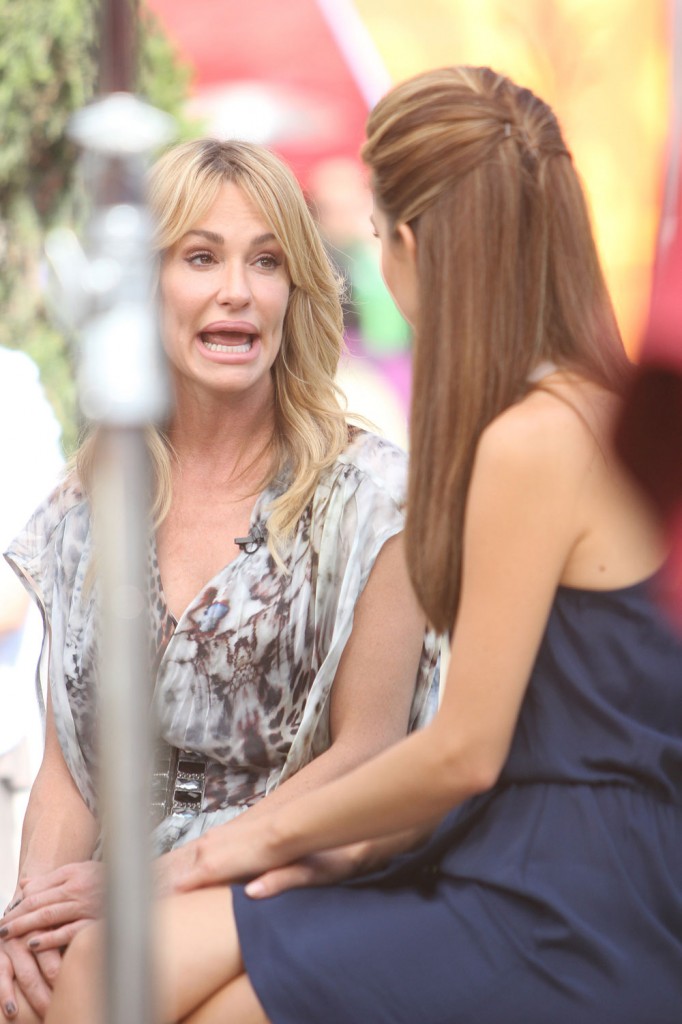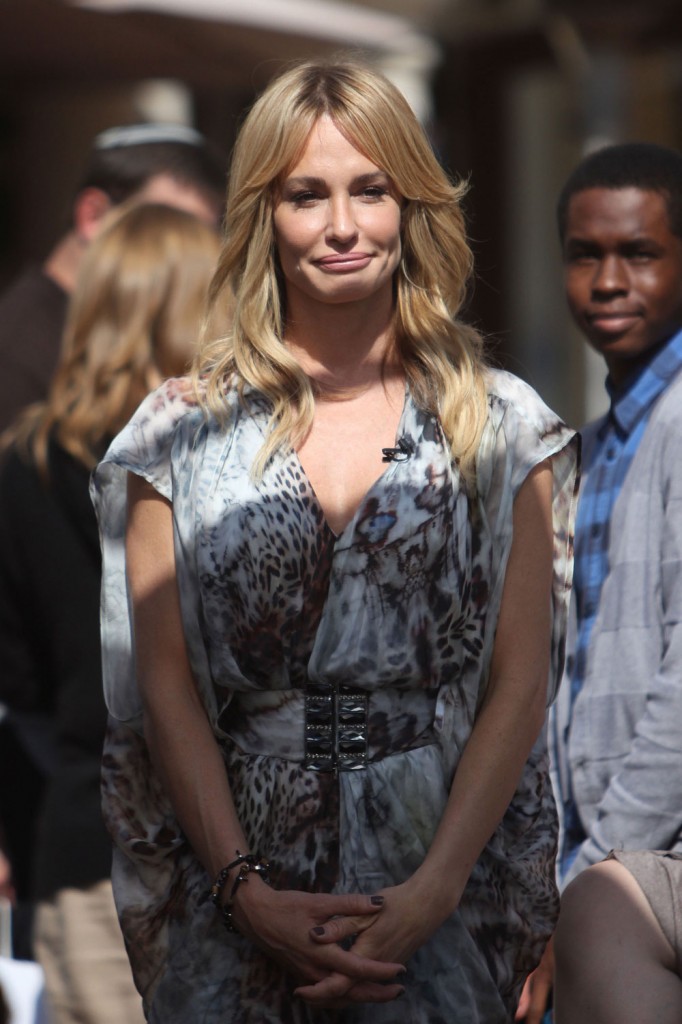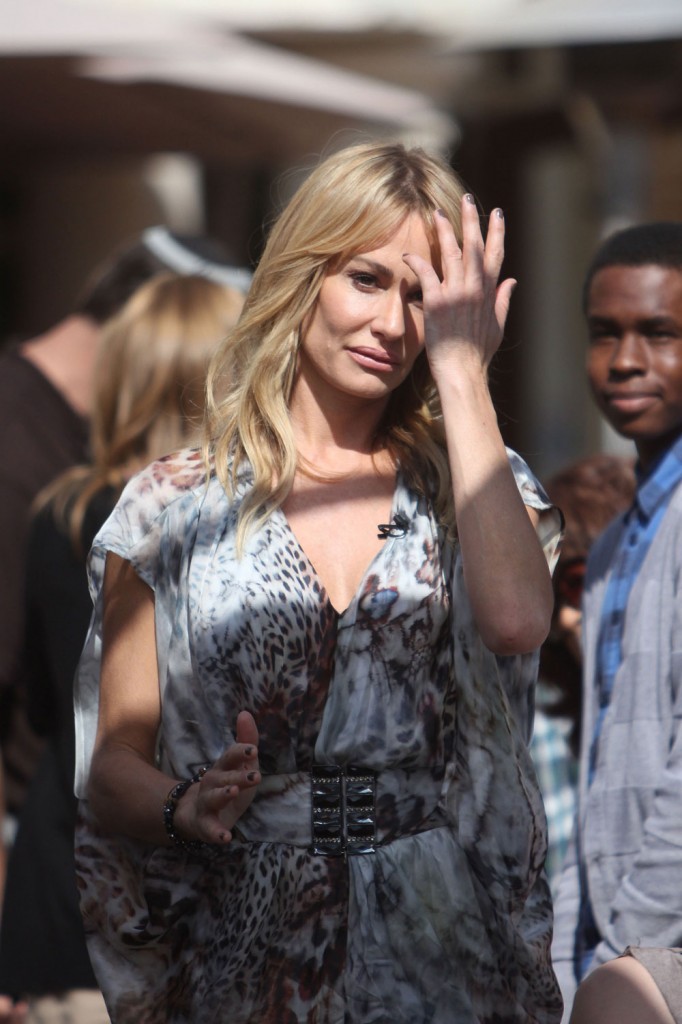 Here's Taylor filming for Extra! on Monday. Credit: WENN.com