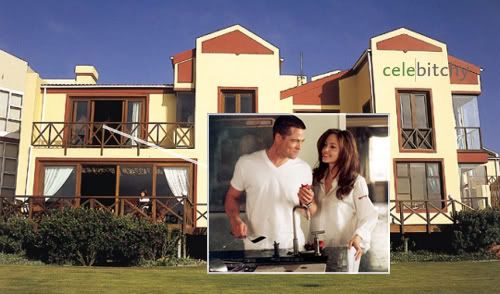 Brad and Angelina must be too busy fighting off the paparrazi to make sure the checks get sent out to the needy African country they exploited for their prenatal privacy needs.
Radar Online reports that almost none of the donations they promised to needy Namibian charities have been received. They promised $315,000 but have only squeezed out a mere $15,000 to the hospital and preschool they pledged to help. What's more, they didn't really do their homework and stiffed a nearby school that could have thrived off a pittance from the famous couple.
Back in June, to commemorate baby Shiloh's entrance into the world, the Jolie-Pitts pledged $315,000 to a local pre-school and the maternity wards at the Swakopmund and Walvis Bay hospitals.
While a $15,000 cash pledge was reportedly given to the Democratic Resettlement Community pre-school before the duo retreated to Malibu, when the UK morning gabfest GMTV arrived in September to film a short spot on the couple's Namibian love-fest, they found administrators who felt the couple had failed to make good on their promised largesse.
A source connected with the shoot confirmed that the Headmistress of the DRC school was visibly upset off-camera, and claimed her students had been abandoned by the high-profile humanitarians. "Either they have a really shoddy accountant, or they are promising things in the moment that they have no intention of delivering. The children at this school have been left waiting for money that has never arrived," says the source.
Robert Myres, a spokesman for the Mondesa Youth Organization, a local charity untouched by the couple's munificence, says, "It is not clear to me if [the DRC School] received the money or not, but I can say that if they did, it is not apparent. The pre-school looks exactly as it has since it was built a few years ago—there has been no apparent upgrades or additions to the facility."
Perhaps inevitably, the Jolie-Pitt's generous promises of cash have left a number of local organizations confused about their intentions and frustrated by the seemingly arbitrary nature of the pledges. "I did find it ironic that Angelina had her baby two blocks from our facilities and did not at least look into the Mondesa Youth Organization before deciding where to donate.
Brangelina can't be blamed for being preoccupied with Shiloh's birth and not donating to every local charity, but it's rather suspect that barely any of the money they promised has been received.
They threw that big press conference and made a public pledge to give over a quarter of a million dollars to the hospital and preschool in Swakopmund, and the people there are left waiting for help they sorely need.
We figured out that the bill to rent out The Burning Shore lodge where Brangelina holed up for a three month stay was nearly a quarter of a million dollars. They were able to shell out that kind of money for their own comfort, but can't be bothered to follow up on the needs of others.