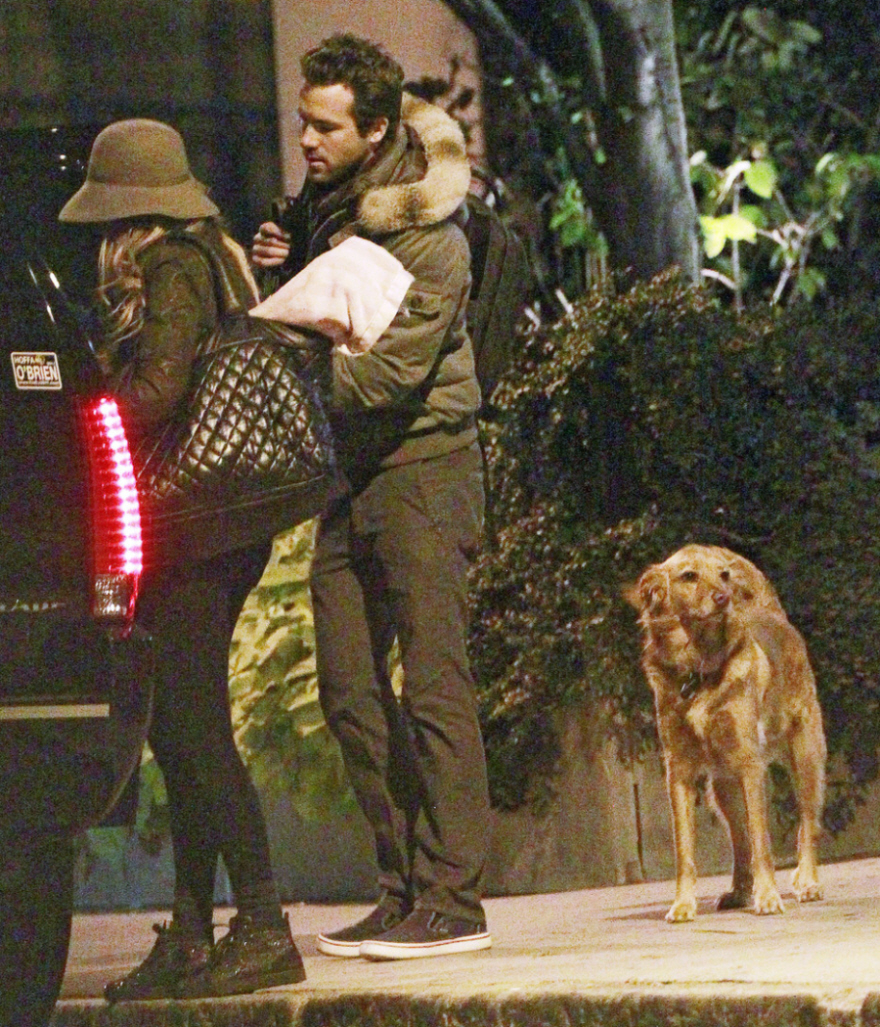 Ryan Reynolds and Blake Lively were finally photographed together. I mean, obviously, they've been photographed together before – they were love interests in The Green Lantern. But this is the first time they've been photographed together now that they are a couple. Now that Blake has dumped (???) Leonardo DiCaprio and whatever Ryan had with Scarlett Johansson and/or Sandra Bullock is over. Blake and Ryan were spotted leaving his rented apartment in Boston (where he's filming R.I.P.D. with Jeff Bridges and Kevin Bacon). Surprisingly, Blake was the one who was covered up – you can't even see her face in these pics. What good is that?
My favorite part of these photos is the big, pretty dog that is giving the whole situation the side-eye. Is that Ryan's puppy? The dog is beautiful, and I think her/his side-eye speaks for all of us.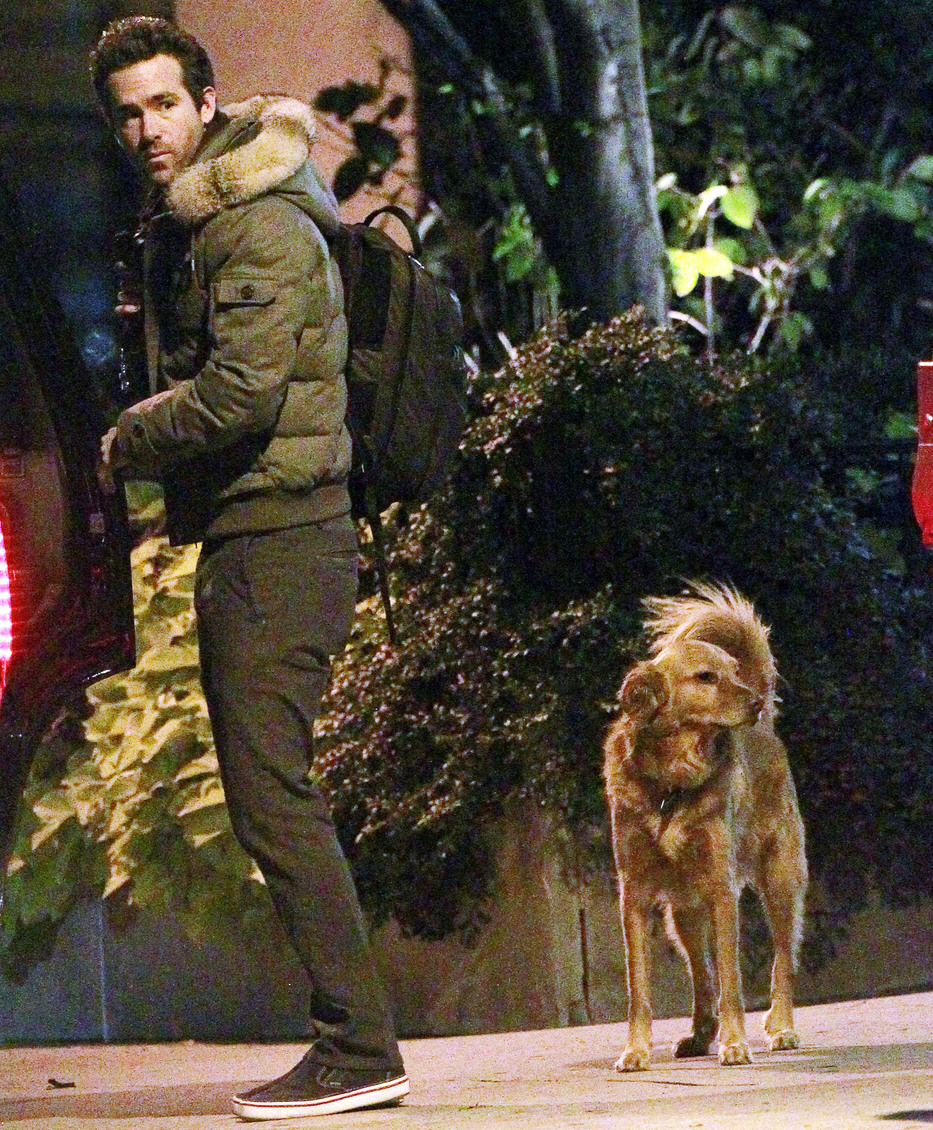 All of the major outlets got "tips" on what's going down with Ryan and Blake too. Blake's publicist is a genius! People Magazine points out that today is Ryan's 35th birthday, and that's why Blake was in town – to help him "celebrate". Us Weekly reported that Blake and Ryan had a sushi date, and that Ryan took her to the South Station "where Reynolds was seen giving Lively an affectionate goodbye." A "Lively source" tells Us Weekly, "They're seeing each other casually. Now they're both single and trying it out." But! People Mag's source claims: "They are very much a couple. They're really happy together." So is it casual or not?!?
Meanwhile, Page Six had this weird story about Ryan and Blake hanging out with Sandra Bullock last week in NYC:
Sandra Bullock shared a racy night out with Ryan Reynolds and his girlfriend, Blake Lively, at downtown burlesque hot spot The Box. The trio hit the Lower East Side haunt late Thursday night to celebrate Reynolds' 35th birthday and were entertained by performances, including — wait for it — a "suicidal pregnant prom queen devouring her young."

Despite far-fetched reports that Oscar winner Bullock and "Green Lantern" star Reynolds were dating this summer, a spy tells us, "He was definitely with Blake. Sandra arrived with the couple and a group, and they watched some of the burlesque performers, who were part of the club's homage to 'Deliverance' and also portrayed the 'suicidal prom queen.' The group had a great time and stayed late," our source said. "Sandra left with many of the others, leaving Blake and Ryan alone."

Another source told us, "Blake and Ryan were sitting downstairs holding hands and had bodyguards with them. They left together at around 2:15 a.m."

Earlier, both "Gossip Girl" star Lively and Bullock toasted Reynolds, who turns 35 tomorrow, at a private dinner in the Carriage House at Palma Restaurant on Cornelia Street.

A source reported, "Both Sandra and Blake were at the dinner, which was for around 12 friends. He and Blake were being really cute and affectionate together."

Bullock and Reynolds are longtime friends and starred together in 2009's "The Proposal."

Reynolds and Lively denied reports that they were involved near the end of his marriage to Scarlett Johansson. But things have been heating up between the two following Lively's split from Leonardo DiCaprio. They spent a weekend this month in Boston, where he's shooting the crime movie "R.I.P.D," and Reynolds was seen kissing Lively at a train station before she got on the Acela back to New York. His rep didn't get back to us.
[From Page Six]
So Blake did NOT steal Sandra Bullock's man. Or if Blake did steal Ryan, Sandra has no hard feelings about it. But I suspect that Sandra and Ryan were simply friends this whole time. If I'm judging Ryan from the girls we know for sure that he's been with since Alanis – Blake, ScarJo, that blonde model – I'd say that Ryan and Sandra probably never dated, that his "type" at this point is blonde model-types who are rather vapid yet ambitious. He can't handle a Sandra Bullock-type at this point.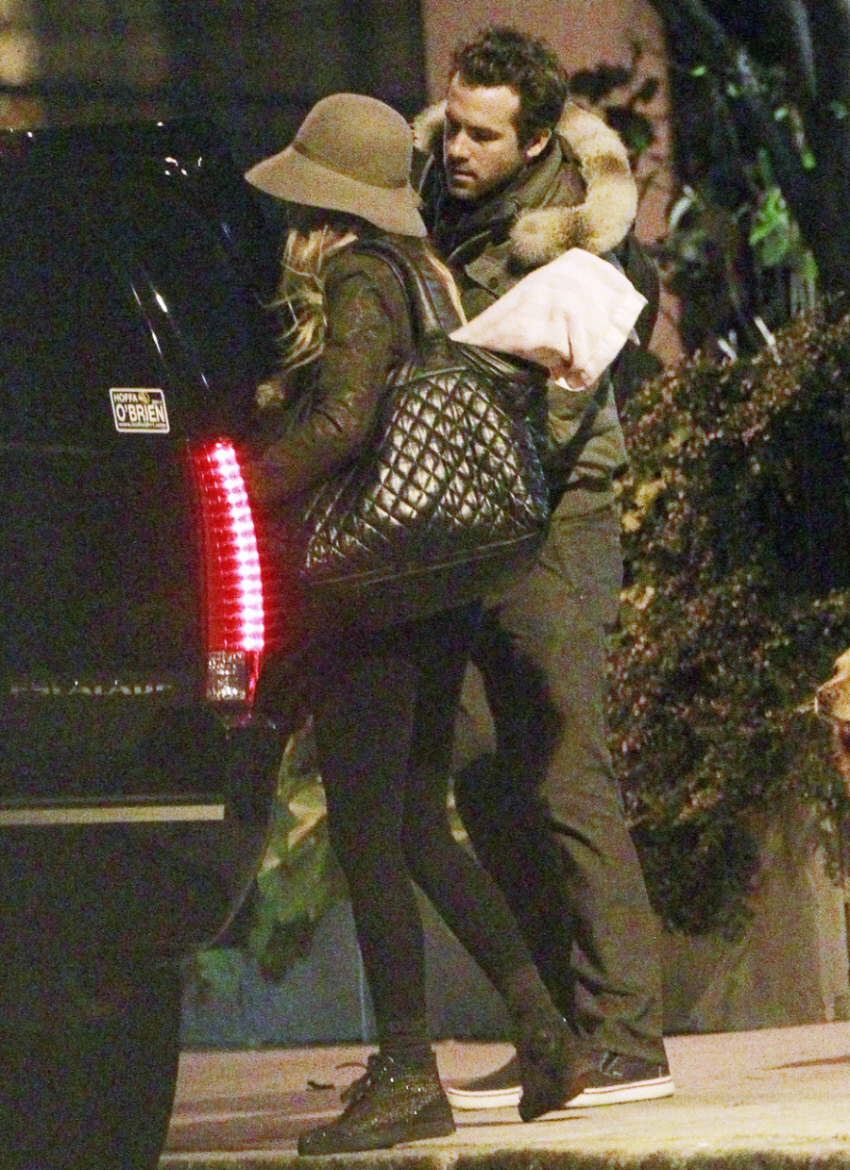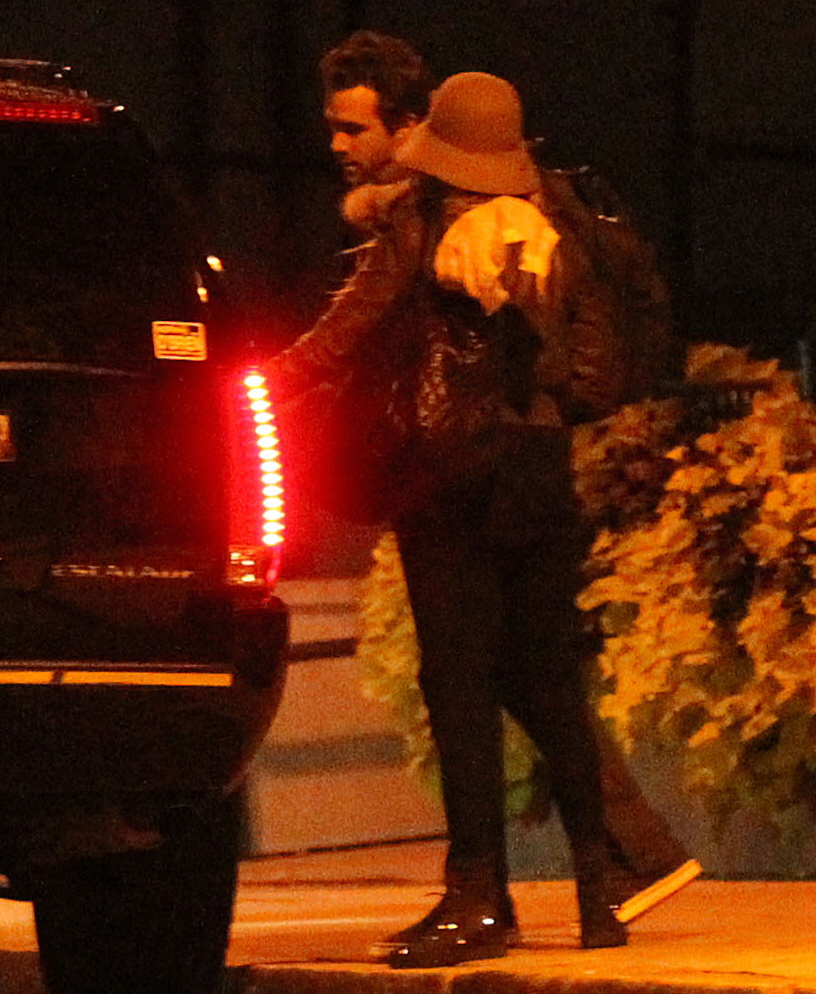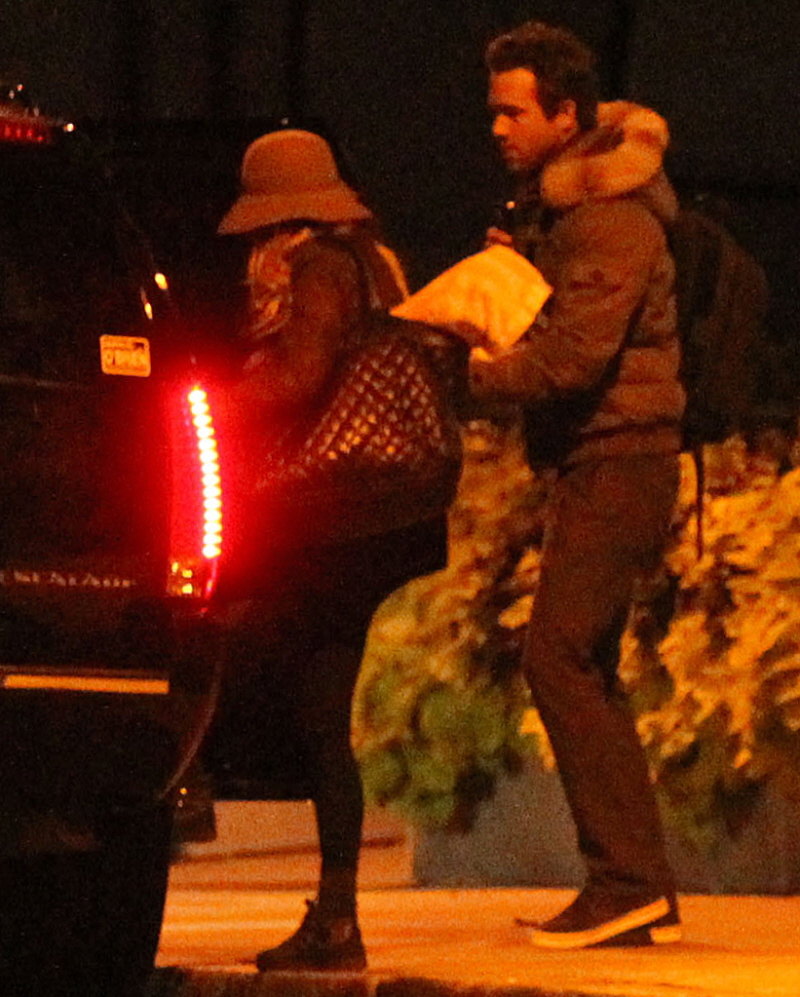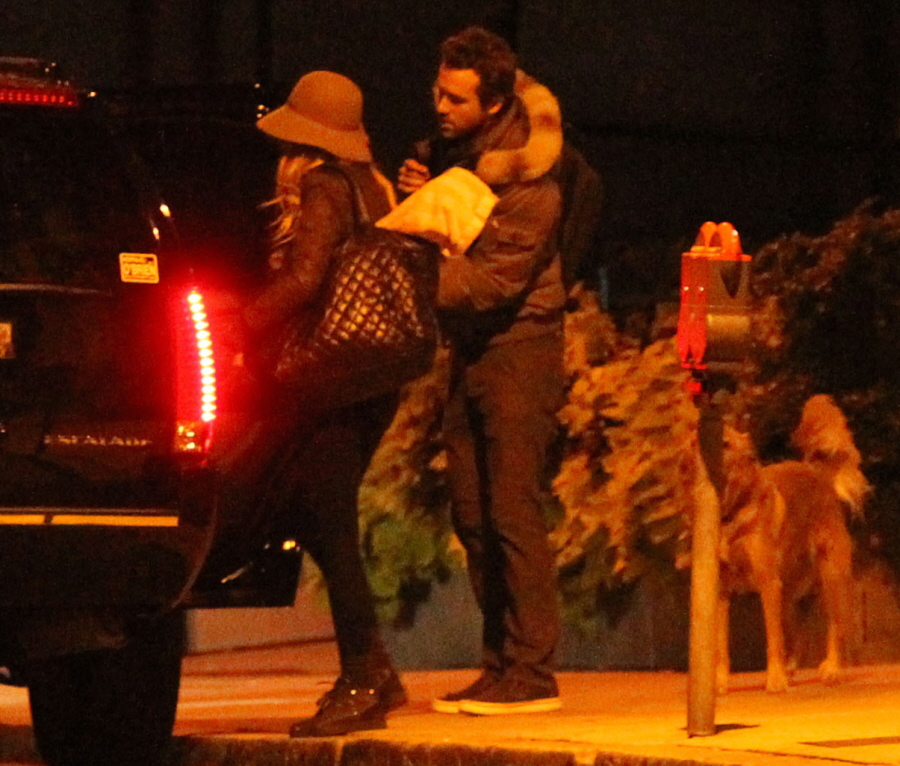 Photos courtesy of Fame & Pacific Coast News.